DIY Project: Handmade Leather Flask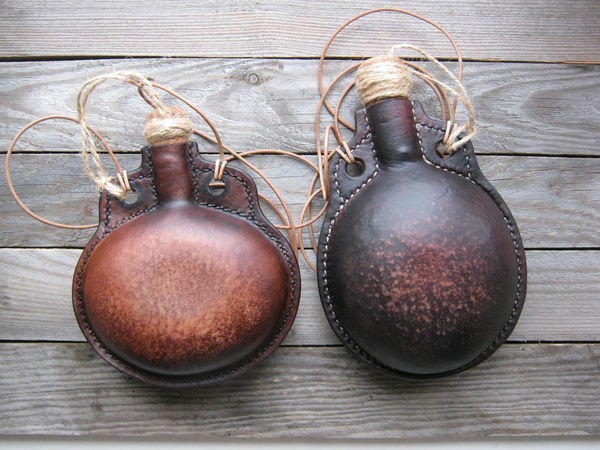 Step-by-step guide of making a leather flask.
Cut out leather details (I used veg tan leather, thickness 3-3.2 mm). Since leather stretches, it is desirable to cut the part in one direction. Join the parts applying Moment glue around the edges (so that the glue did not go behind for the seam).
Puncture the holes for sewing. I had a 4 mm step. Stitch with waxed thread, 1mm. And soak in warm water crumpling with hands. Carefully give a rinse. Repeat this procedure until the water darkens — get rid of tannins and other chemicals used when production process.
Get soaked with dry napkins (so that water did not drop). Fill with grain tightly, carefully tamping (pearl barley would do well).
Some craftsmen use sand instead. Hammer a wooden plug. Use rubber hammer.
Smooth the blank with hands until the flask is wet. Slapping with palms, apply the originally intended shape (here you need strong arms) :) Fix the blank as pictured.
In this position, put the flask in the oven and dry at 60-80 degrees.
Make sure that the flask didn't fall, marks would be left! After drying, pour out the grain. Help with a metal knitting needle. To get rid of grains stuck inside, place nuts in the flask (5 pieces), shake and pour. And so — several times. Melt beeswax in a water bath. Fill the flask with melted wax, cover with a cork, shake intensively in all directions until wax appears.
Pour out wax, turning the flask so that wax went along the seam from the inside. Apply melted wax on the surface constantly blowing with a construction hairdryer. Do all this until you understand that wax soaked through leather (I say by experience, that visually it looks like darkening).
Wait until drying. Check for possible leaks. If water drops, pour it, dry the flask and repeat the steps with wax above. Check again. Add a cork, a cord and that's done! DIYs & Tutorials on the topic