Giving the Second Life to a Wooden Box: Restoration and Decoration
Difficulty: Medium

Materials:

sandpaper

,

putty

,

primer

,

acrylic paint

,

krakelyurnogo varnish

,

acrylic loop

,

acrylic lacquer

,

brush synthetic

,

water

,

box blank

,

the box is mdf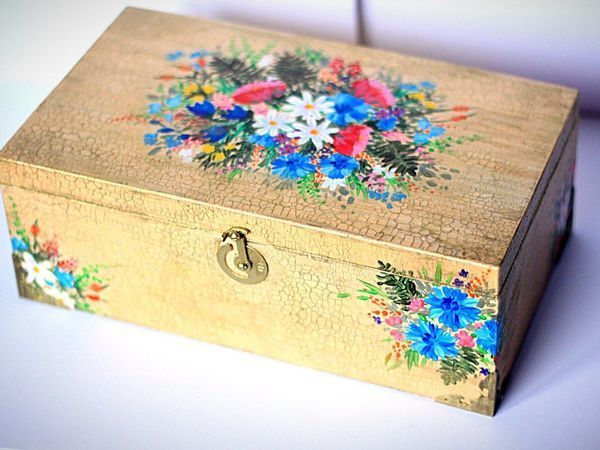 This DIY is devoted to the restoration and decoration of wooden boxes.
Equipment:
work surface
sandpaper
coating
putty knife
rags
primer
acrylic paint
сraquelure varnish
bronze paste for grout
acrylic contours
acrylic varnish
brushes: synthetic and bristle
turpentine
capacity for water and turpentine
palette
Step 1
Revome old varnish with sandpaper, wipe with a cloth, grout all cracks and leave to dry. Polish all with sandpaper again. Step 2
Apply primer. Allow it to dry. Step 3
The most interesting begins. Select the colour and paint your box. Step 4
Decorate the box with anything you like, select a pattern. Step 5
Apply craquelure varnish, leave aside to dry for 3-4 hours, then apply the second lacquer. Step 6
You can also apply some bronze paste to emphasize the effect. Apply it little by little and quickly remove with a cloth. Step 7
If the corners are too shabby, you can hide them under metal findings: glue them and then press with woodworking clamps. Step 8
Paint the inner surface of the walls with the bronze paste.
Step 9
Cover all with acrylic lacquer. And your box is as good as new! :) DIYs & Tutorials on the topic