DIY on Creating Textile Feathers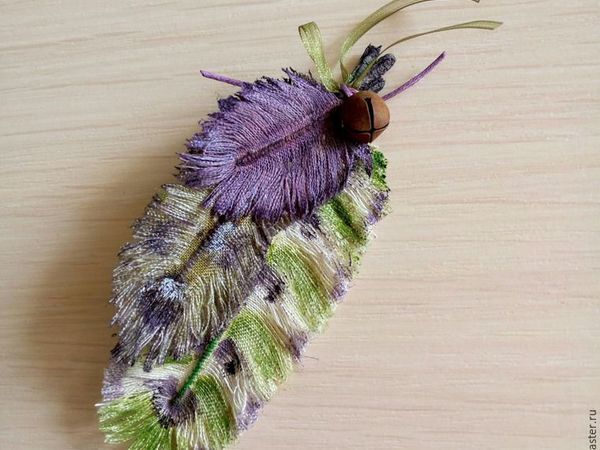 The idea of textile feathers struck me a few days ago when I was going to make a small accessory.
Materials and Tools
1. Scraps of fabric (patchwork scraps).
2. Threads.
3. Wire.
4. Glue (in this case, a well-known Titan).
5. Acrylic paint on fabric.
6. Brush.
7. I almost forgot about pliers, needle and scissors!
Start: 1. Determine the size of the feather and cut two pieces of fabric of the required length and width, respectively.
2. Use the wire for the base. Its length should be less than the length of the future feather. Use the pliers to cut it off.
3. Gently, without fanaticism, to avoid unnecessary, coat the wire with glue. Put it on the middle of one cloth as shown in the photo: one end should not reach the edge of the cloth at 1.5-2 mm. 4. Put the second cloth over and press it to the wire. That's how it looks like: 5. Now it's time to design the base, that is, the trunk of our feather. For this you need a needle with thread, our best friends. Do it this way: And the result: 6. Now cut out the feather of the required shape. Approximately, as the haircut has just started. 7. And, my friends, begin plucking!
Spare no effort, make the fringe but leave a little threads untouched. For this purpose, an ordinary needle would be perfect. 8. As soon as we found out that there is nothing to pluck, beautifully spread the fringe and give it a satisfactory form. 9. Begin the last and most interesting step of the work — painting.
Use your imagination. As seen in the photo, the painting is carried out on a napkin.
That's what you have in the result: The quill is also treated with paint. So it will not fray.
There's no need to iron the dyed feather. Everything will perfectly dry on its own.
Voila! :) On the reverse side I attached a tiny pin. Now, this accessory can be worn as a brooch. DIYs & Tutorials on the topic