How to Make a Pencil Organizer out of Cardboard in the Cartonnage Technique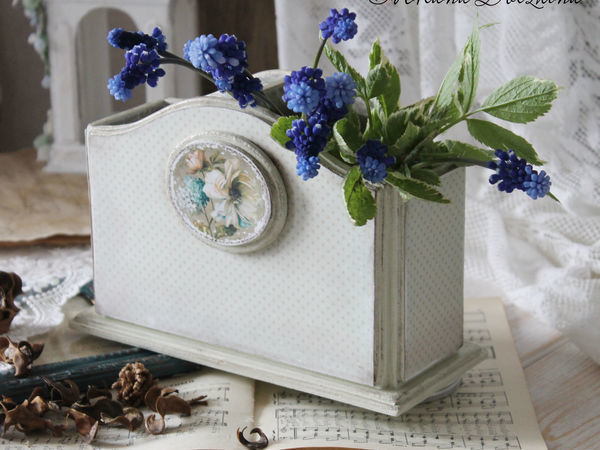 Today I want to share with you a story on how to make a pencil organizer with your own hands.
Recently, I was fascinated by the cartonnage technique. And I didn't expect that works out of cardboard can be as strong as wood. Well, you need to save them from getting wet.
Materials and tools:
beer cardboard 1.5 mm thickness
Moment pencil glue
Titan glue
two sheets of Tilda paper
clamps
sandpaper
wax
brush)
acrylic paint
watercolour paper
utility knife
pencil
ruler
cutting mat
Download a template and cut it out.
Make a pattern out of thick paper. Cut out 6 rectangles for the sides and 4 smaller parts. Glue them in between, big rectangles consist of 3 layers, the smaller ones of two. Glue the front and back walls the same way. After drying, sand the edges of the blanks. Combine the parts together: Cut out connecting joints out of watercolour paper: Glue them: Glue such joints to the bottom: Let all details dry: Glue the top and leave to dry. Glue the connecting joints to the bottom inside: Cut out three details for the bottom, they're of different sizes: Get ready to join the top and the bottom: To make a partition, measure the distance inside: Glue all parts of the partition to get the necessary thickness: Add joints: Glue the detail in the middle: Cut out ovals to make a frontal decoration: Paint the blank: Slightly wax it: Glue the paper details and wax the pencil organizer: Decorate all inside: I changed the picture in the oval because I didn't like the first one :) My daughter immediately took the organizer for makeup brushes :) Thank you very much for reading my tutorial! I hope it proves useful! Enjoy your creativity!
DIYs & Tutorials on the topic