How to Make a Polymer Clay Brooch Imitating Knitting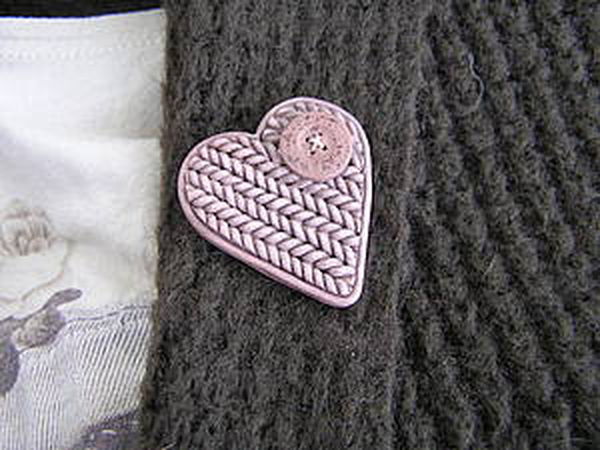 Hello!
I want to share with your a DIY on how to imitate knitting from polymer clay.
This would be a "knitted" brooch with buttons.
For work, you need the following tools and materials:
- polymer clay
- rolling pin or pasta machine
- extruder with a nozzle like on the photo
- cutter
- toothpicks
- base for a brooch (pin)
- acrylic paint for toning
- brush
- varnish for plastics
- cutters for cutting out buttons (I used lids from perfume, cringles) 1. Mash polymer clay, roll out a sausage and place in the extruder. Squeez a thin noodle. 2. Take two threads and twist them clockwise, the other — counterclockwise. 3. Roll out polymer clay for the base and lay out the cords alternately, combining them to make a pattern similar to knitting. 4. Cut out the shape you like with the cutter or knife. 5. To make it look carefully, lay out the threads along the perimeter. I got two strands, one put on the top of another. Cut them aslant, joint and slightly smooth. 6. It is now possible to decorate the surface. I wanted the "sew" a button. In order to make the button, roll out a piece, press a hole. Cut it out with a circle cutter. Make holes with a toothpick the middle. Roll thin threads and attach them crosswise to the holes using toothpicks.
The ready buttons are stuck with a drop of gel. 7. Bake the item according to the instructions on the package of polymer clay.
8. Cut out a "patch" to attach the pin. You can makу a pattern on clay or write something. 9. Use the gel to attach the pin and close with "the patch". Attach a small button. 10. Bake again.
11. You can leave it, but I wanted to tone it with acrylic paints. Remove the exess of paint with wet cotton or use sandpaper if cotton doesn't help. 12. Varnish.
And the brooch is ready! Thank you for your attention. I would be very glad if this tutorial would be useful.
I wish you success and inspiration!
Anna
DIYs & Tutorials on the topic