Mini Postcards of Paper Scraps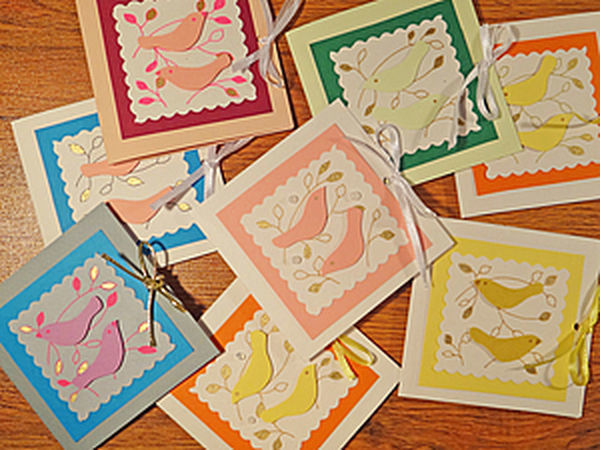 If you do work with paper, like me, keep scrapes of different colours and sizes. Throwing them away is an unaffordable extravagance. I suggest using scraps of paper for cards. I recommend it for parents with children, designers and all creative people. We begin with sketches as usual. Collect scraps of paper. Сut out the base for the cards with scissors or the tool for cutting. My blanks were 10x10 cm (the double page of 20 x 10 cm). Mark the fold line and press it with a crochet needle. Fold the card in half. Fix the fold with a wooden spoon. Cut squares of 6.5 x 6.5 cm out of white, light grey or ivory paper with shaped shears. Cut squares of 8x8 cm from brighter pieces of paper. Select the base, bright mat and the squares with scalloped edges guiding yourself by colour. Make a template of a bird according to the sketch using carbon paper. Cut out the bird. Draw twigs with leaves with a gel pen and gold marker, see that the colours matched the set of papers. Use different colours. Draw eyes of the birds. Glue the mat and the drawing to the base. Use super glue or double sided tape. To create the volume effect, I glued the birds with double-sided tape with the thickness of 1 mm. You can add droplets – beads. Use glue gun. Punch holes for ribbons. Thread a ribbon through the holes and tie a bow. The postcard is ready.
All the best and good luck!
DIYs & Tutorials on the topic