Restoring an Old Shelf in the Shebbi-Chic Style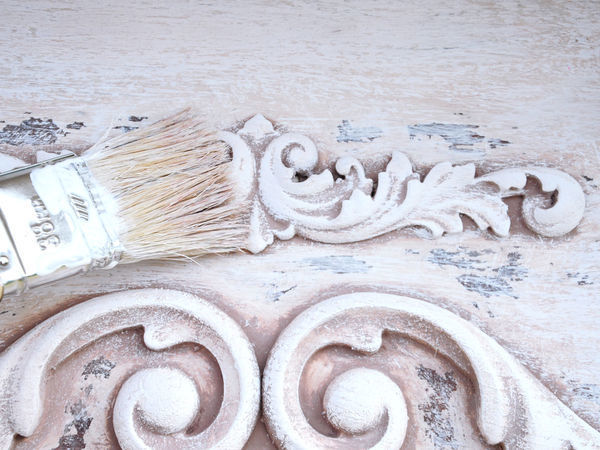 You need any shelf with scalloped details and flowing shapes, carved decoration would be even better.
Materials anв tools:
sponges or sandpaper with different grain
metal and rubber spatula
coating for wood
nails, screws, Moment glue
acrylic paint, acrylic varnish, brushes, rollers, gloves
wooden or polyurethane moulded decor
woodworking clamps
polymer glue for sticking the decor
1. Repair the shelf, if needed
My shelf was solid enough, but I needed to remove old varnish and paint. I left a little paint for the shabby effect. To remove the unnecessary layers, I used solvent. Then coat all cracks, holes, chips, etc. Let the shelf to dry and sand again to make a perfectly smooth surface. Now apply the moulded decor, glue it and press for 12 hours. I added beige colour in white paint. Apply paint all over the surface and leave to dry for 4-6 hours Add brown to the rest of the paint, make it darker. And paint the decorations. Right after that, remove all paint with the sponge. Blur the edges with a cloth. Then use the dry bristle brush to emphasize the structure of wood fibers. At the end, you can apply some more light paint to add volume. In conclusion, cover the shelf with the acrylic matt varnish.
Now you can hang this functional piece of furniture in your house, apartment, studio, etc. Thank you all for watching, I'd be happy if the tutorial has inspired or somehow helped you!
See you soon!
DIYs & Tutorials on the topic