Framing Drawing In Boho Style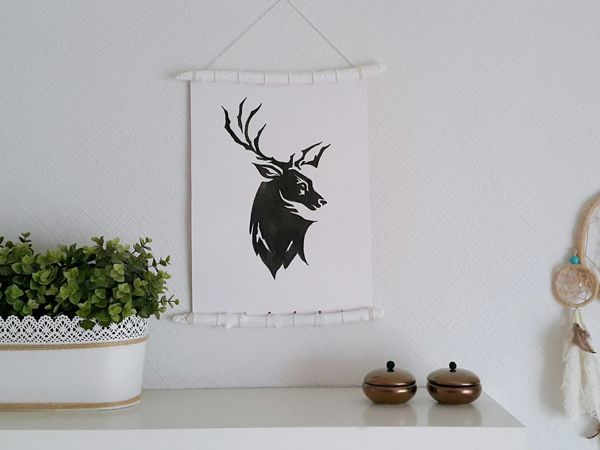 Framing a drawing in the Boho style
Nature is an integral part of our life. In urban apartments you especially acutely feel the lack of life-giving power of the forest, mountains, invigorating wind, running water. For someone boho is a fashion that will be replaced by the next trend, and for someone it is a way of living. The way of living not only in clothes, but also in the surrounding space of a person. We are all different and everyone likes something special, favorite. I'm no exception :)
Nature lovers, I offer you to make a stylish, modern decor on the wall, which will take very little of your time, but will please the eye.
For those who do not know how to draw, you can find silhouettes of animals on the Internet and print on a b/w printer. And then use black ink on the printed drawing.
So, on thick A3 paper (I had a watercolor one), we apply a drawing with a simple pencil.
Paint over the silhouette with black ink.
Allow to dry. Delete the remaining pencil lines with an eraser. Glue a wide double-sided tape on the reverse side around the perimeter and in the center of our canvas, and on the upper side neatly put thick A3 paper, aligning the edges.
On the compacted canvas, you can already be safe to make holes at the top and bottom of the canvas with a hole punch. Evenly distribute the distance between the holes. Paint the branches found on the street with white acrylic. Branches should preliminary be washed and dried. We apply our painted branches to the edge of the canvas of the picture from above (put on the front side) and with the help of a thread and a needle "tie" the stick to the canvas. Here you can dream and make the coil a bit carelessly, or vice versa, give some rigor. What I love about boho is that there are no rules in the first place. Listen to your inner self and create as you personally like! :) The same is done with the bottom of our future wall decor.
Well, there is the final touch – tie a rope to the top of our product that will hold all this handmade structure.
The panel is ready :) Have some bits of nature in your interior! And let us all have a piece of clear sky, fresh breeze, whispering of grass and trees even in the urban jungle. DIYs & Tutorials on the topic