Tutorial: Minimalistic Viking Postcard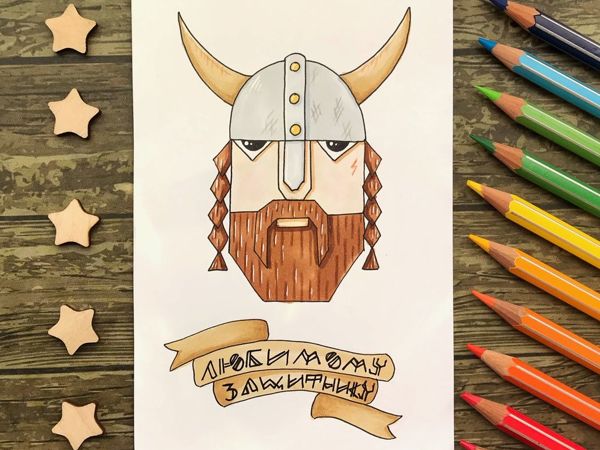 Today I suggest drawing a simple minimalist card on February 23.
For drawing you can use any art materials you like.
Materials used in the tutorial:
sheet of thick paper 10x15 cm;
simple pencil;
eraser;
liner;
alcohol markers;
color pencils;
white gel pen. Let's start drawing.
Step 1. Sketch
Divide the sheet in 2 halves vertically and three halves horizontally. Make a draft sketch with a pencil, determine the location of objects on the sheet.
Tip. While sketching, do a little pressing on the pencil to erase unnecessary lines easily. Step 2. Detailed sketch
Draw with a pencil the details of the Viking. In the picture below, I wrote the resulting dimensions of the main elements of the illustration as an example (см = cm). Step 3. Contour
Trace the contour of the drawing with a liner. Write the text, stylizing the letters as the Nordic runes.
Tip. If you are drawing with water-based materials, make sure your liner is water-resistant. If not, you can move this step to the very end and draw a contour after drying work. Liner can be replaced with a black pencil, capillary pen, ink, gel pen. Step 4. Color
Give the contour time to dry and erase all unnecessary pencil lines. Turn to color. Paint over all the elements of the picture with basic colors. Step 5. Shadows
Take darker shades and add volume to the picture. Draw shadows on the helmet on the face, on the beard of the mustache. Add shadows to the horns and braids. Make more volume tape with text. Paint eyes black.
Tip. The iris of the eye can be made with the same color as the eyes of your man. Then you will need to add pupils to the picture. Step 6. Details
Now let's make the drawing lively. Draw hairs on the beard, moustache and braids. Add scuffs to the helmet and horns. Let's draw a battle scar on his cheek. Step 7. Flares
With the help of a white gel pen, apply glare on metal parts. Also add highlights to hair and eyes.
Examine the drawing, if it seems that something is missing, add details. I want to make the text thicker.
Tip. White gel pen can be replaced with gouache, acrylic, pastel or watercolor pencil.
The Viking is ready! DIYs & Tutorials on the topic