How to Make a Rose of Velvet and Seed Beads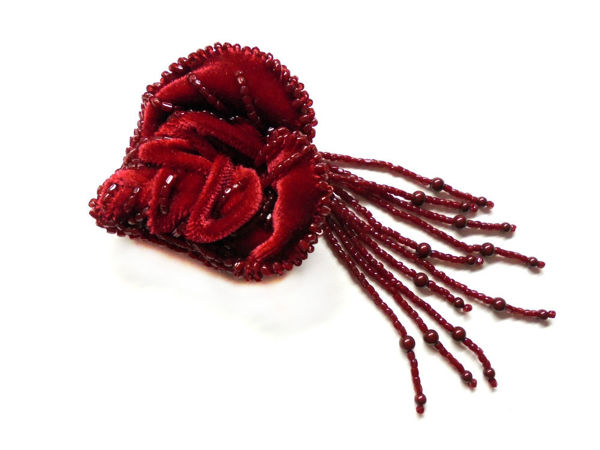 Today I want to suggest you creating this velvet rose. I have a brooch. You can use the rose as an applique, a fragment of a necklace, earrings, clips... The options are endless! I tried to make a lot of close up pictures to be able to see better :) For the rose you will need:
velvet of the desired color;
seed beads (I have Bohemian seed beads);
beads (if you want to make pendants. I have Swarovski pearls);
nylon or usual thread;
felt or foundation for embroidery;
a hoop and fabric for it (I have organza).
Cut out seven circles of velvet. The smallest one and three pairs, each 0.5 cm larger in diameter than the previous pair of circles. Check with the photo. I do not write the size of circles. First, try to make a big rose, it's easier. The smallest circle here is 2.5 cm in diameter. Fold in half the first pair of small circles and sew the center to felt. Look at the pictures. Make a bud of the small circle. Turn on your imagination. Fold the circle so that in your opinion it is like a rosebud. Sew the bud to the center of the stacked circles, sew seed beads on edges. I think you can add sequins, rhinestones. Now, make rose petals of folded circles. Fold to the center and sew the first one, then the second circle. Sew on seed beads.
Sew the next couple of circles-petals to the center. Do the same with them. Fold in half and sew on beads to the largest pair of circles. Look at the pictures. Sew the petals to the rose. Sew on beads to all the sides. The most important thing is that it looks good in your opinion! I hope the principle is clear. You can add a few pairs of petals, some materials (sequins, rhinestones, lace); you can decorate the edge differently; make a rose with colored petals... I cut the rose by the contour and designed the back side as a brooch. You, depending on the purpose of your rose, can process the back side as you wish.
For the finished brooch I made a fringe of Bohemian seed beads and Swarovski pearls. I think something similar can be done in green color. You can imitate stems and leaves of the rose. In the photo you can see the thread :) In reality, it is invisible on a miniature rose. Thank you for your comments, feedback, pieces of advice! I will answer all questions with pleasure!
Thank you for your care!
I wish you warmth and eternal inspiration!
With respect and love, Lena.
DIYs & Tutorials on the topic