DIY on How to Create a Home Bank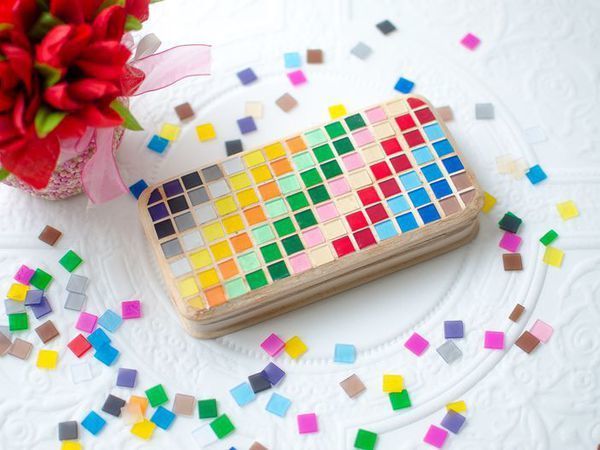 Today I want to offer a master class on creating a money storage for any currency. Instead of boring paper envelope this can be presented with the "money gifts" on wedding, anniversary or birthday.
Materials and tools:
money storage box or any suitable box
primer or acrylic paint
glass or ceramic mosaic
cutters for mosaics
glue, tweezers
grout for joints
a palette knife or spatula
sponge, dry cloth
Prepare a sketch for the surface decoration. Better think of not too difficult pattern. Prime the surface. You can use any colour for the ground. Let it dry completely. Apply the desired pattern to the box with a pencil. Prepare the mosaic, as illustrated. You can also use beads, pebbles, buttons, and other items for decoration to your taste. Begin to glue the pieces of mosaic from an edge of the box, leaving small gaps of about 2 mm. When the whole picture is assembled, set the picture aside until the glue dries. Prepare the grout according to the instructions. Then apply with a palette knife or rubber spatula to the surface of the workpiece. Work confidently, filling all the joints with grout and removing the excess. The approximate setting time of the grout is about 30 minutes. Remove the excess with a damp sponge. Then carefully wipe with a dry cloth. Finish the work: paint it inside and outside with acrylic paint and cover with acrylic varnish.
Ready!
The tutorial was made by me for a book Gifts in collaboration with E. Pavlova, slightly revised and expanded. DIYs & Tutorials on the topic