When your Muse Hasn't come, or Stamps DIY for Polymer Clay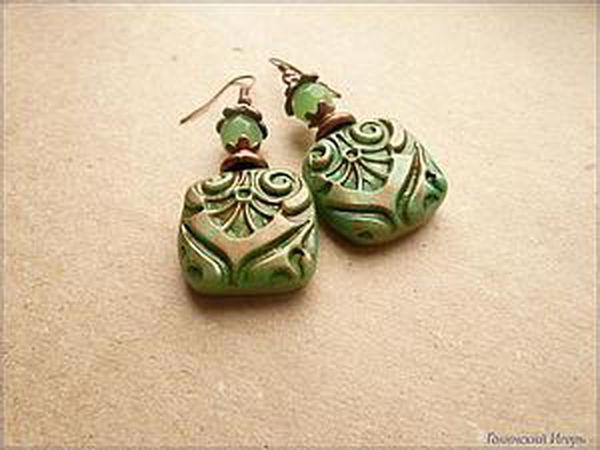 It happens so that crowds of muses come to visit you, you're full of ideas and tirelessly mold, dry, paint, pour, bend, crumple, varnish and assemble... And sometimes you're waiting, and waiting for one, but she has completely forgot about you...
That day I failed to wait for my Muse of modeling. Looking at the leftovers of clay, having no idea in my mind. It's a pity... If you're waiting for a Muse for a long time and do nothing, you may forget your basic skills. Don't do that! Fight with the unexpected creative stupor.
The simplest means is to make something very simple, almost mechanical, that requires no special inspiration.
Take some clay, I chose my favourite copper colour. Crumple, press, twist, roll — puddle, in a word (Muse is important, but clay should be puddled well).
Well, just make balls and flatten them into washers. There can't be too much good washers.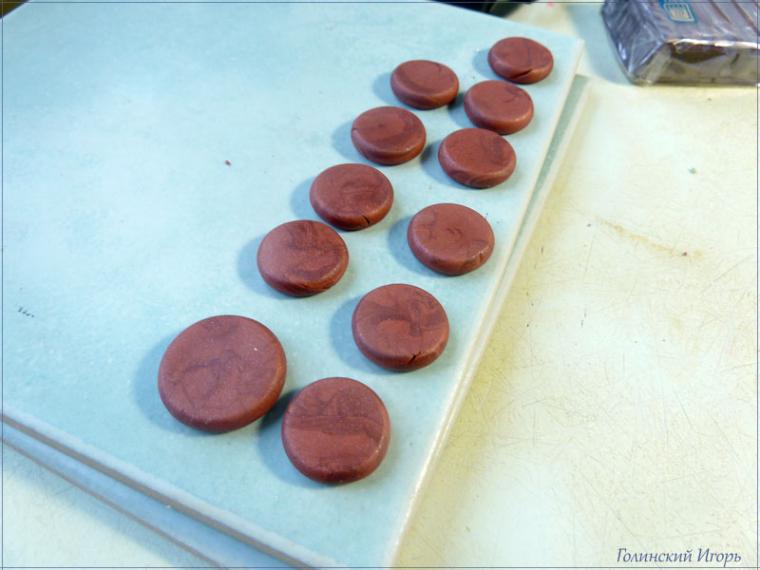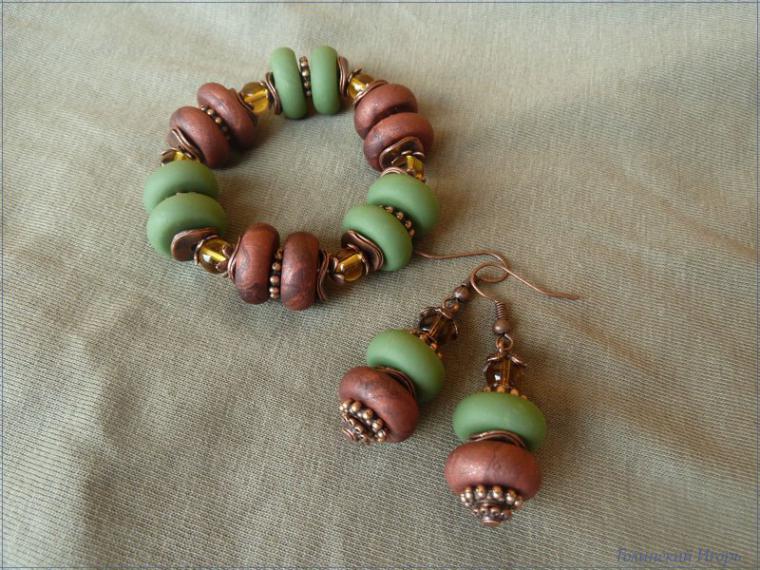 Garlic press
You've made enough washers... the Muse is still not there. Take one part of a garlic press: the one with the holes. Make dots on the washers, like the ones on a bubble wrap.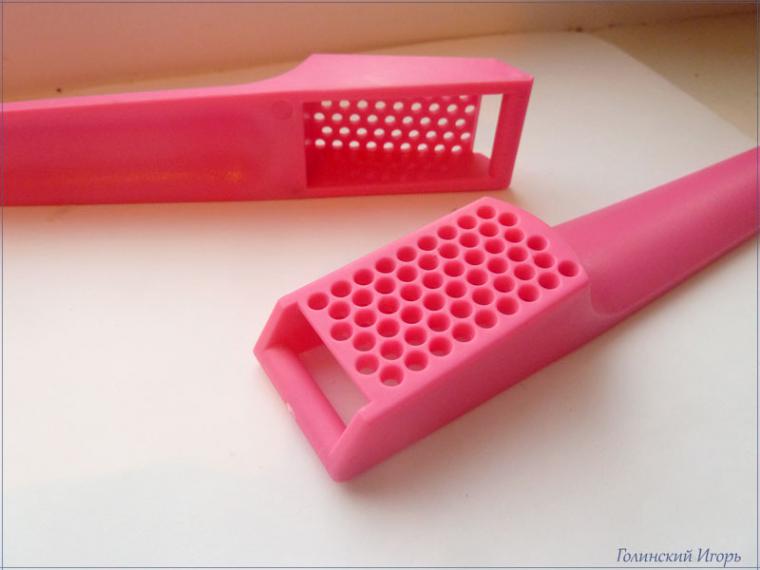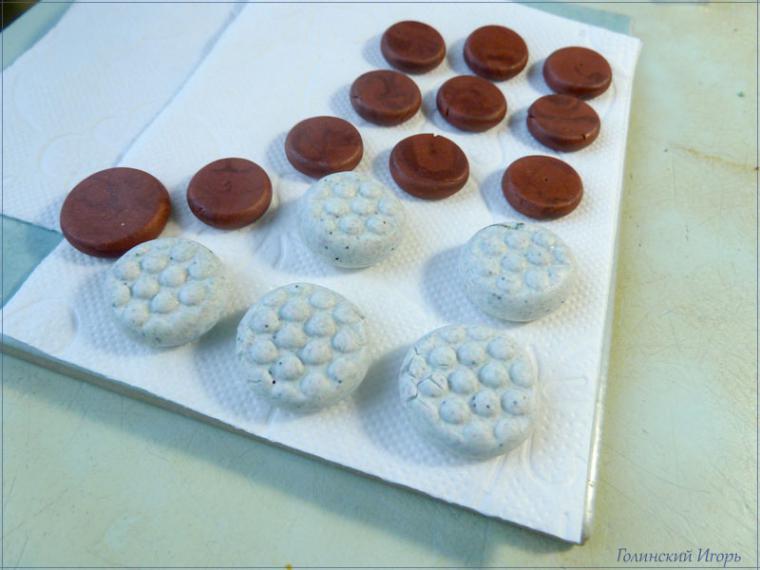 Important: before you use your garlic press as a stamp, remember to moisten it with water so that polymer clay didn't stick to plastic and easily came off the stamp.
Tried to model but it went wrong, I got mad and cut it all into pieces. In the end, I put all that stuff in the oven, and went to look for paint.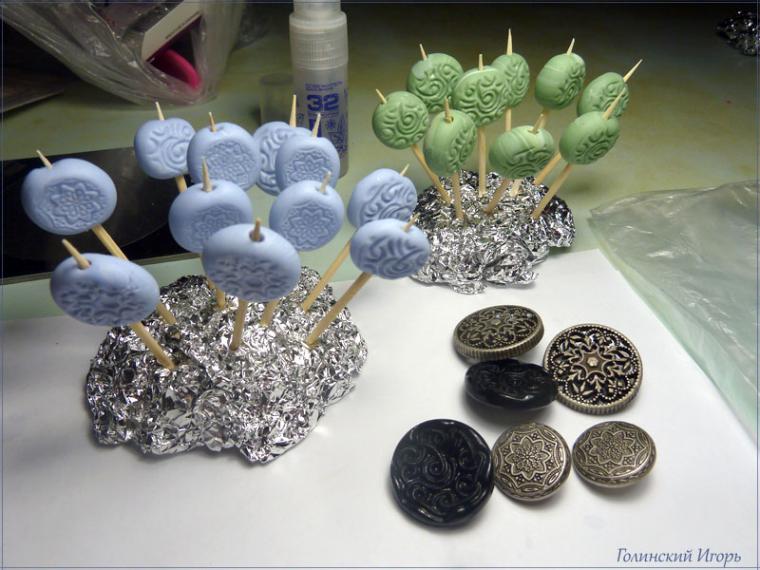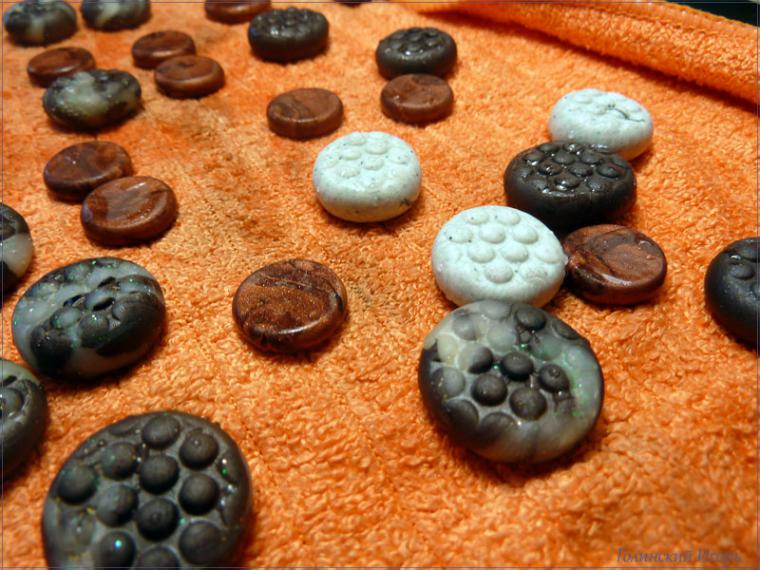 I chose golden colour for toning these beads. First, painted the sides with bubbles using thick paint. A lot of beads came out, so when I painted the last bead, the first one haв already dried out. With a damp cloth, I gently wash away the top layer of paint, leaving gold between the bubbles.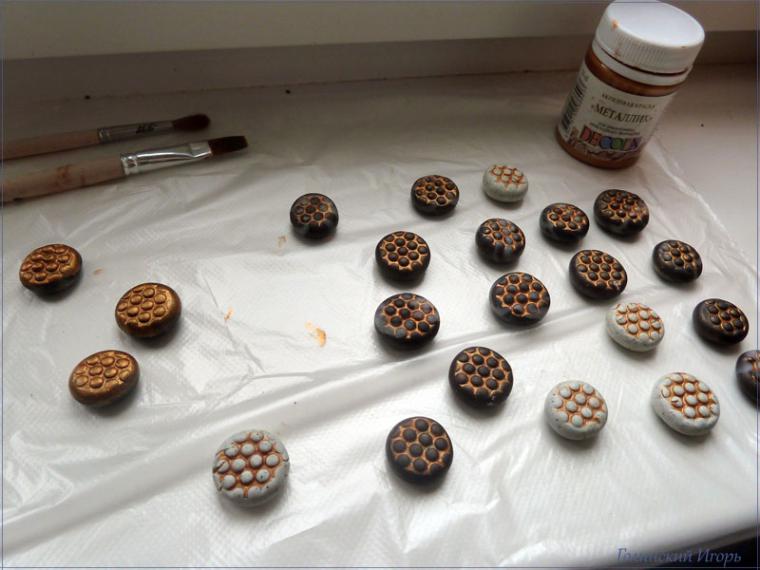 When one side of the beads is finished, you can do the same with the other sides. Or just stop here, but I decided to make the beads bilateral...
Let the paint dry off, acrylic paint does not require much time. Meanwhile, I diluted epoxy resin — I won't describe the process, it has nothing complicated: take the required amount of resin according to the instruction and gently stir it until it gets homogeneous.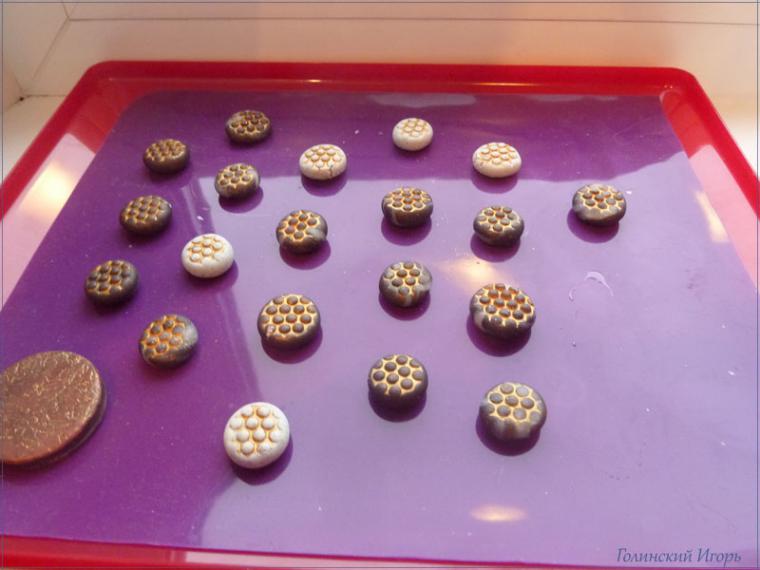 Then allow the resin thicken. For that, I covered the cup with the resin with something larger to keep it from dust and leave for 2-4 hours. Exact time depends on a number of factors, like the manufacturer or the temperature and humidity in your room.
I periodically checked the degree of thickness: the resin should spread over a bead, not pour on it. Then, the beads are put on a silicone mat which allows them to come off from the surface.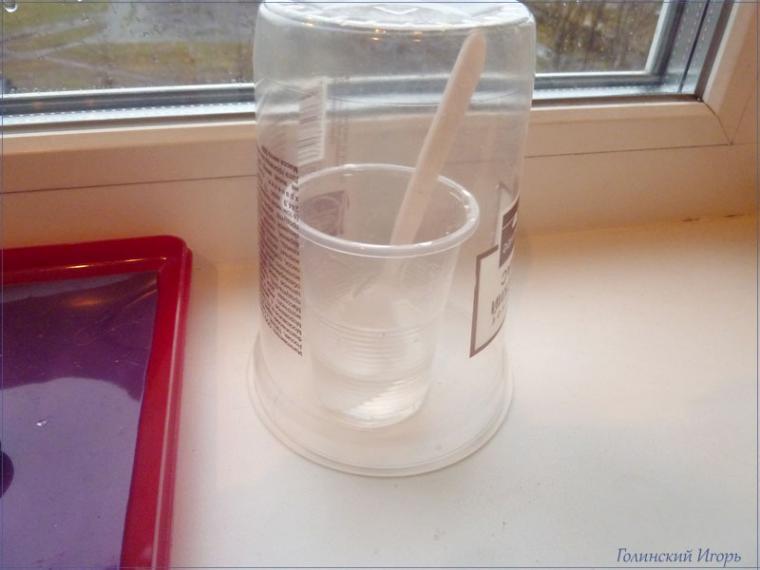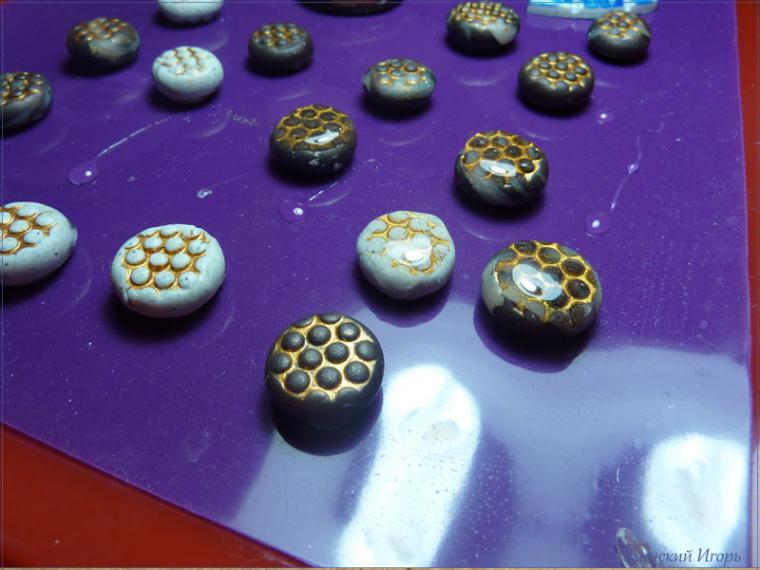 By the way, I use the lower part of chocolate plastic boxes as a working surface. I also use the upper part of the box: cover all resined beads with it to protect from dust.
Put thick drops of resin on one side of the beads and allow them to harden (in my case, it took one day), then make the same coating on the other side.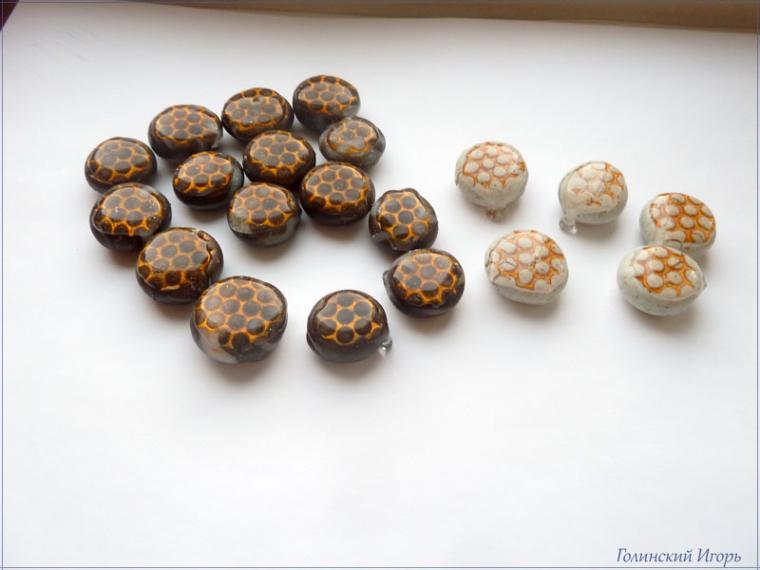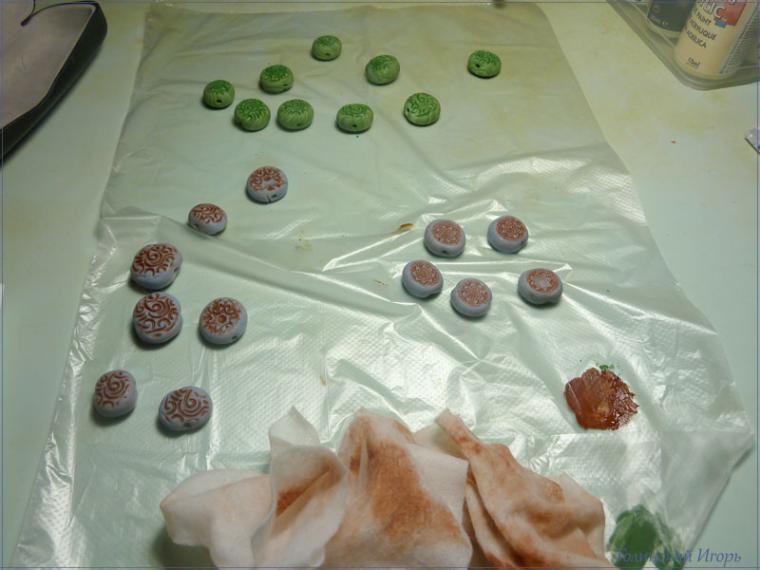 Polish resin drips on the beads and drill small holes. You can use mini drills with a variety of abrasive nozzles or sandpaper of different grits for polishing resin. I use usual nail files (from coarse to very smooth ones).
You can cover the polished places with a special varnish, but just hide them under caps when assembling. And here are the examples of items with these beads: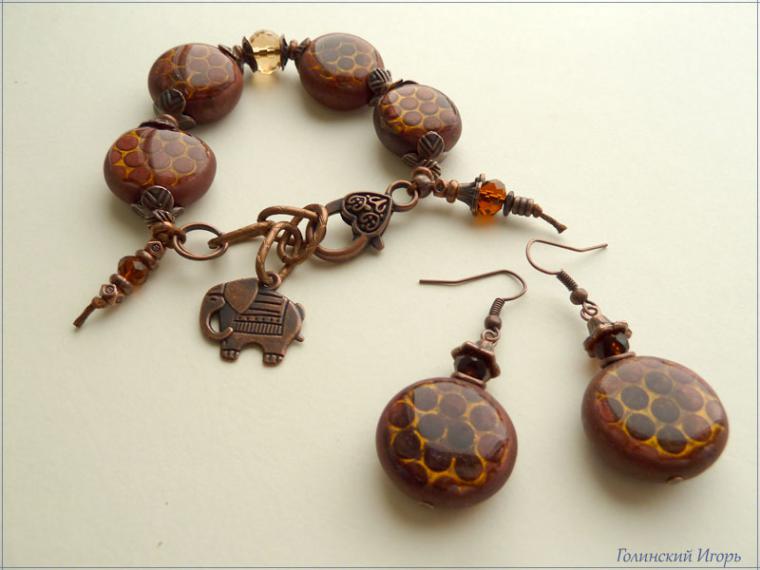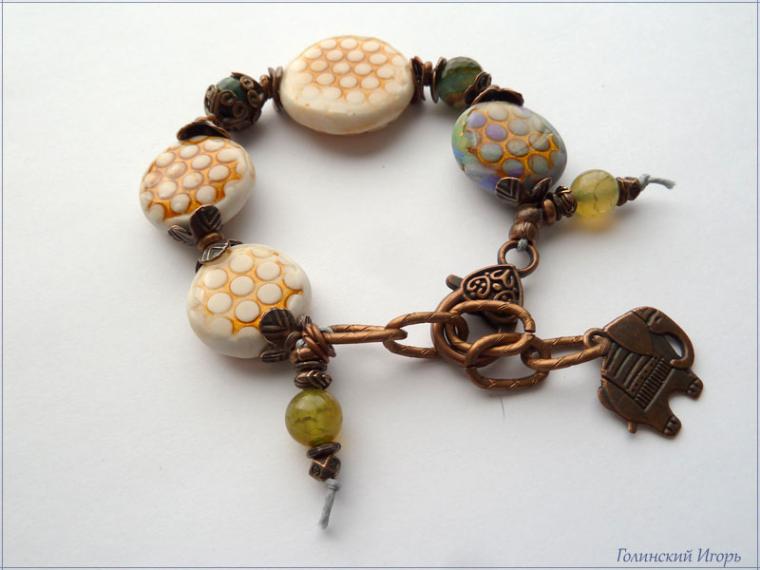 Rubber stamps for scrap
A long time ago, I used to be into scrap, the craze is over now, and the rubber stamps are left. Wonderful tools are being wasted: it's no good! These stamps are used just the way described above: roll a ball of clay, moisten and stamp against a seals.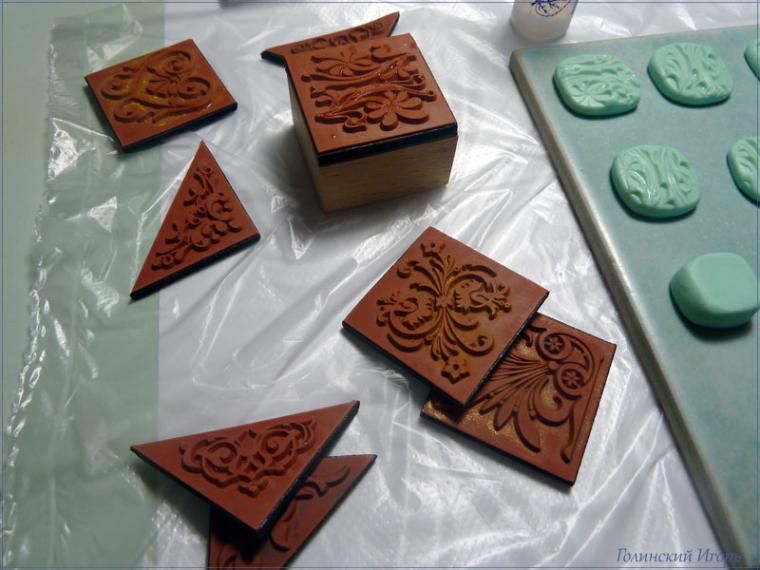 This time I stayed my sights on unilateral beads. Therefore, the technology differs slightly. I took a tile as a working surface and also decided to bake on it. I molded a slightly flattened clay cube, moistened a stamp and imprinted the pattern on the bead.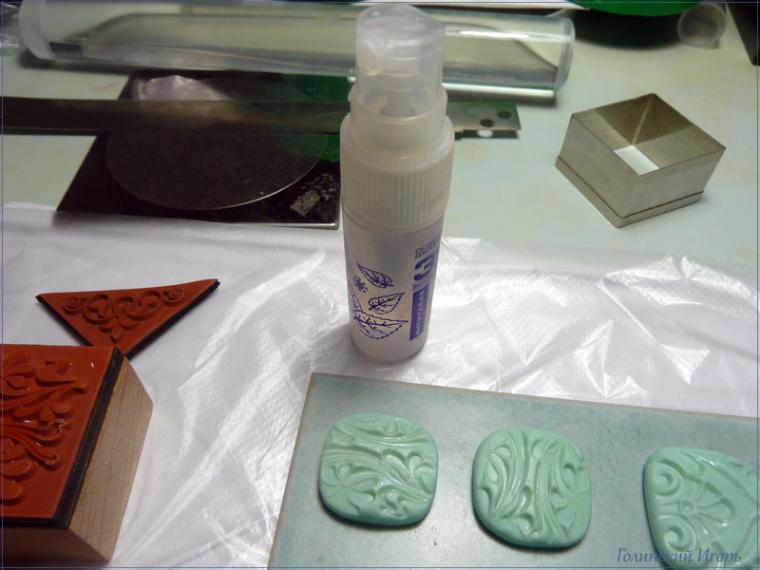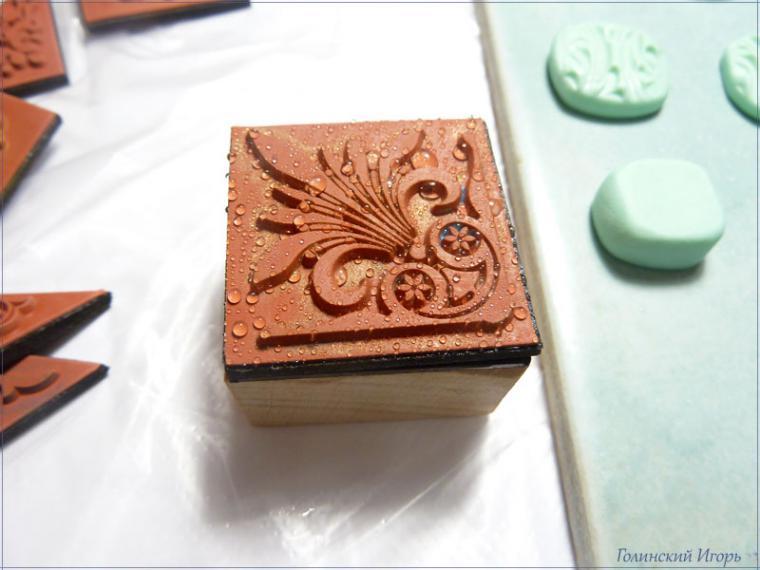 To moisten, you can simply leave a stamp in a glass of water, but I prefer to spray water with a scent-bottle or the one I found in a tooth-paste department.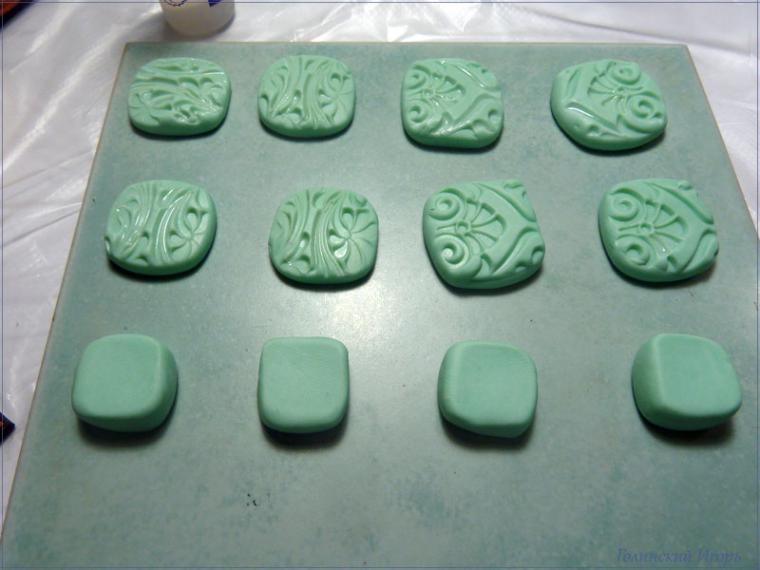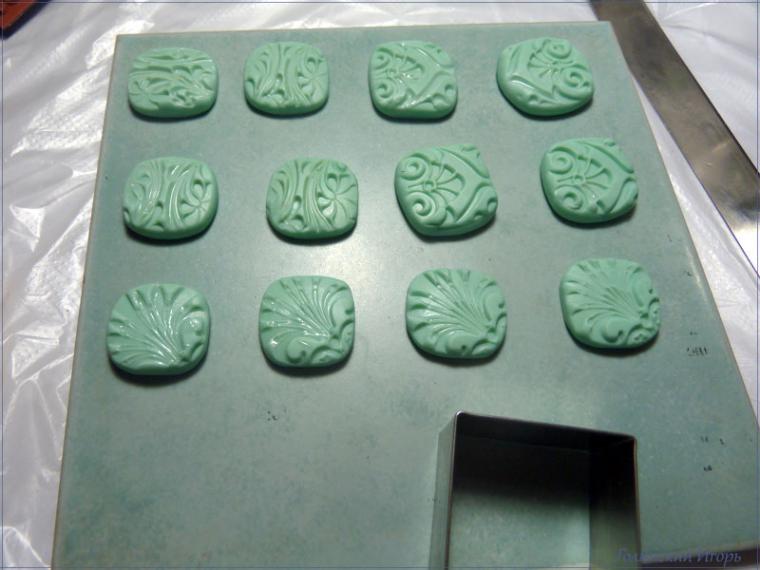 Bake the blanks. Be ready to paint the beads using two colours: for hollows and protruding surfaces. First, paint the hollows. I used light green and brown.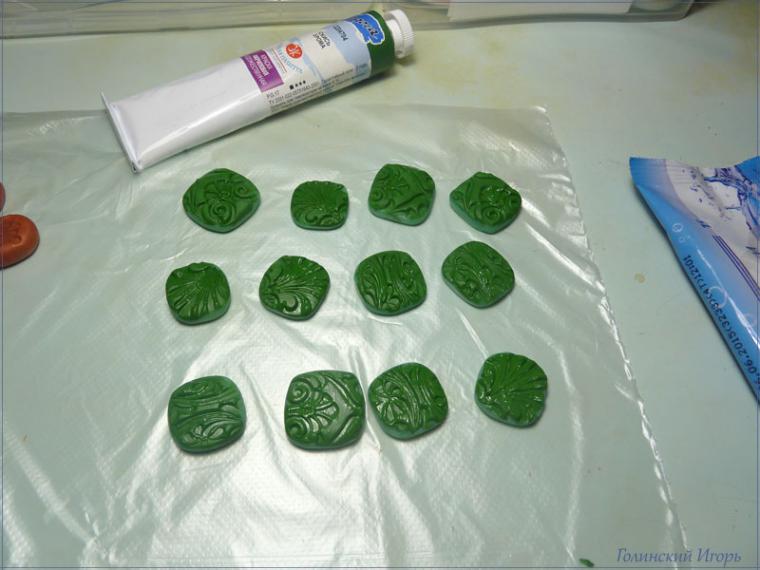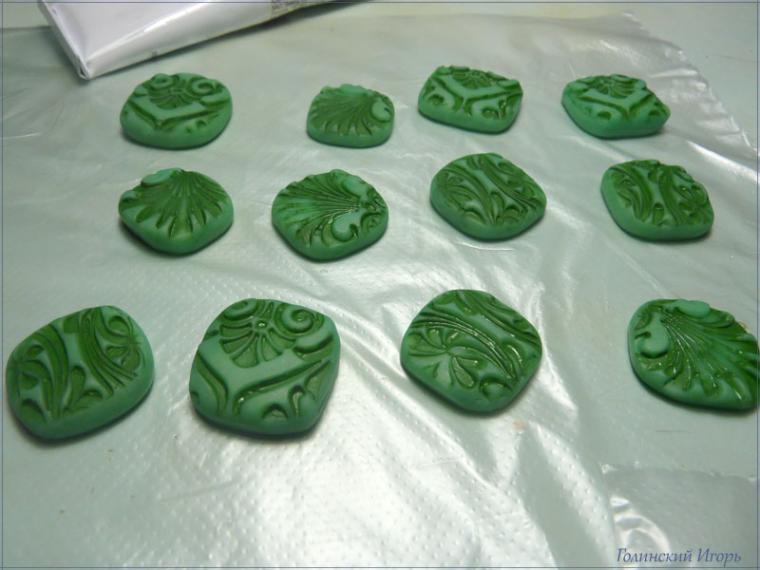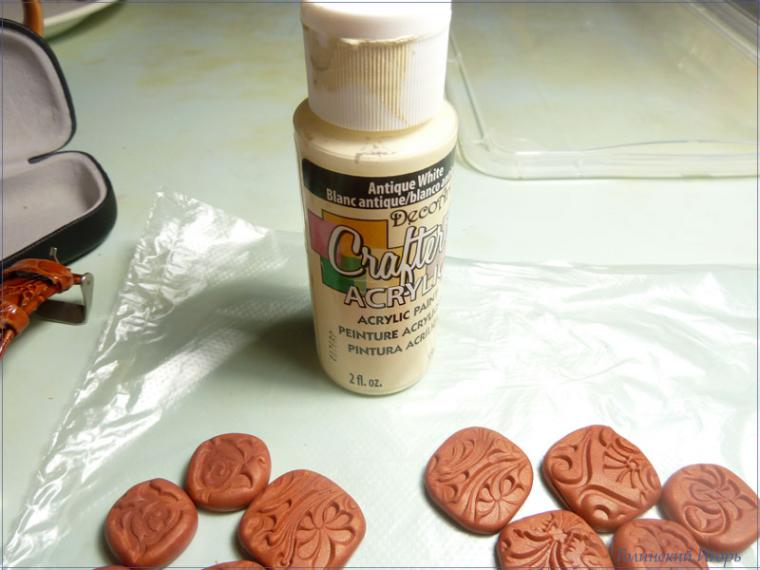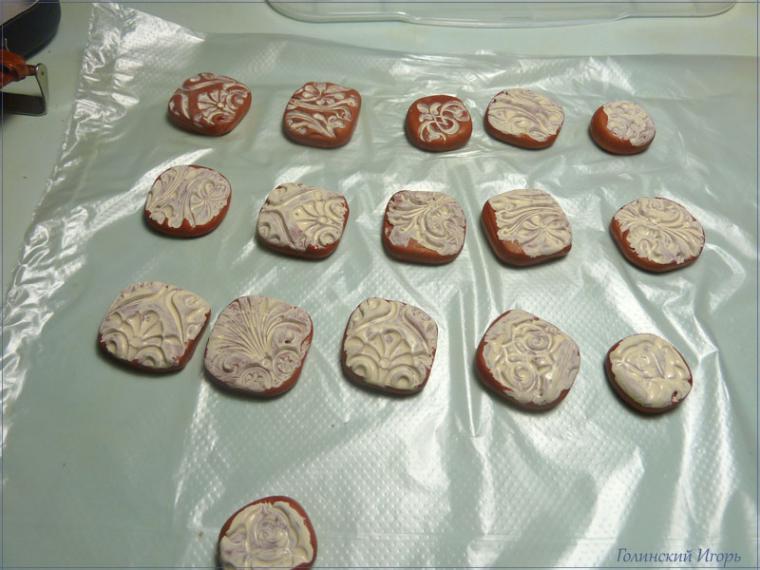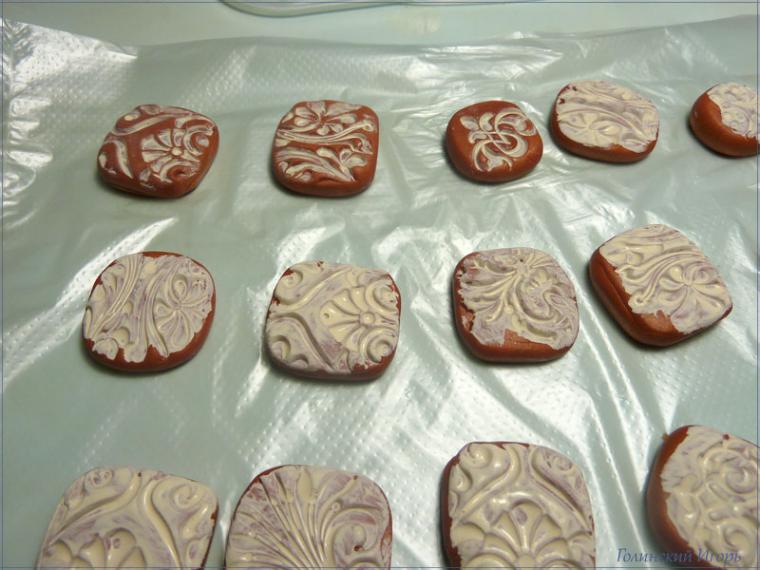 For hollows, I chose matt paint; then I added some gloss with pearl acrylic paint.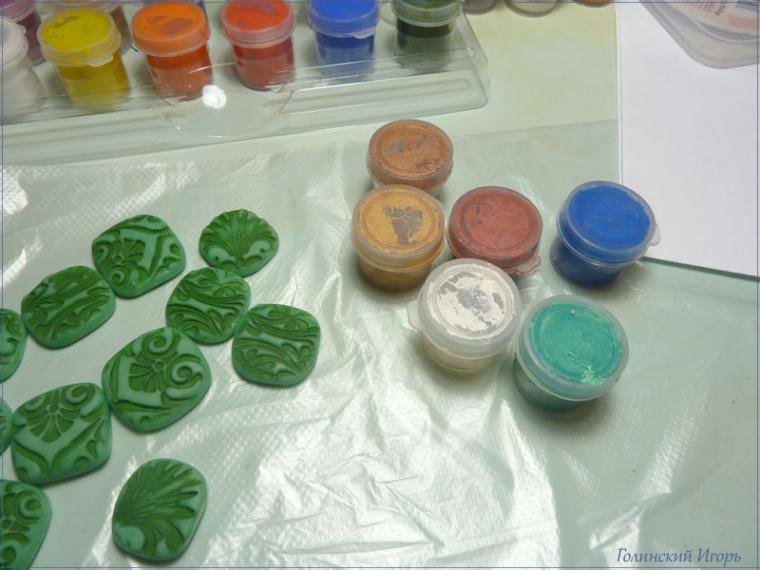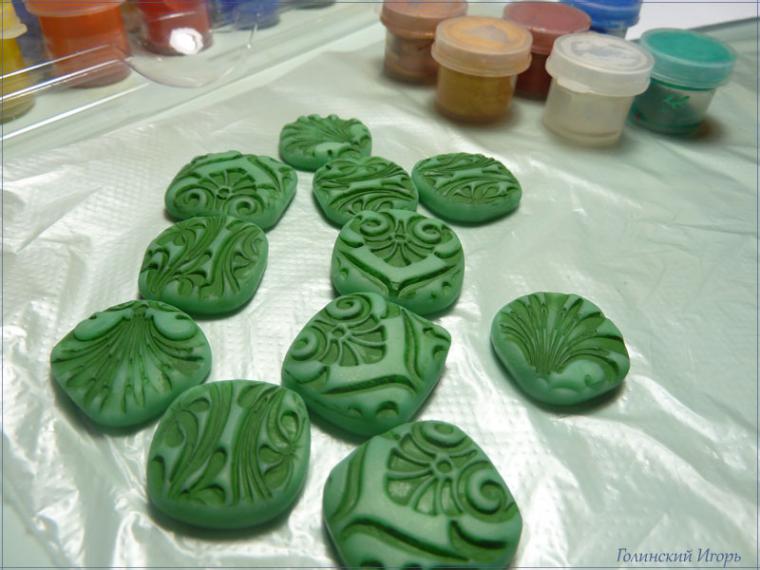 Only the way of toning would change. Dip your brush into the paint and then smear it on paper. Then tone the surface of the beads with an almost dry brush.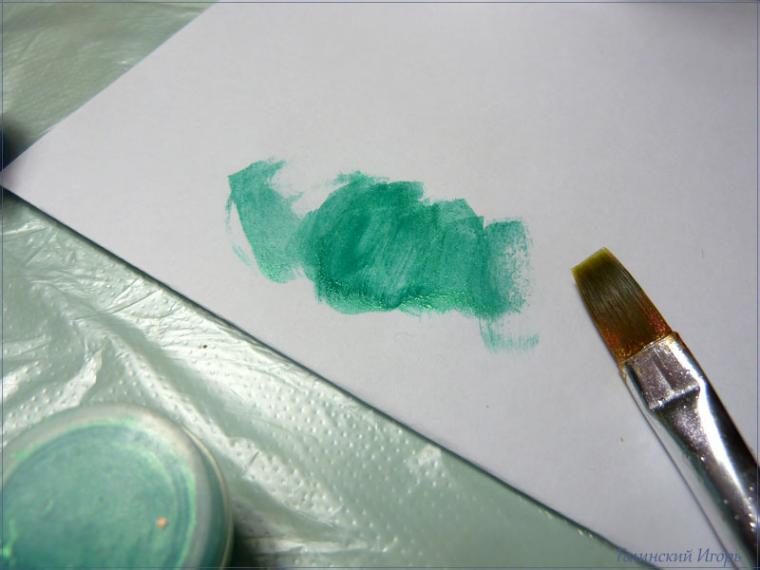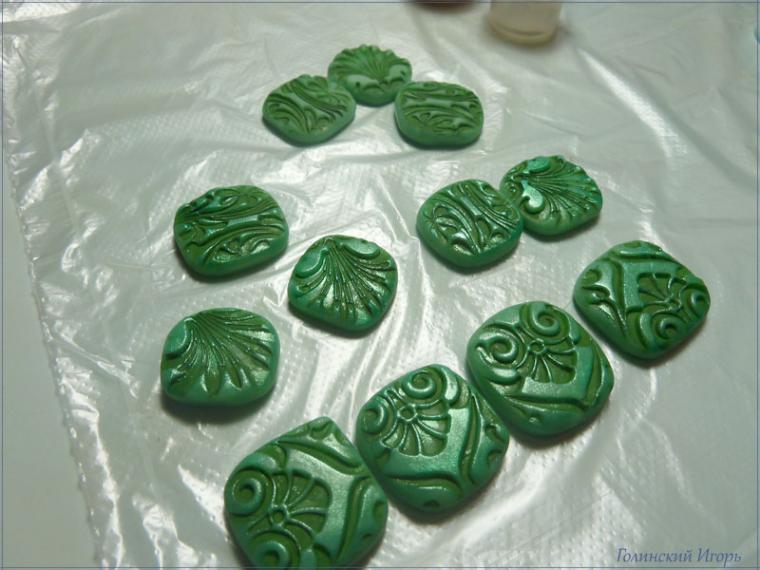 In this case, a very interesting effect appears when you use 2-3 colours: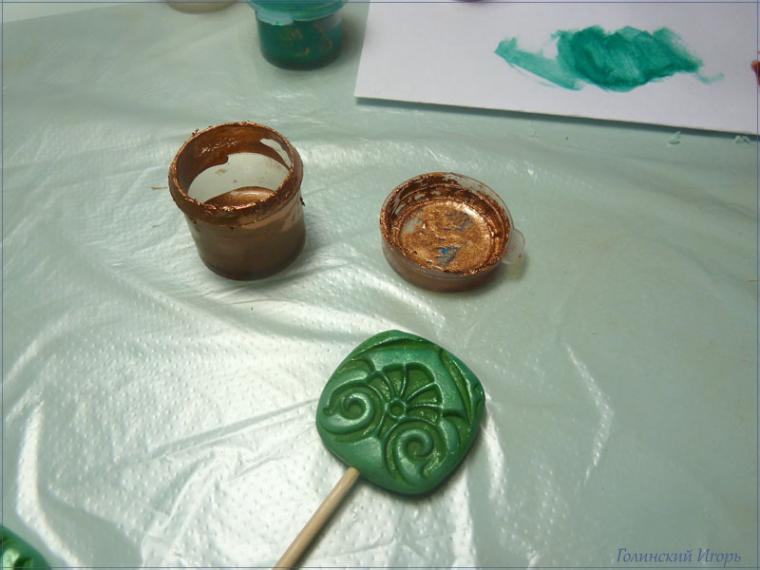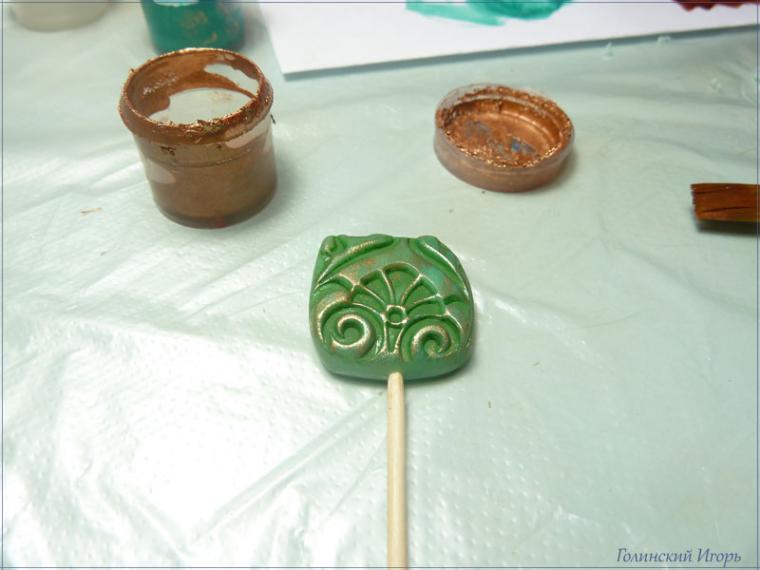 You just need only to leave the paint dry out, varnish (I used matt cernit) and assemble the blanks into a finished product, for example, earrings: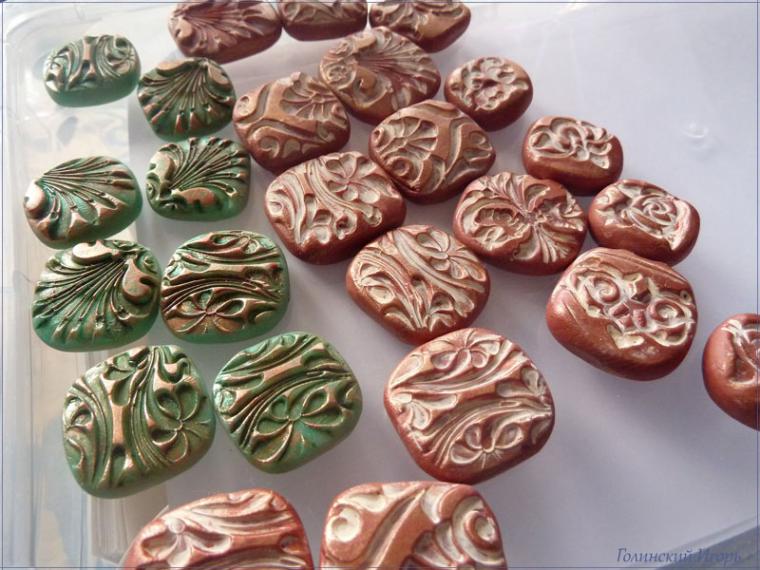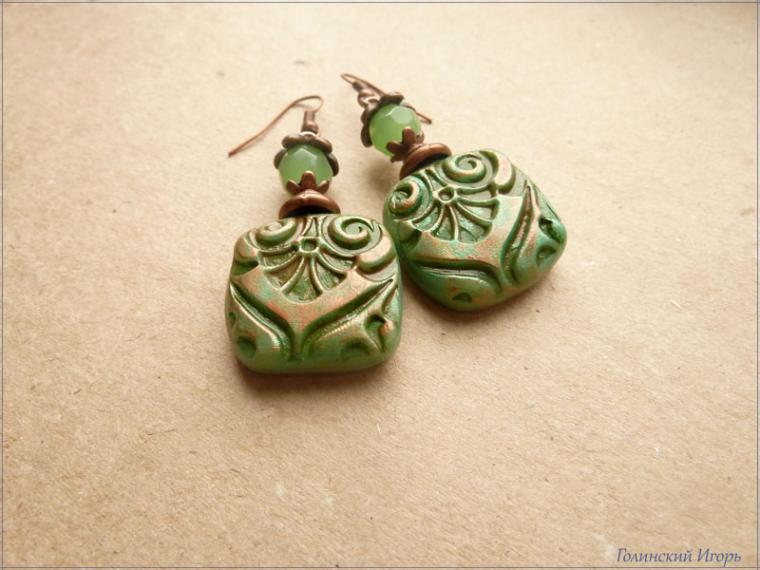 Buttons
Well, it is practically impossible to pass by a store department where buttons are sold. I like very textured ones. They are something I need. If you want to make bilateral beads, then buy two equal buttons.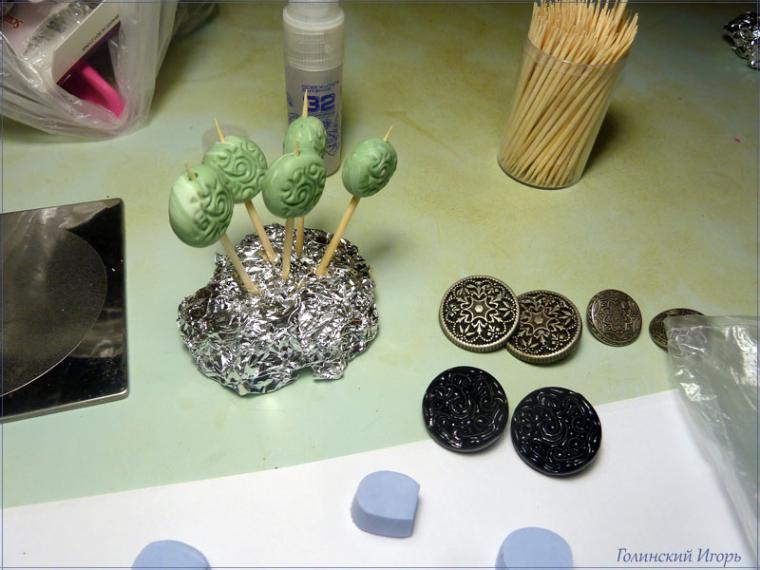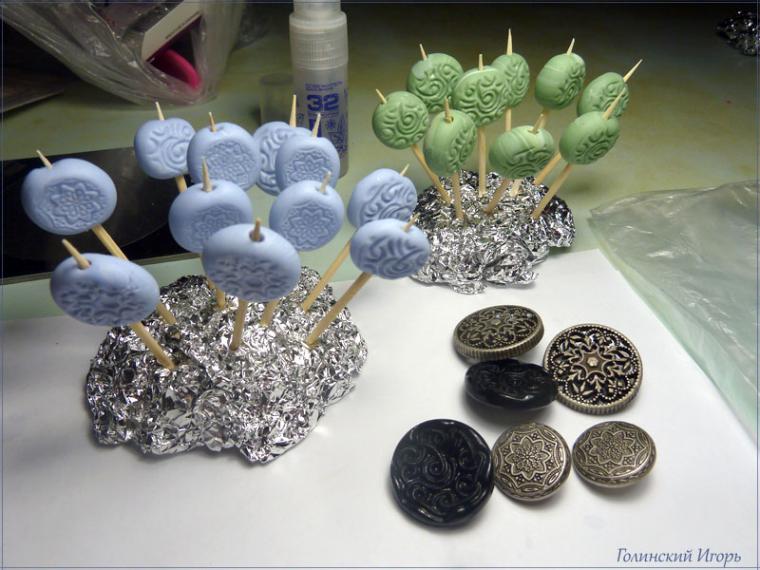 As seen in the photo, I've got paired buttons. Roll a ball, pierce it with a toothpick and press its both sides with buttons moistered in water. Could not be simpler. To leave the pattern clear, stick the toothpicked blanks in pieces of foil and put into the oven.
Then repeat the steps: twice toned, once varnished and assembled.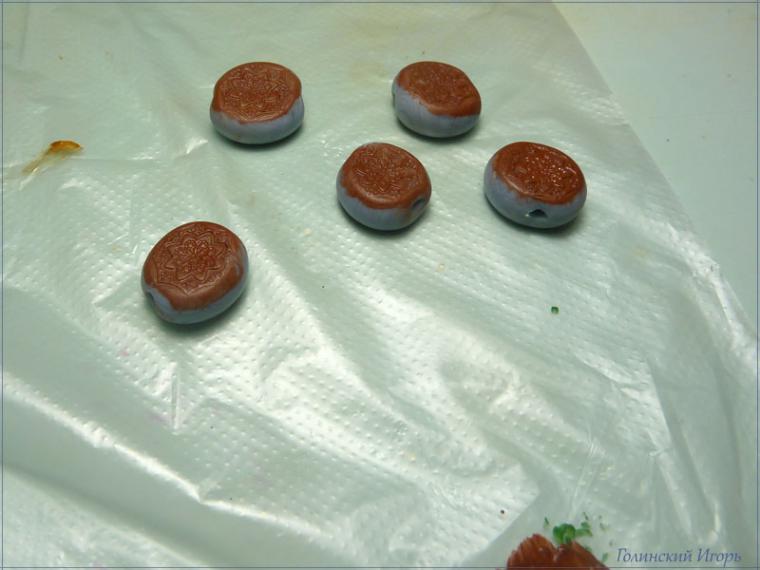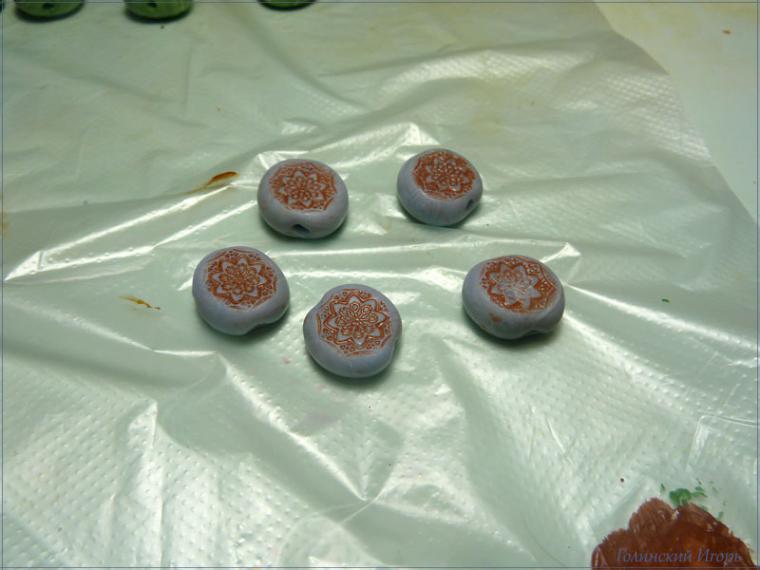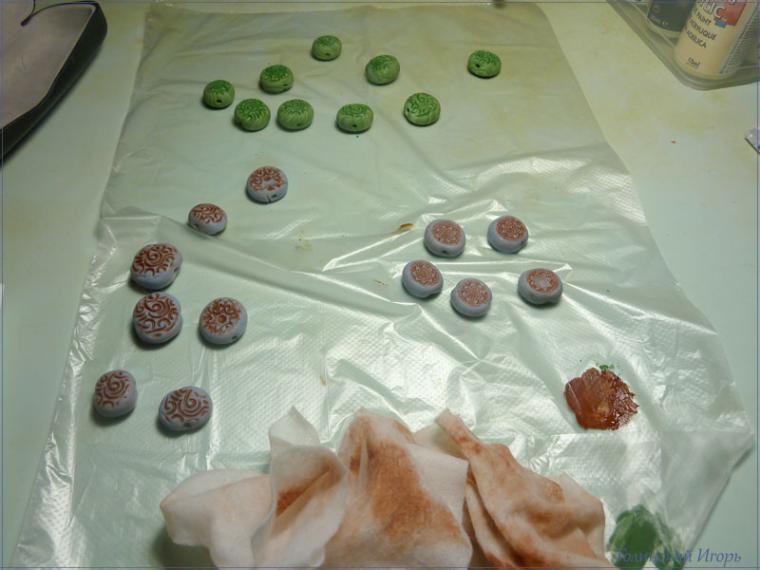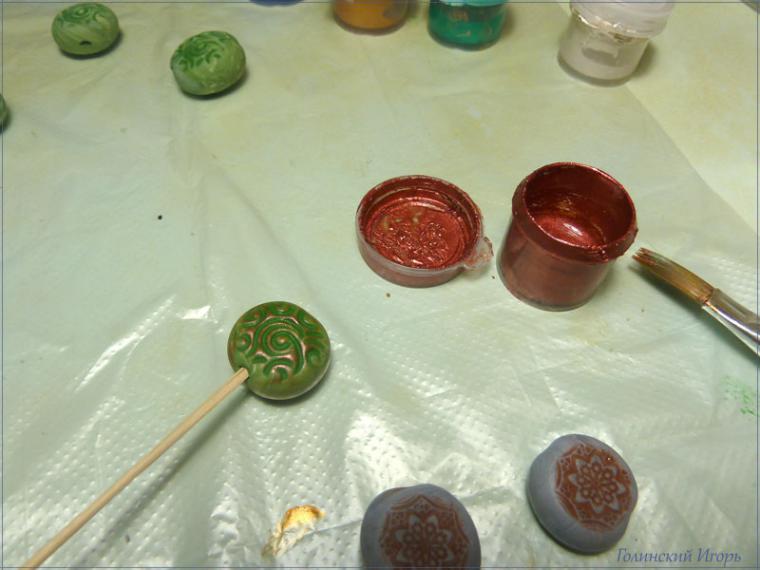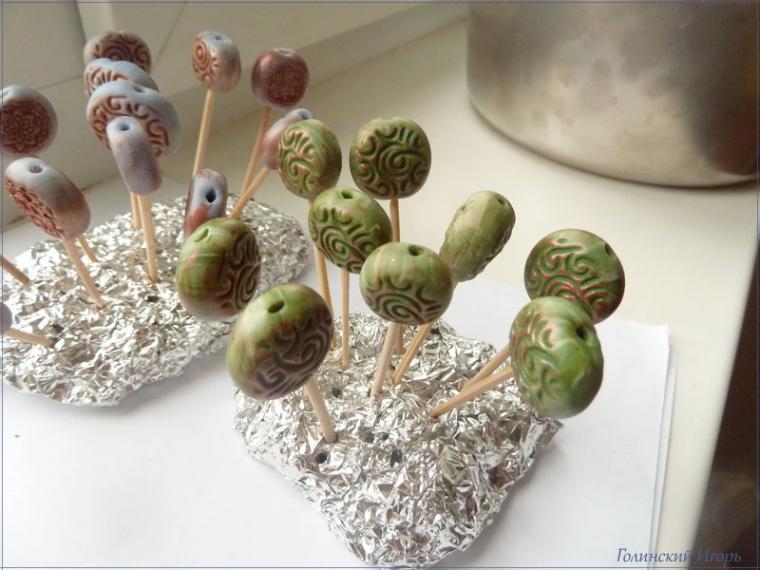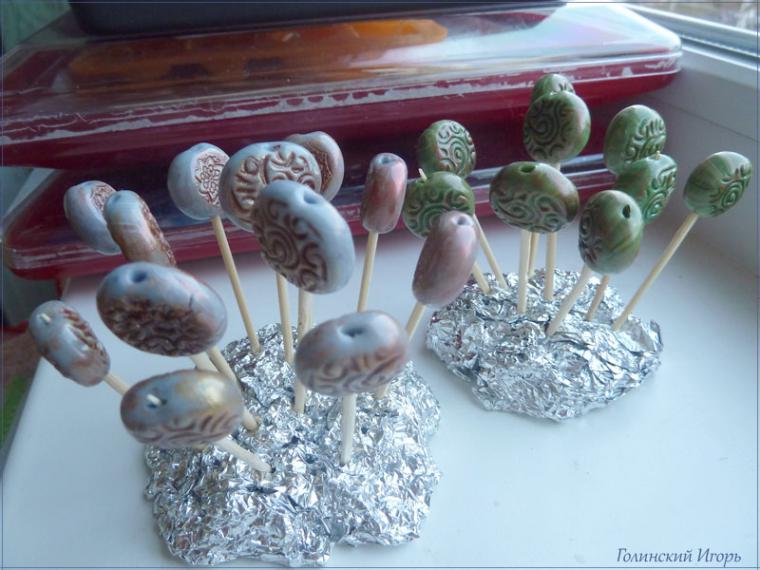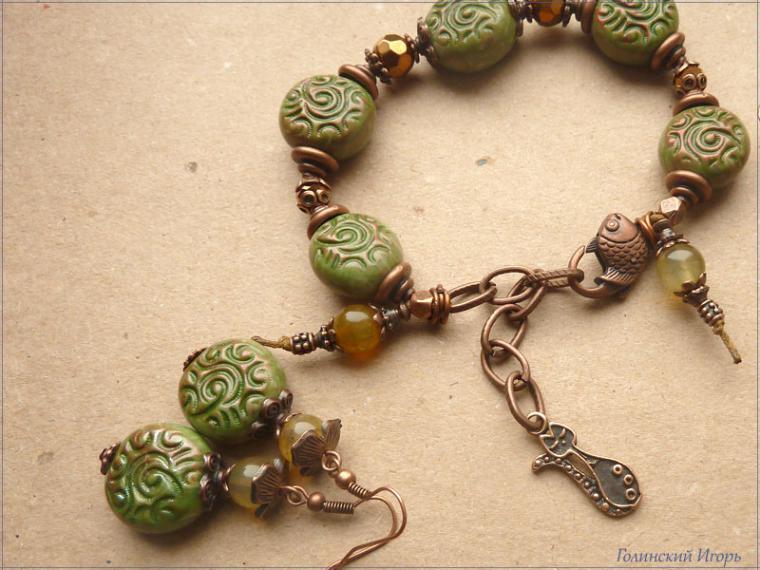 As it turned out,  you can do cute things even in the absence of the Muse. Wish you much inspiration and be aware of what is going on around you, interesting stamps may be anywhere.
DIYs & Tutorials on the topic