Make Decorative Bouquet Of Cotton And Dried Flowers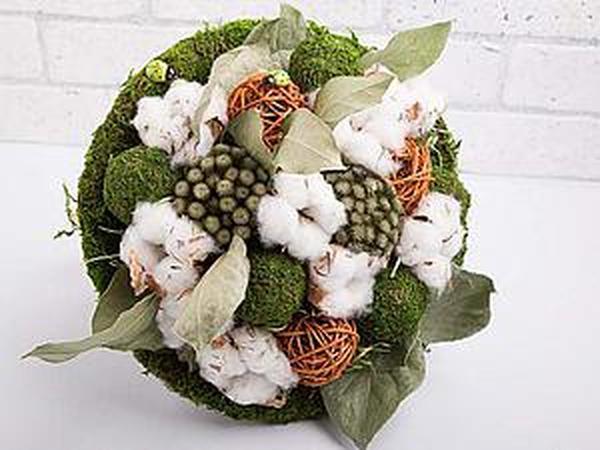 1. Cut the wire of the desired size (about 20 cm). 2. Do a hook from wire, fix with pliers on balls from rattan. 3. Balls of moss just put on the wire. 4. We take a pinch of our decorative filler, wrap it in the center with threads and fix it with a hot gun (such a workpiece will be about 5 cm long). 5. Fasten the workpiece to the ball of moss with a drop of glue. As a result, we get such blanks for the decor of our forest bouquet (5 of moss, 3 of rattan balls). 6. In the same way, fasten cotton on the wire. 8. Wrap the wire blanks with tape. 9. Next, form a bouquet and fix it with tape. As a result, we get such a nice bouquet. 10. Take the frame of moss and insert it into our collected bouquet. 11. Fix the bouquet with the help of tape. 12. So that the bouquet is in the color of the composition, wrap it with organza, pre-folded several times. 13. Emptiness of the reverse side of the frame of the bouquet is filled with decorative filler, used previously for the decoration of balls of moss. Try to fill not only the frame, but also stretch it along the length of the handle of the bouquet. Fix the threads.
14. The final stage, we tie a bow from a decorative ribbon and fasten it on the handle of the bouquet, decorate the bouquet with ladybugs. Our bouquet is ready. DIYs & Tutorials on the topic