How to Make a Gentle Alstroemeria from Foamiran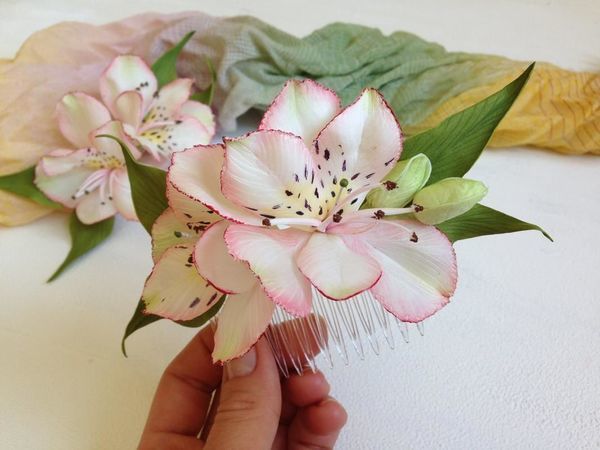 Today I want to tell you how I create hair accessories with delicate flowers of Alstroemeria — a hair pick and a clasp.
To create the Alstroemeria colors and accessories with them, you will need the following:
marshmallow thinned foamiran;
Iranian foamiran;
Iranian green foamiran;
scissors;
orange stick;
iron;
oil pastel;
dry pastel;
acrylic paint;
brush;
wire;
superglue;
PVA glue;
glue gun;
semolina;
tape;
hair pick;
clasp.
I cut out a necessary number of petals from marshmallow thinned foamiran.
Alstroemeria flower consists of 5 petals. Alstroemeria petals have peculiar as if torn edges. With the help of an orange stick I get a desired effect: I don't have mold for Alstromeria, so I use orange stick to draw the veins on each petal: Then, I slightly tone top and down parts of each petal: Also, I draw veins and tone the petals completely to use it to make flower buds: After that, I tone each petal with pink pastel. Toning should not be even: I add yellow to the middles of large petals: I draw freckles on the petals of medium size: It's time to create stamens.
I cut strips in the form of a cone from Iranian foamiran.
I put a tip of each stamen into PVA glue, and then into semolina: Also, I slightly tone stamens with soft pink shade: The Alstroemeria flower has 6 stamens and one pistil.
I make a pistil from ordinary wire, on the tip of which I put a drop of glue by glue gun.
I fix the pistil and 6 stamens together, so that the stamens round the pistil evenly.
How to make a flower:
I glue 2 medium-sized petals to the pistil and stamens.
Then, I glue the smallest petal in front of them and 2 large petals after that: I paint the pistil head with green acrylic paint and the stamens heads with brown acrylic paint: With the help of tape, I create a flower "bump" at the base of each flower: Creation of buds.
I round the top of a wire with a thin strip from Iranian foamiran: I cut off the corners, trying to smooth the shape of buds: I glue that with previously prepared petals: Creating leaves.
From Iranian foamiran of olive color, I cut out leaves of various shape and size: I slightly tone them with green oil pastel and draw veins on each leaf with an orange stick: I make the leaves look alive by sipping their edges in different directions, and I glue the wire to the back of each leaf: A hair pick.
As a plastic base for a hair pick: I start making it by applying the leaves to the base and fixing them with tape: To avoid thickening, I cut off unnecessary wires in the process: I add the flowers at the end: A clasp.
The creation of a clasp is similar to what I did with the hair pick: Here is the result :) DIYs & Tutorials on the topic