DIY Autumn Wreath Without Felting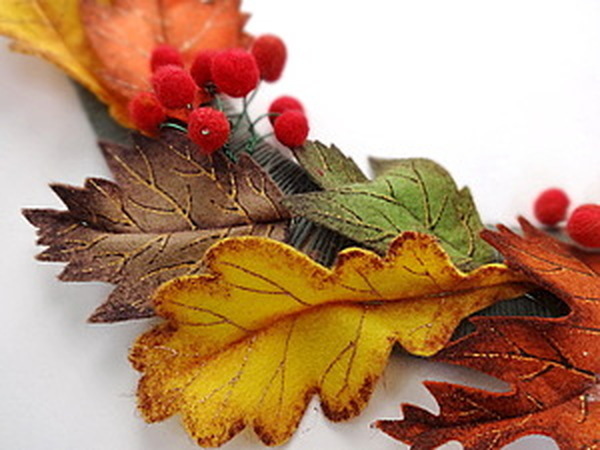 I love golden-red-purple autumn. So I decided to capture it in a warm wreath. Since felting is quite a long and difficult process for me, I decided to simplify it as much as possible. To get to work, you need a good mood! We go outside, enjoy the beautiful autumn nature, rays of the sun and do not forget to collect leaves.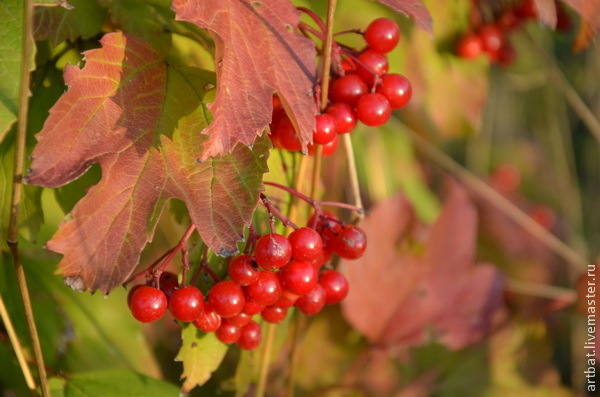 Here is our picturesque bouquet collected, and now you can get to work.
For the wreath you will need:
1. Leaves of oak, maple, viburnum.
2. Sheets of felt - 1 mm of several shades of fallen leaves (yellow, ochre, orange, red, brick, brown, olive).
3. Scissors.
4. Threads, sewing pins.
5. Green wire – diameter 1 mm.
6. Brush, hard enough for toning.
7. Acrylic paint, dark brown and burgundy.
8. Contour paint – gold, copper and dark brown.
9. Wool for felting, bright red.
10. Skein of thick wool, dark green.
11. Marker.
12. Clipper.
13. Sewing machine with the line "zig-zag". Who does not hve it – you can sew by hand.
14. Sheet of cardboard – 40*40 cm.
15. Glue "Titanium", transparent.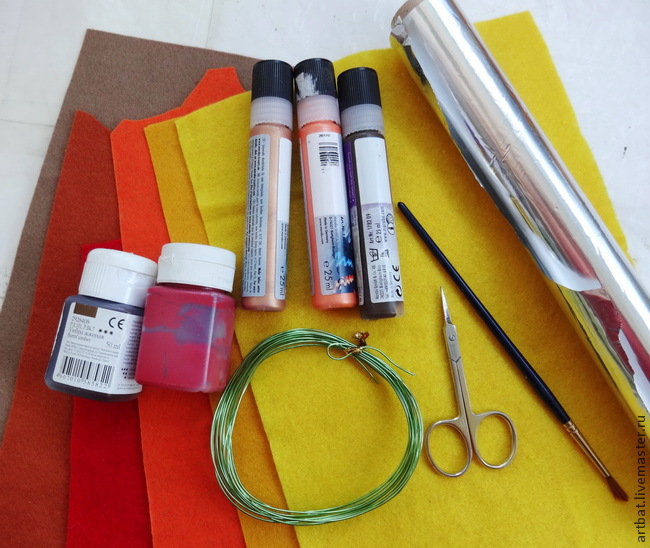 Let's start our work on the autumn wreath. First, make templates of leaves – outline the leaf on the paper and cut out.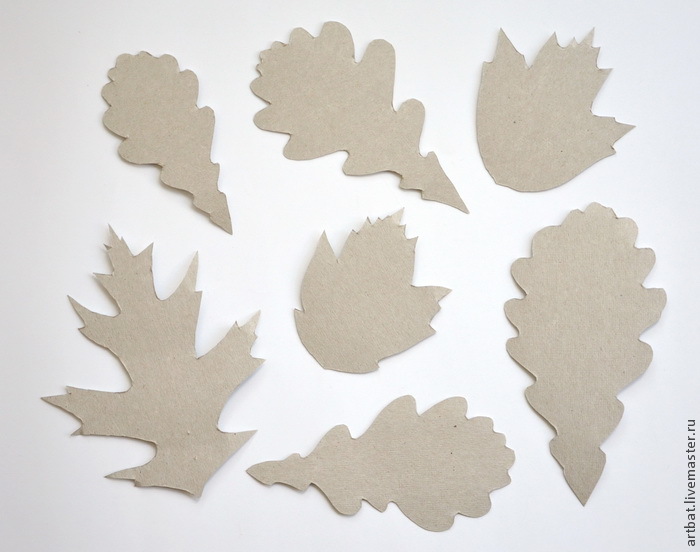 Then apply the templates to felt, outline several pieces at once with a marker and cut out.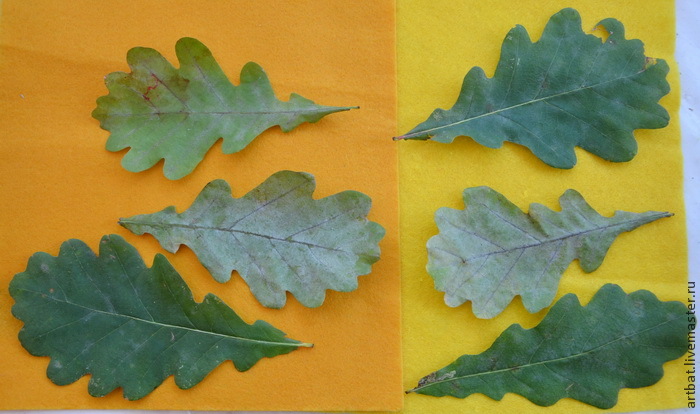 Then on a sheet of cardboard (I have this corrugated cardboard from the box) draw a circle with a diameter of 38 cm. And inside of it draw a circle of smaller diameter (28 cm). Cut.
Lay out our leaves along the circle, and if they are not enough, cut out more additional elements.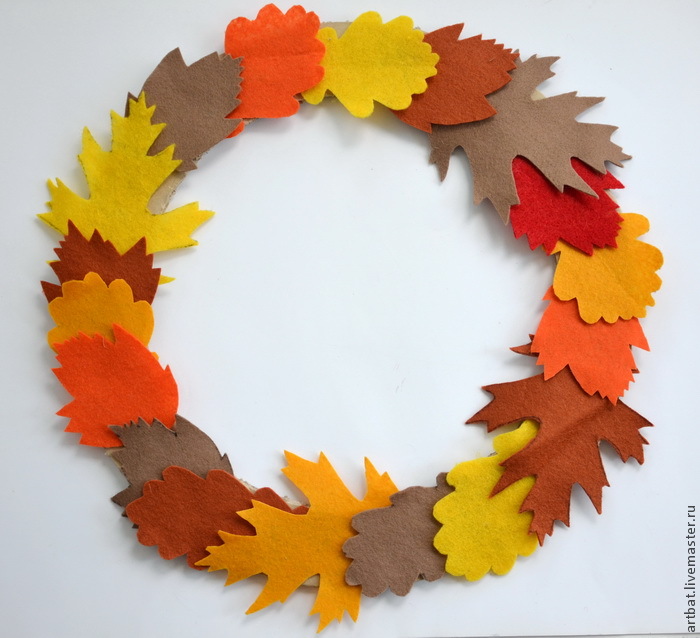 So far, our leaves have turned out flat and not interesting at all. Now we will work on the shape of the leaves. Cut wire with wire cutters – 15-18 cm. Fold the leaf in half, smooth with your hands. Then insert the wire in the middle of the leaf and chipping felt pins.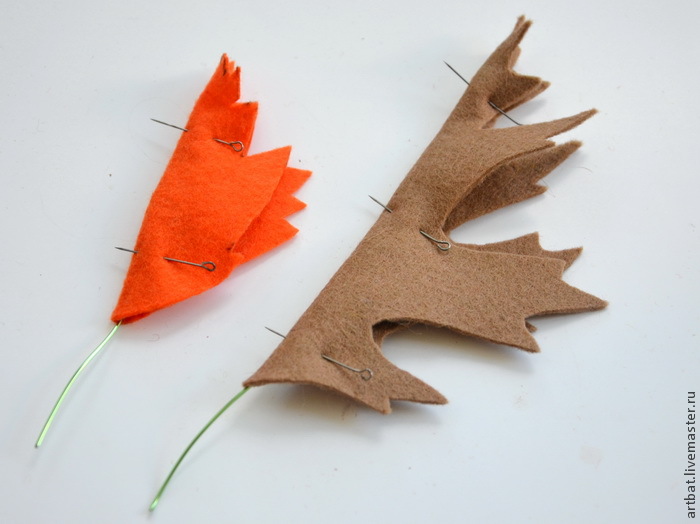 Fix the wire with a zigzag stitch on a sewing machine.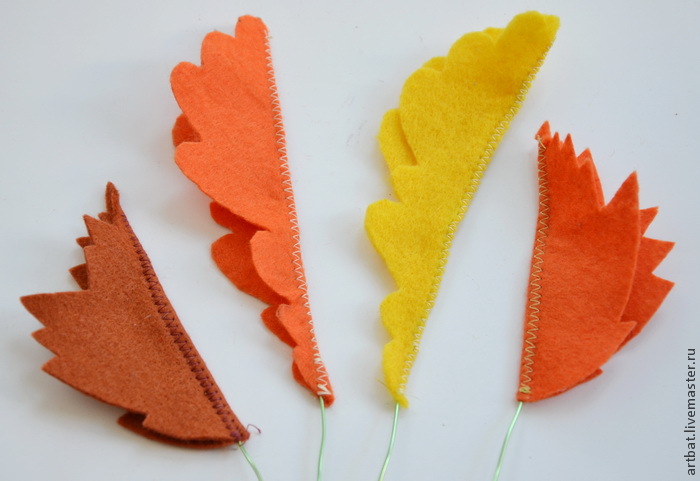 Now we can bend our leaves in any direction.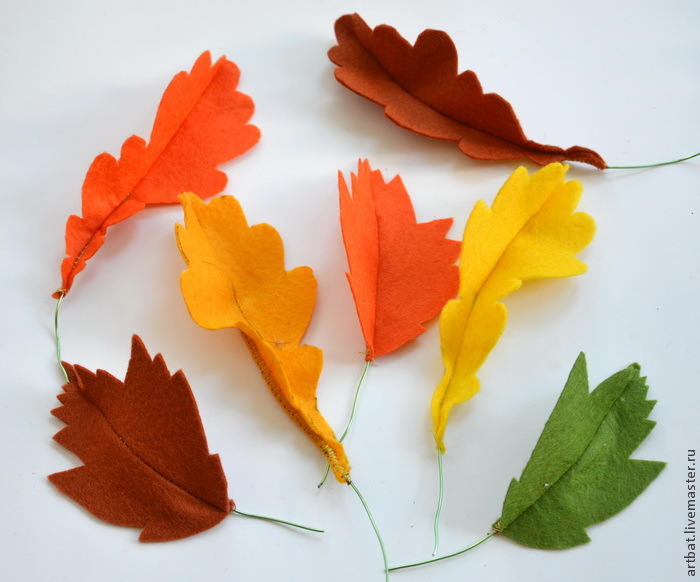 The next stage in our work is tinting. With a brush and acrylic paint shade the edges of the leaves.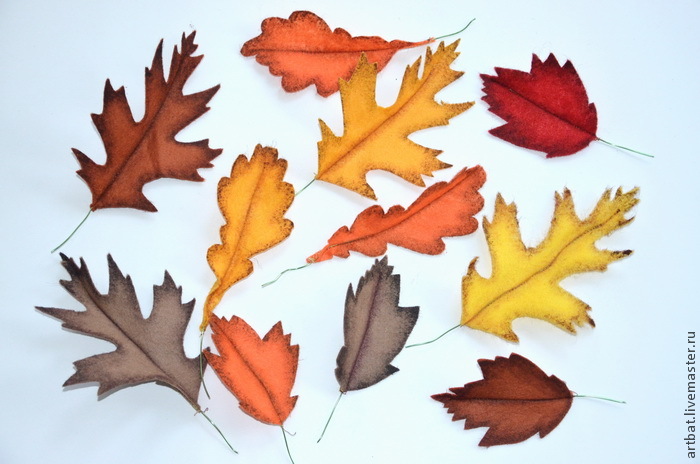 Draw the contour with paint streaks.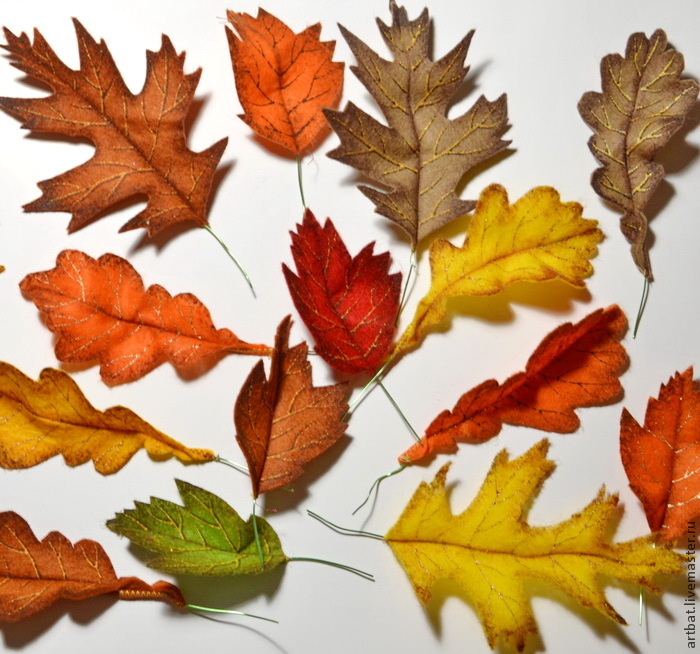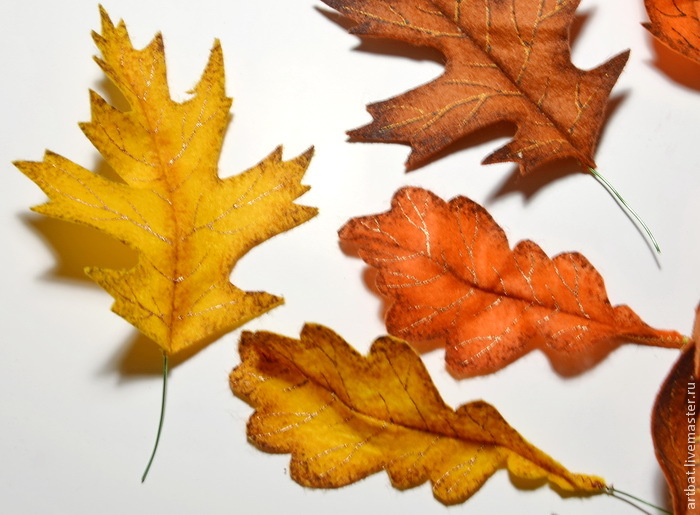 Put the leaves aside. Decorate our circle. Take a skein of thread and wrap the cardboard blank.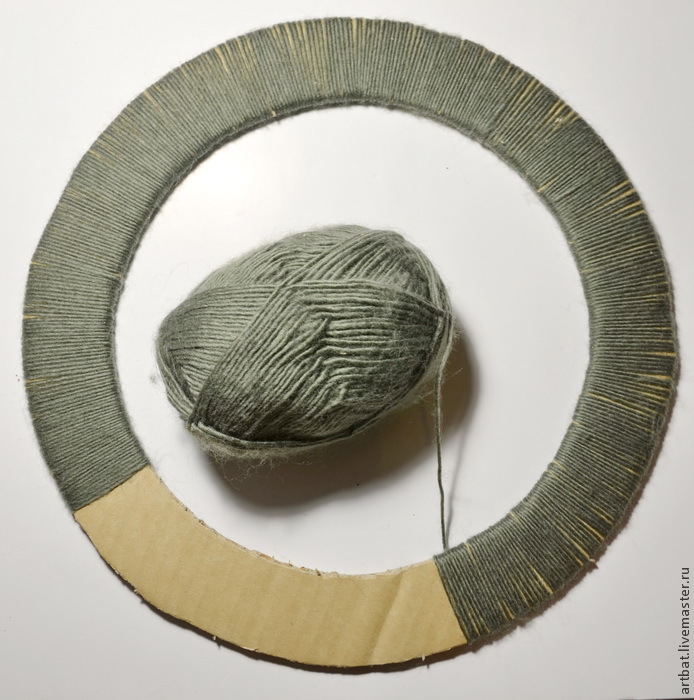 Apply the leaves. Subsequently, we will fix them, thrusting under the thread. The tip of the wire should be lubricated with glue, so that our leaves do not fall off.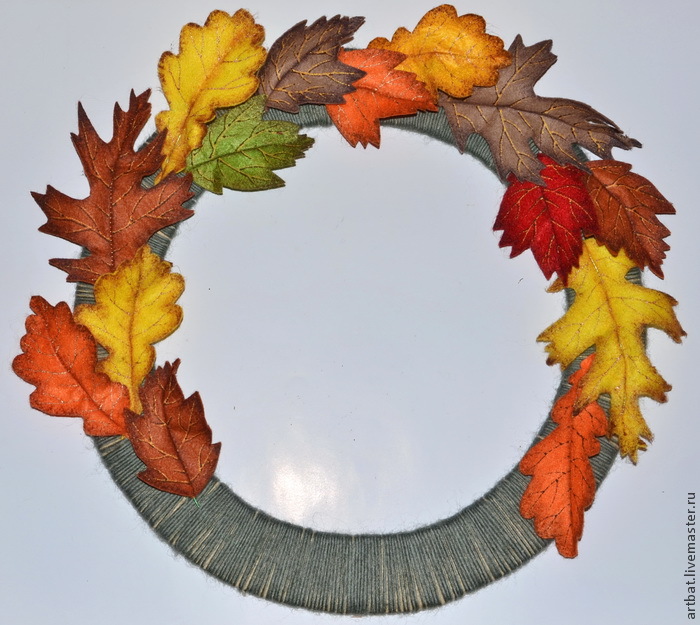 Proceed to the production of berries. From wool for felting roll the balls between the palms.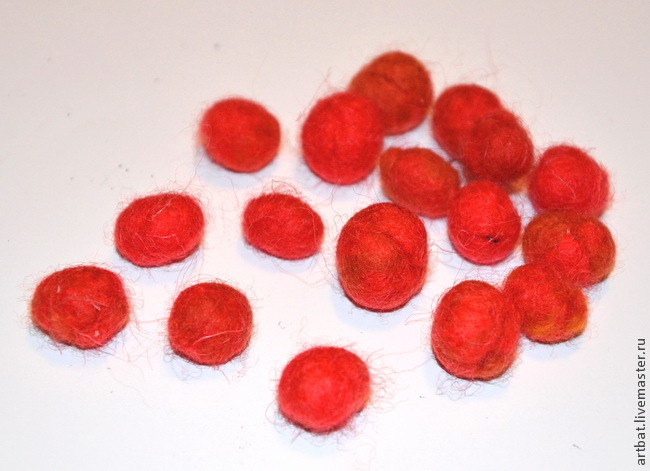 Cut the wire into pieces of 4-5 cm. At one end, bend the wire and glue to the berry. Collect berries on the leg in clusters. Then we make a composition of leaves and berry clusters on the circle. If all fits – we stick our composition.
That's what I got: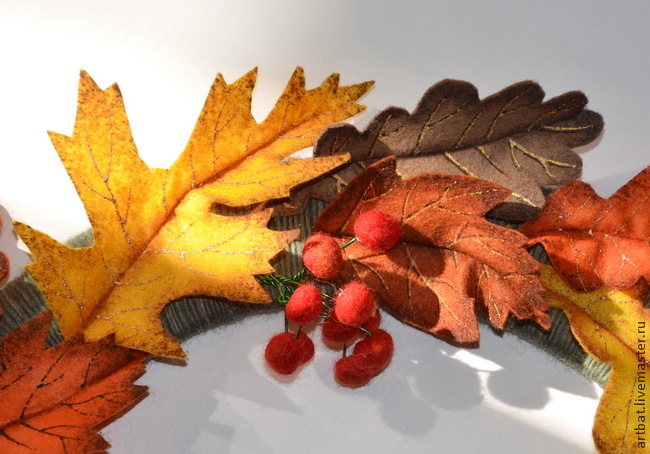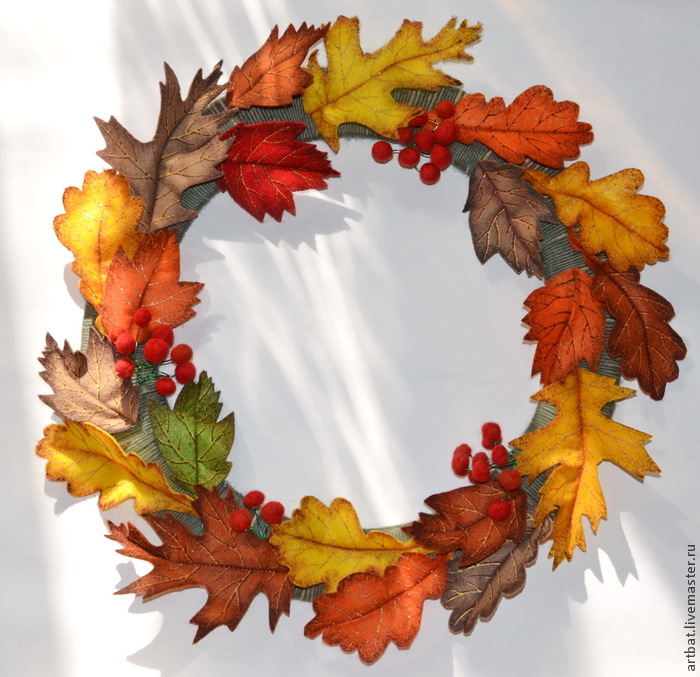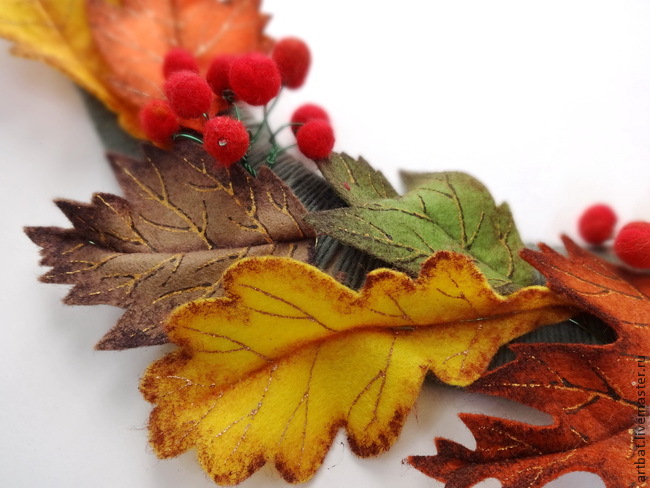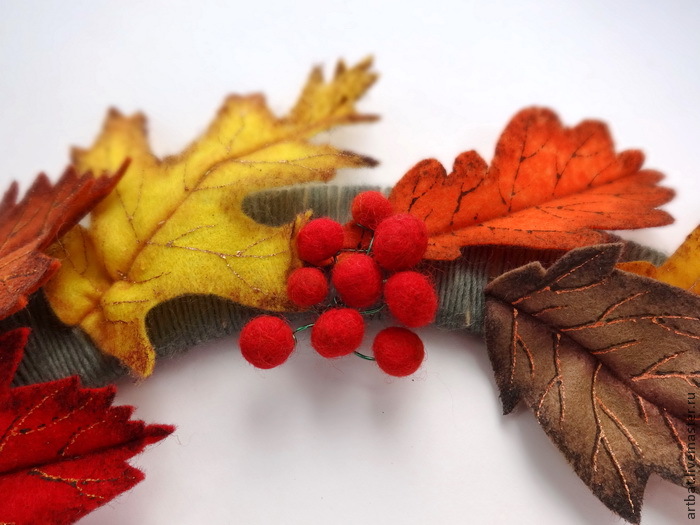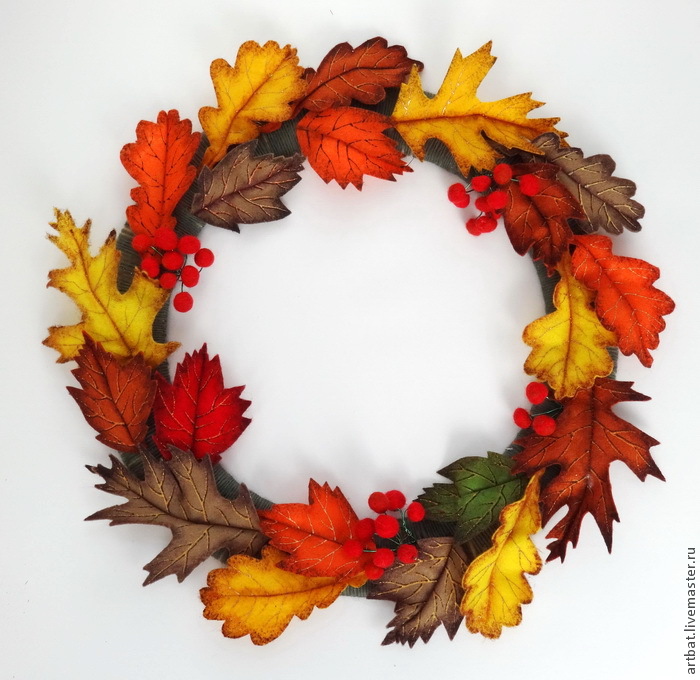 Now a good bright autumn mood is provided for me. I wanted to share it!
Thank you all for your attention. I hope this master class will be useful to someone, and a colorful wreath will lift your mood.
DIYs & Tutorials on the topic