Decorating 5 Hairbrushes in Decoupage and Dot Painting Techniques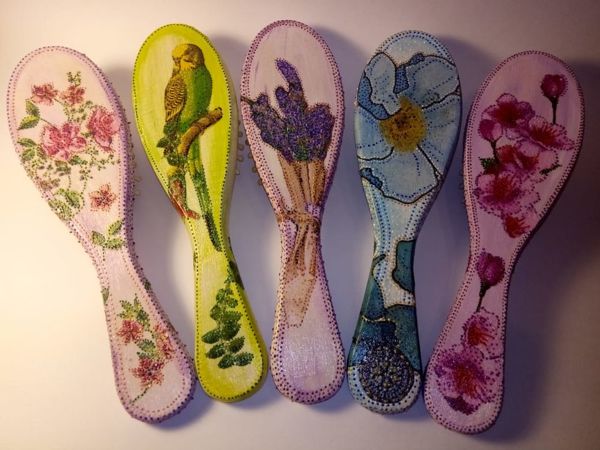 Dear girls! Long-awaited spring has come! Many want to make handmade gifts for friends, relatives, colleagues, acquaintances... There is nothing easier! Today I will tell you how to make a beautiful, truly ladies' gift, and not just one, but many!
So, attention, today we will decorate a batch of hairbrushes in the techniques of decoupage and dot painting!
Why is it easier to make several at once?
1. Less energy — one stage of work (for example, priming or varnishing) requires the preparation of the workplace, and then cleaning. You save your energy by preparing and removing once, while priming or varnishing several products.
2. Time saving — in the procedure of decoupage and dot painting a lot of time is spent on drying the product! When making a batch of products, we gain time, because we do not spend it on waiting: while we are priming the fifth product, the first is already dry and ready for the next stage of work!
3. As a result, you get not one product, but a whole batch!
As for my experience, the optimal number of products is 4 to 7.
Select and prepare all necessary materials:
1. From 4 to 7 wooden hairbrushes, in my case it is "wooden Siberian collection".
2. White or light acrylic paint and acrylic paint color for tinting, brush synthetics.
3. PVA glue, brush bristles.
4. Acrylic lacquer water-based brush synthetics.
5. Napkins, decoupage cards, scissors.
6. Acrylic paint for dot painting.
7. Packaging for gift.
Let`s begin!
Step 1. Smoothing with sandpaper
The product must be properly smoothed, it is better to apply primer on a rough product.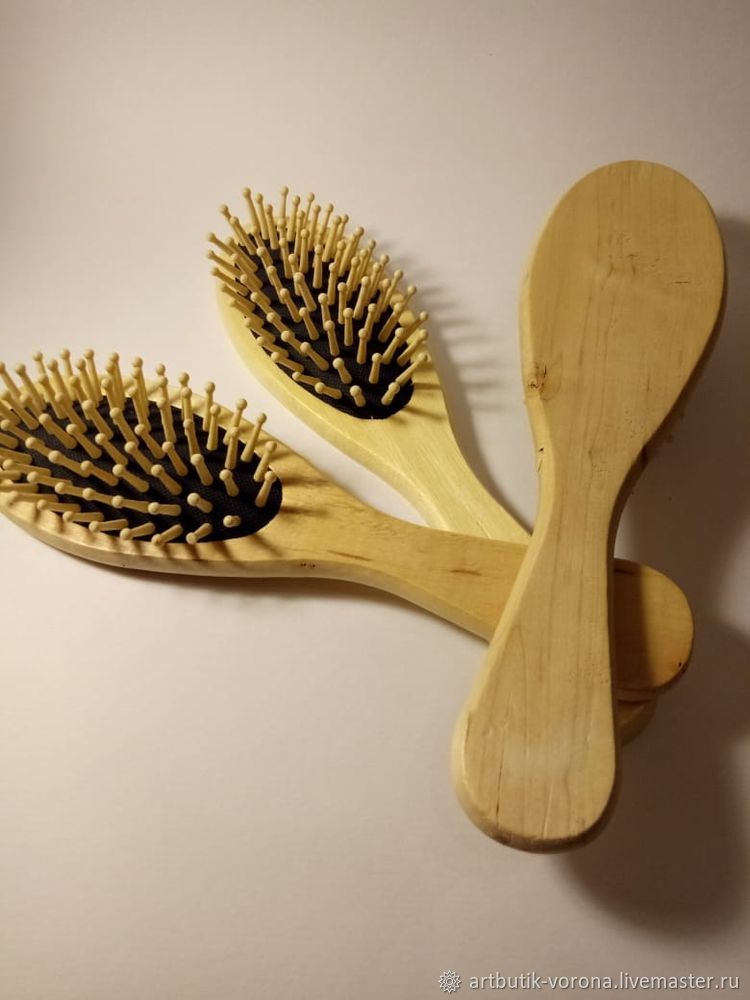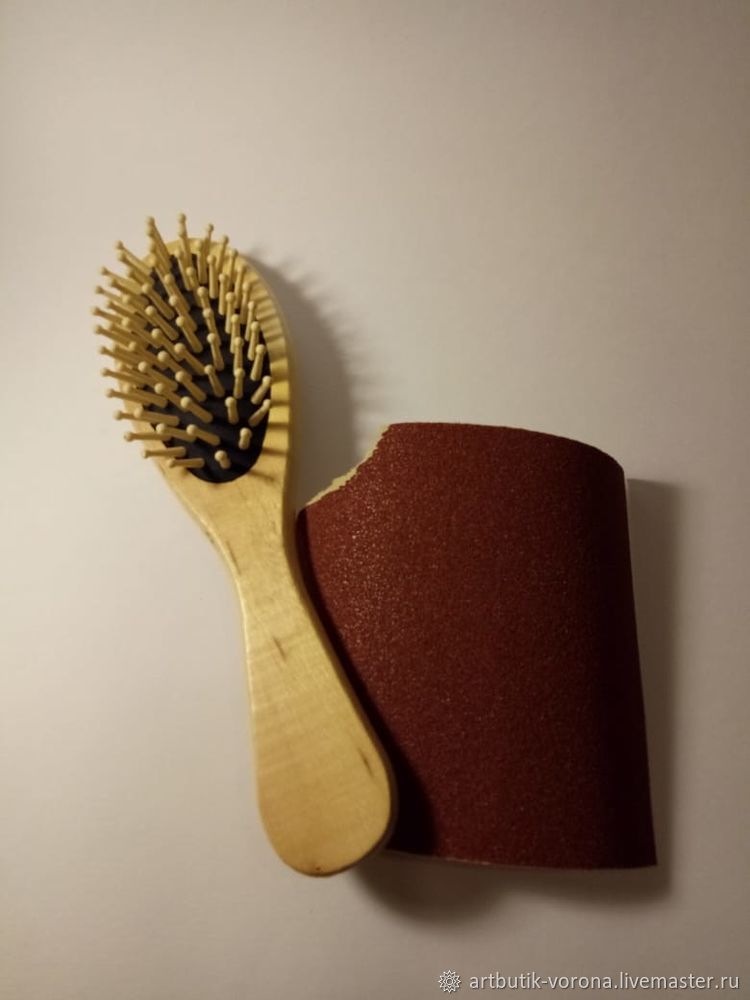 Step 2. Priming and coloring.
Take a white or very light acrylic paint and primer the product. Mix white and colored acrylic paints on the palette to the shade you like, be careful that when dry some acrylic colors become brighter and darker, and apply on the product to emphasize the shades. Then a thin synthetic brush can be used to paint the "edges" and add the game of "lights and shadows". In this method, a multi-color effect of staining will be obtained. Important emphasis: you will reach it at once, you will not need to wait for drying and apply the paint again, this saves paint! A hairbrush is a very convenient product for decoration, you are to decorate only one side.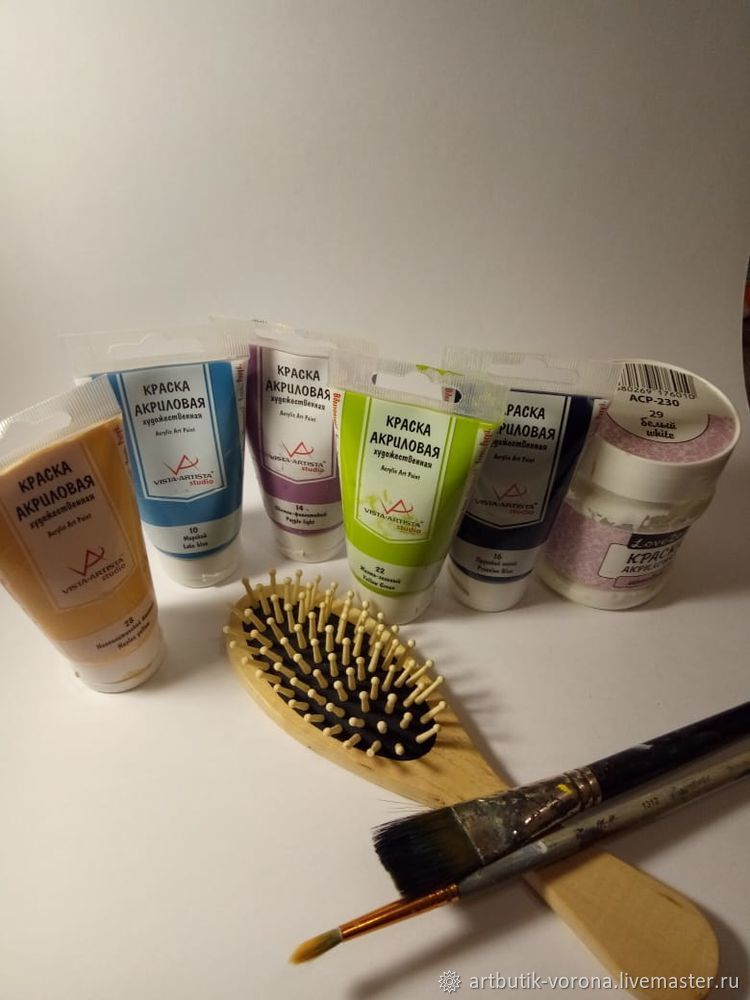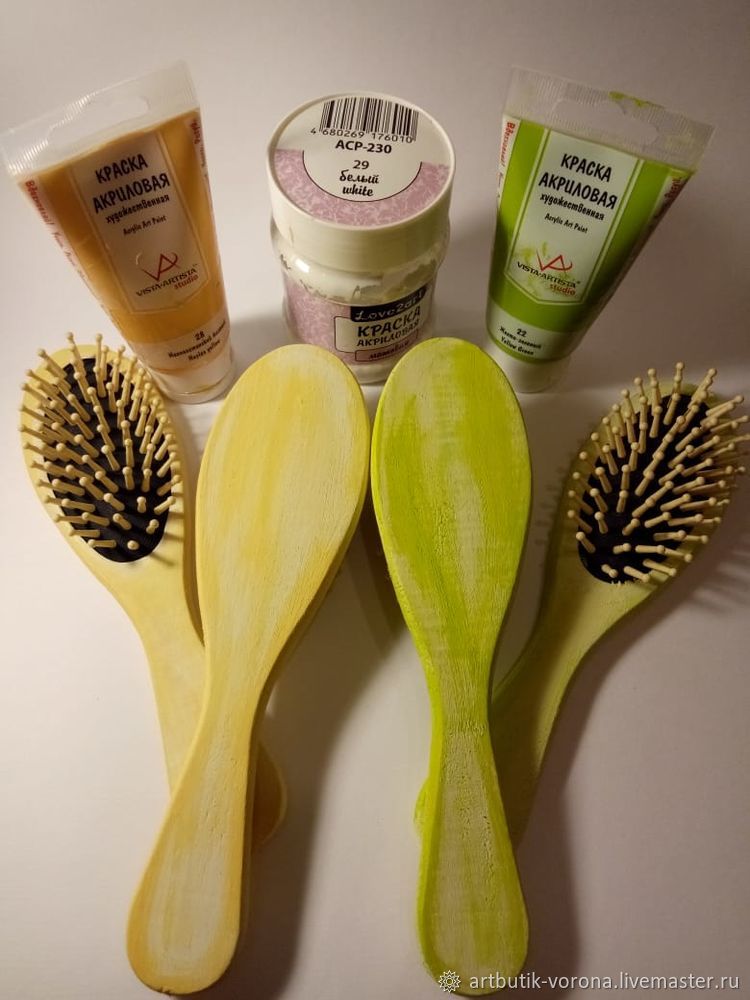 Hold the comb over the teeth (and there we leave the wood), paint the surface of a brush. You may ask how to dry it as one side touches the surface. I'll share my invention with you.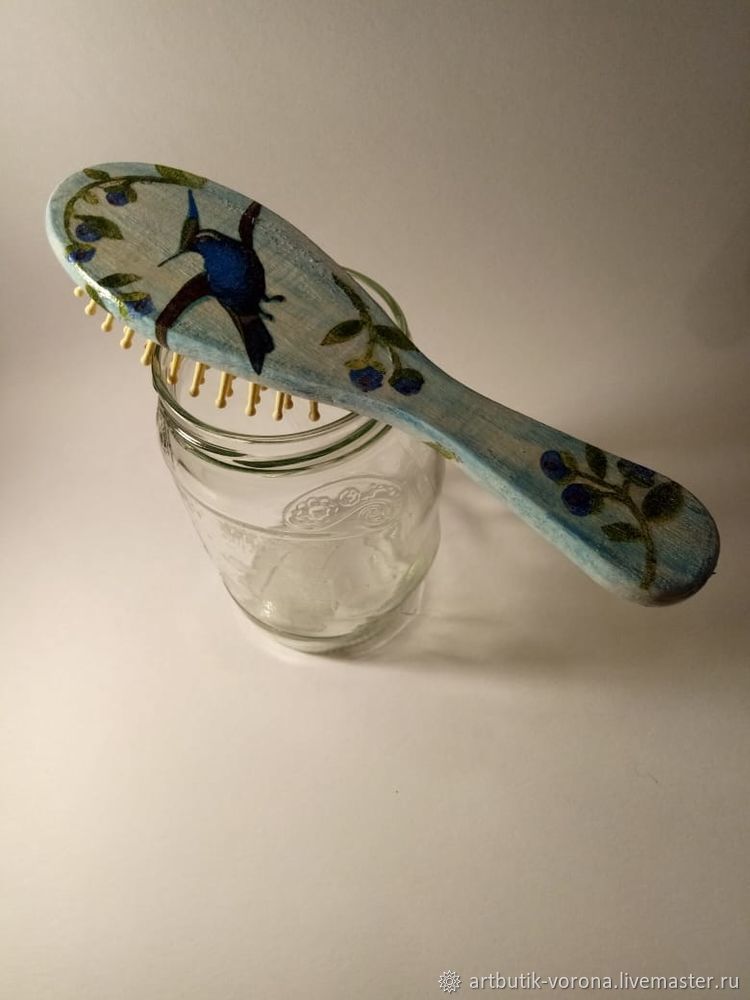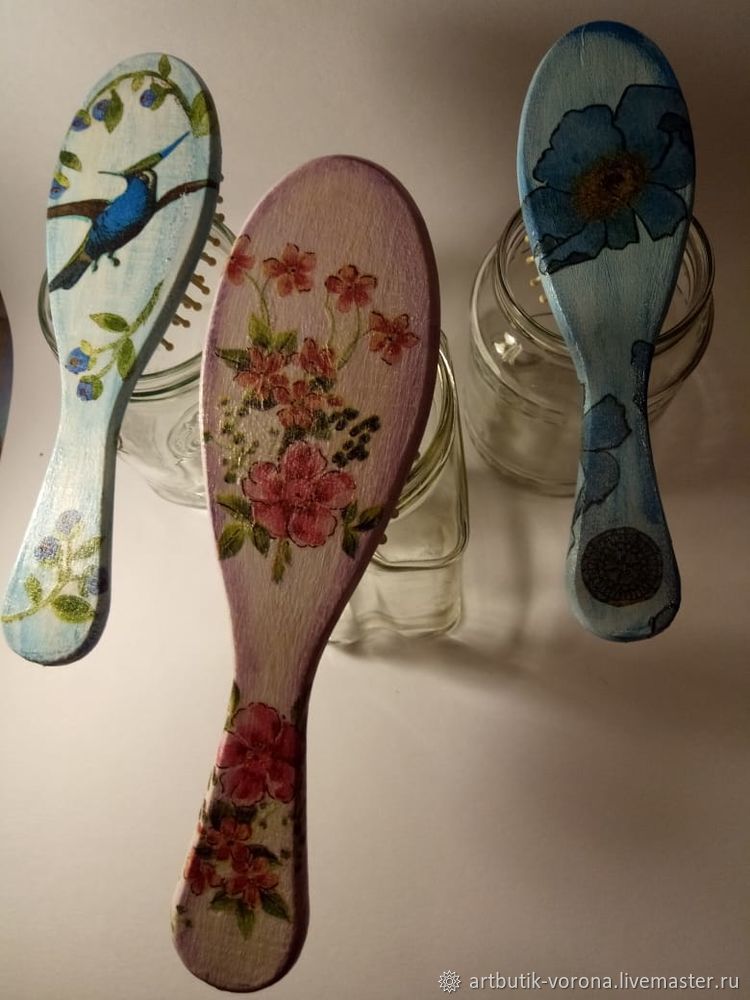 Step 3. Choice of decoupage elements, ornaments. Composition.
While our products are drying, come to one of the most fascinating processes of decoration — the transformation of an ordinary product into a fabulous and magical one! Lay out the napkins and cards for decoupage and choose the most suitable in size and color patterns, ornaments. When selecting, I always keep the product in front of my eyes to choose colors accurately. Look before you leap! Take the dried product and place chosen blanks on it.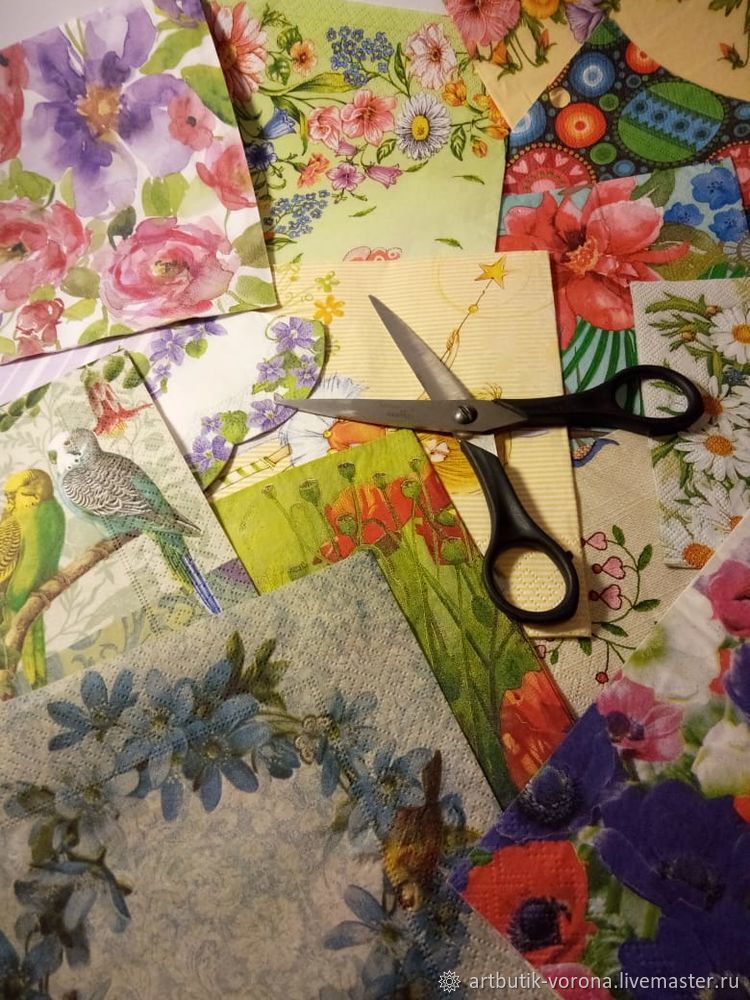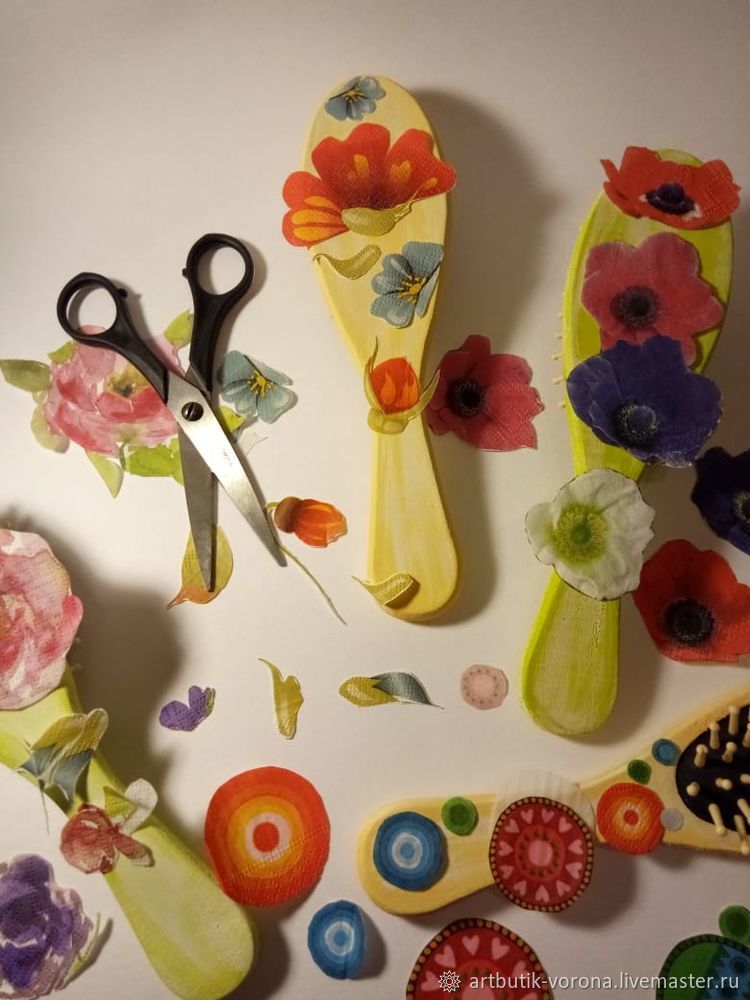 Step 4. Application
Glue the blanks with the help of PVA glue and synthetic brushes. I draw your attention that before gluing from a napkin it is necessary to separate only the top paint layer. The wipes are different, but, as a rule, they have three layers! This means that the other two layers will not be useful for us!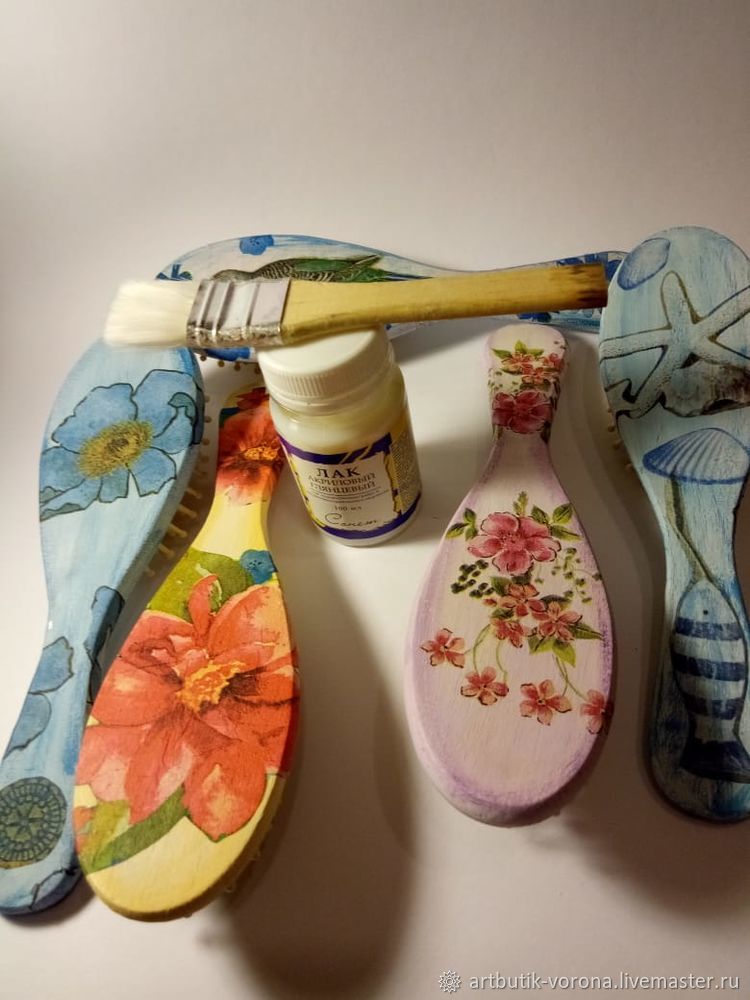 Step 5. Varnishing
After the glue has completely dried, the resulting workpiece must be varnished. Lacquered in two layers. The second layer of varnish is applied after drying the first. Varnish is better to apply with acrylic flat brush synthetic.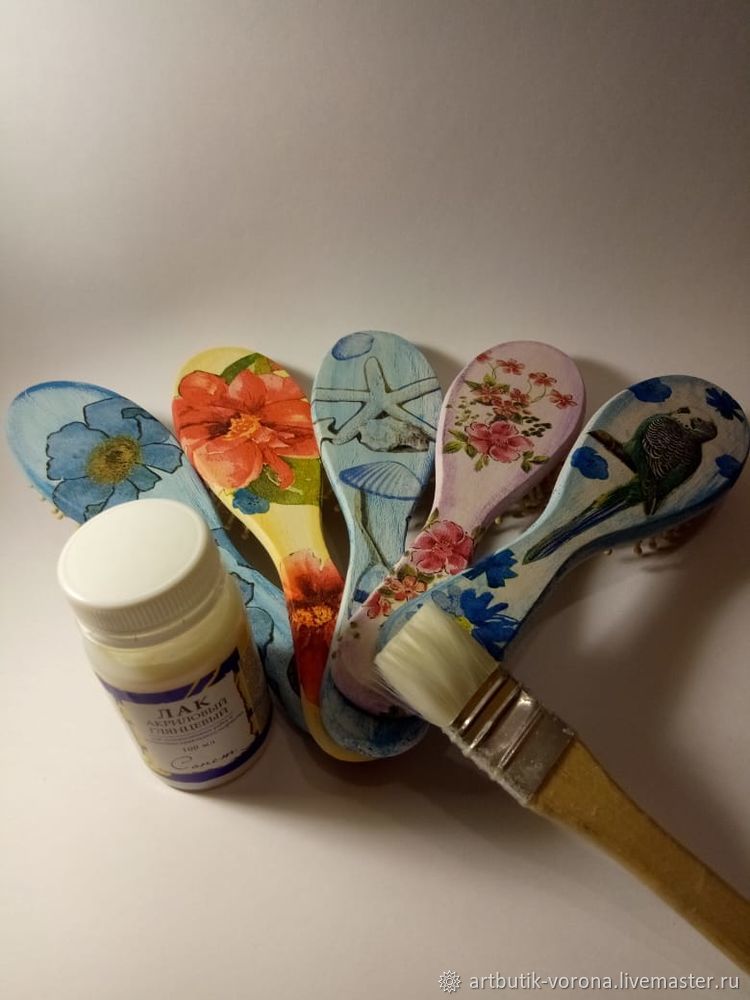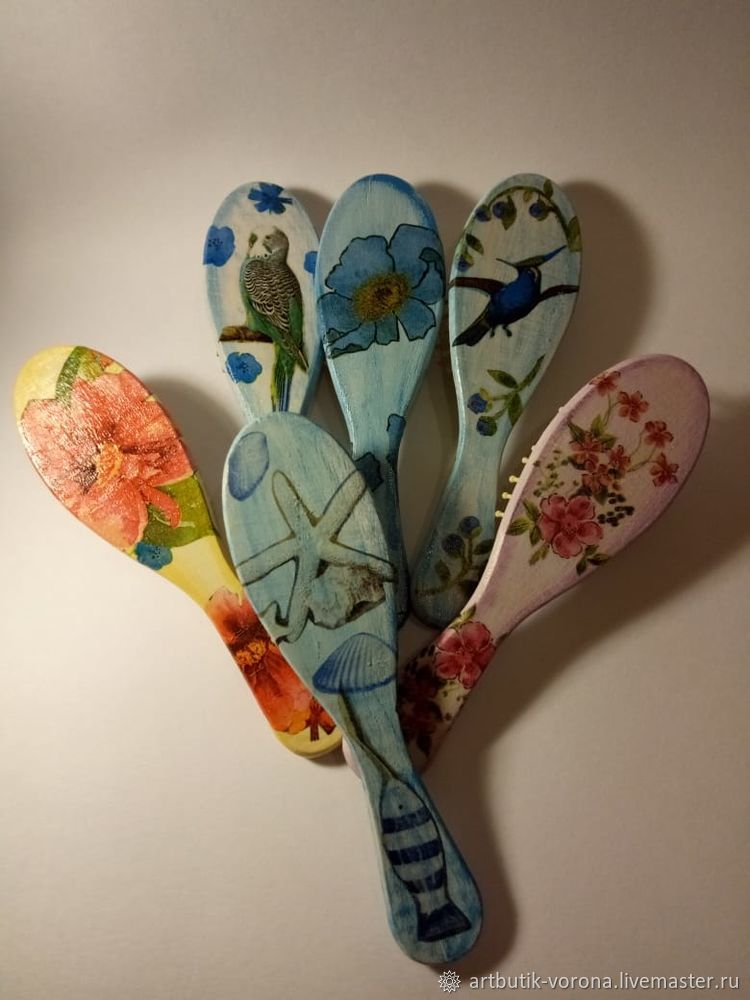 Step 6. Dot painting
Dot painting well emphasizes the contours of the product. With its help, you can more clearly place accents, make the product magical and finished. For dot painting acrylic paints in small tubes with special tips are used. If you have never been engaged in dot painting, before applying paint on the product, try on the palette, the size of a dot depends on pressure.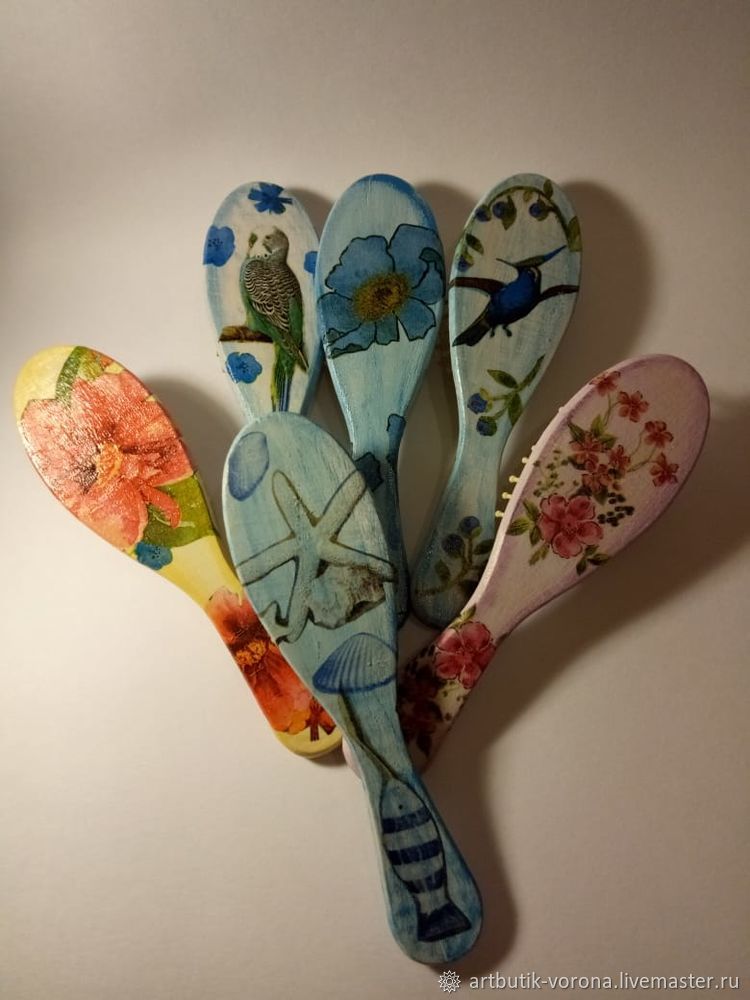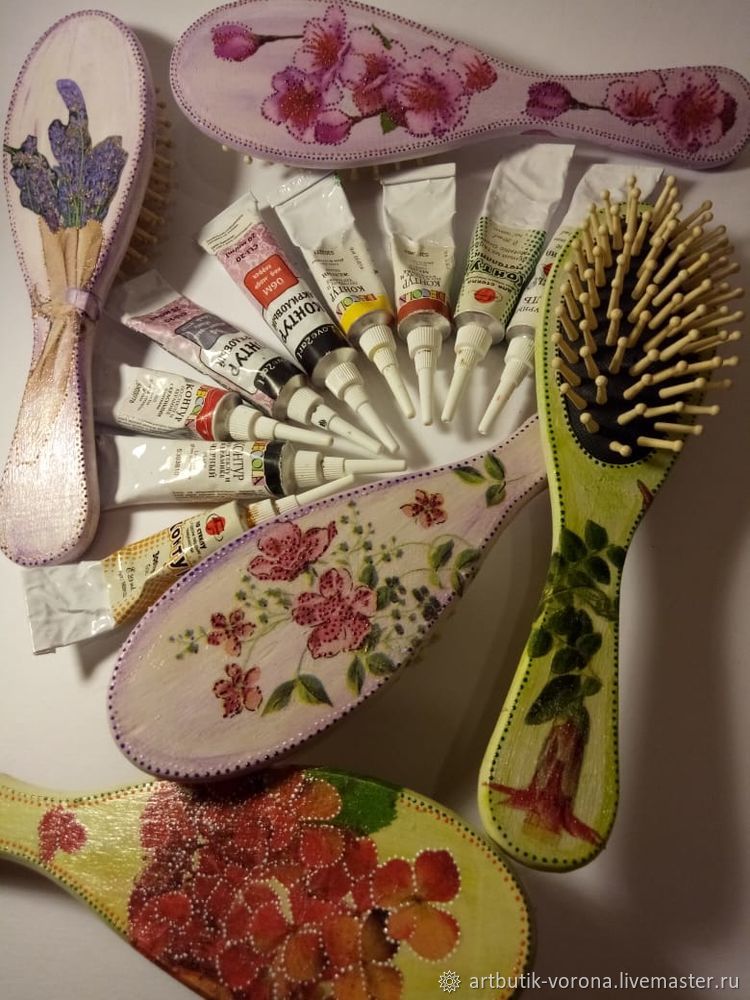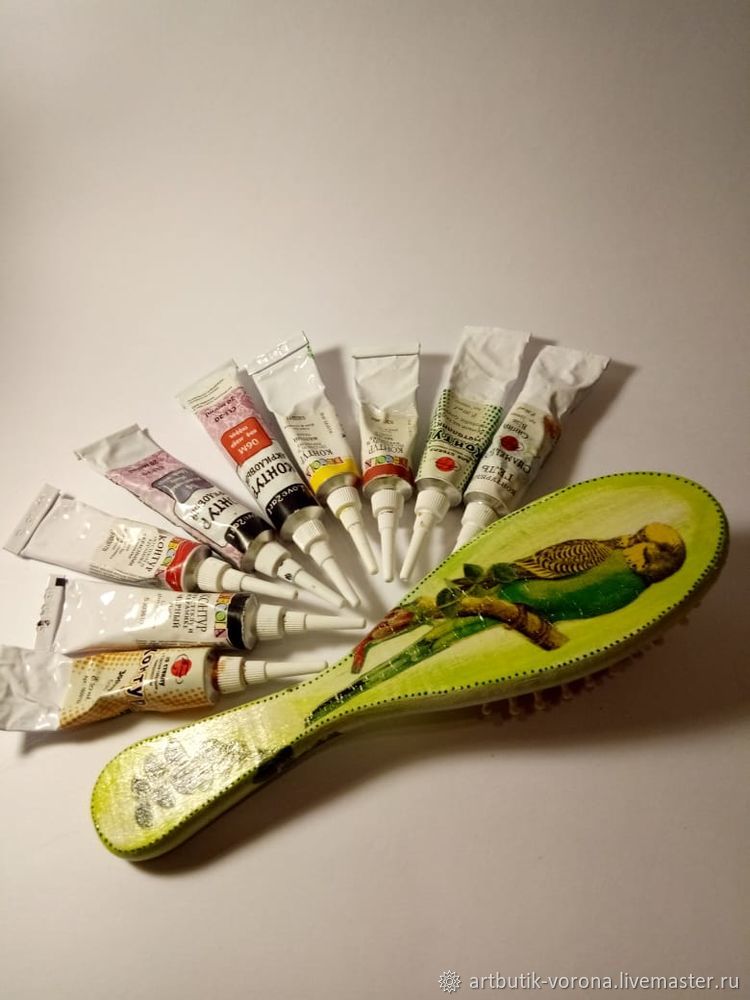 Step 7. Packaging
The product is finished. It remains only to pack it.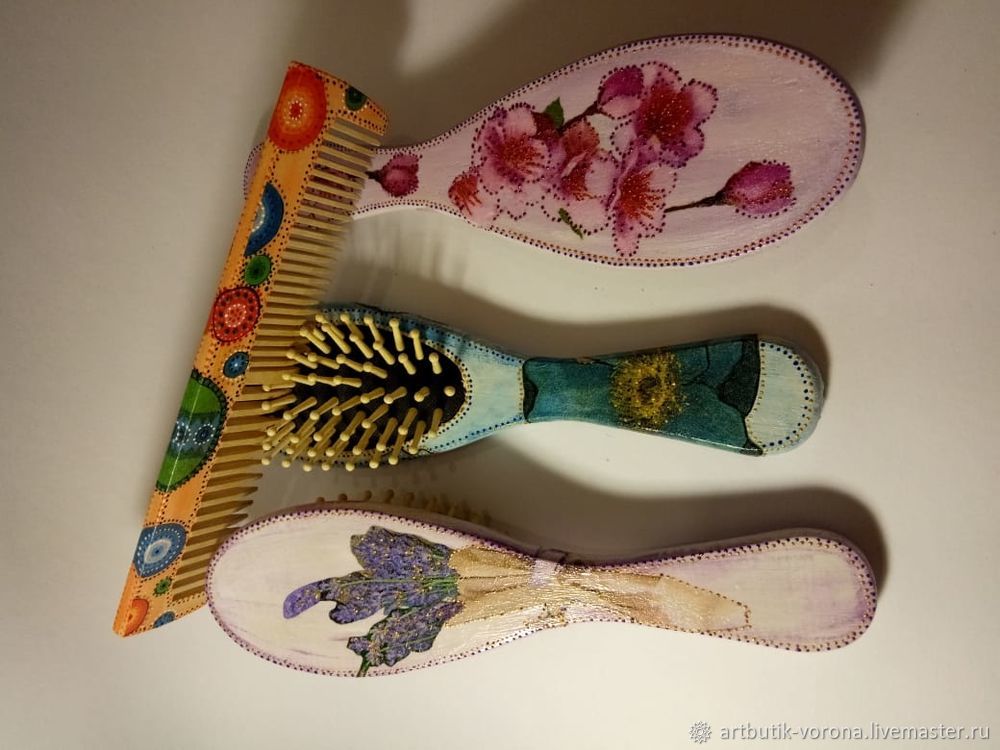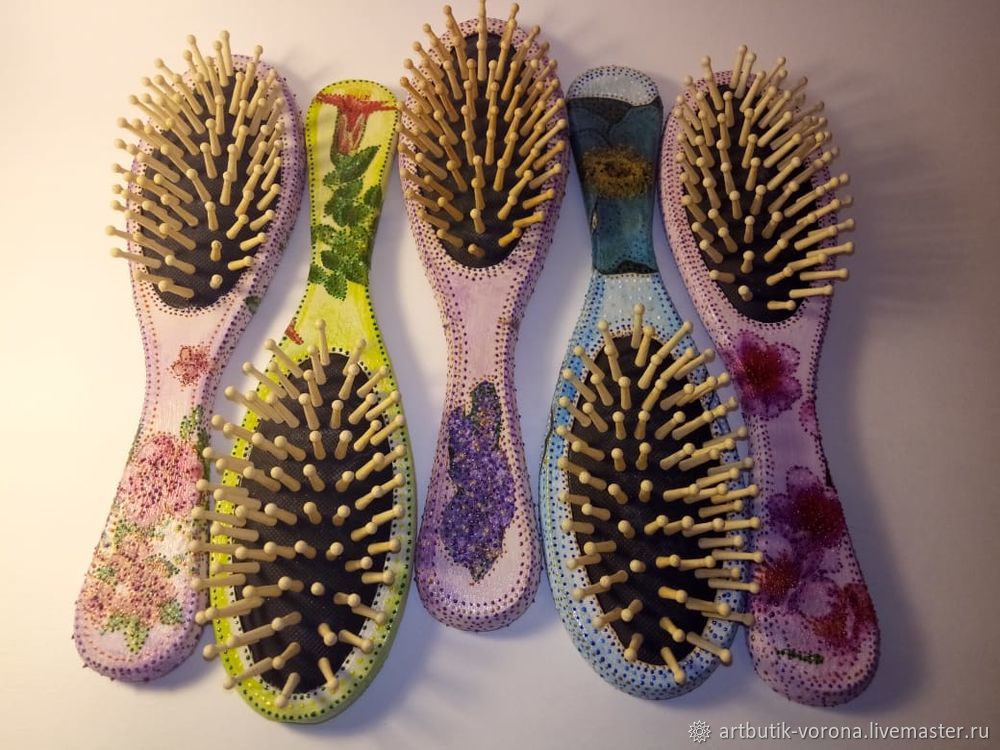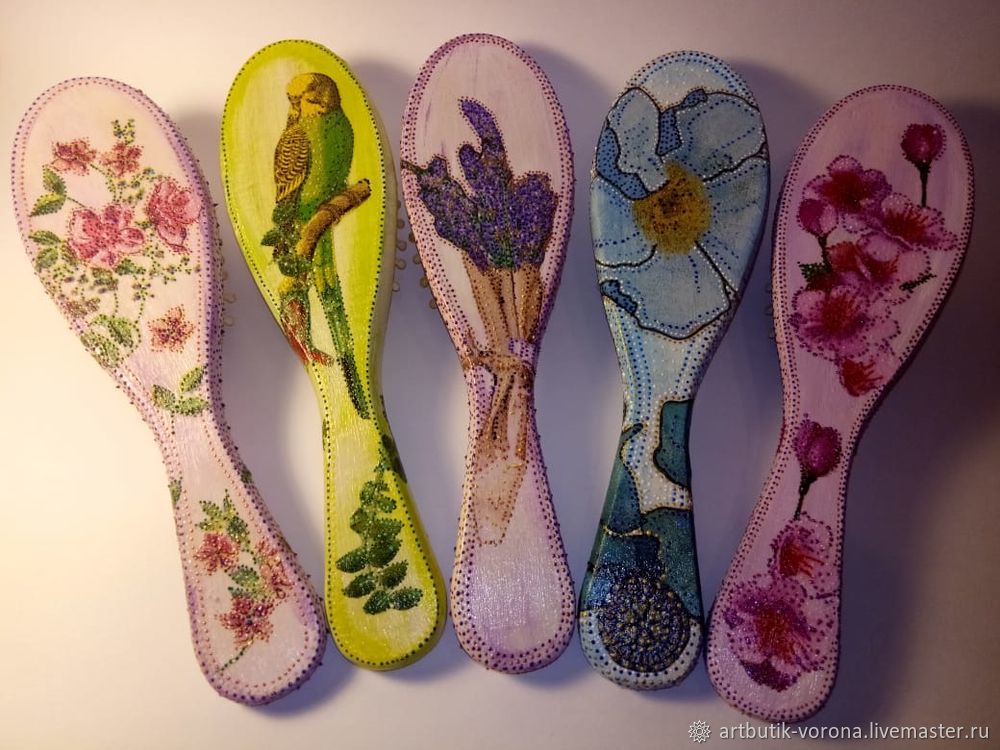 DIYs & Tutorials on the topic