How to Sew a House Christmas Decoration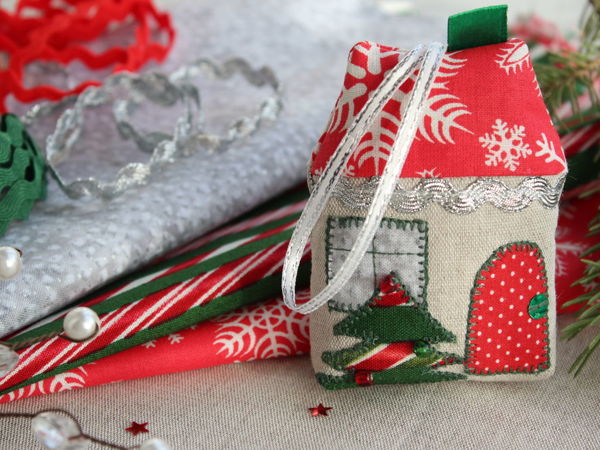 We will need:
linen;
cotton fabrics;
trim;
vliesofix;
holofiber;
beads;
sequins;
satin ribbon. The magical holidays approach, both children and adults look forward to them — Christmas and New Year. We take out cherished boxes with Christmas garlands, golden balls and cones from quite corners and top shelves, we prepare surprises for our family and loved ones and rejoice as children. I think that in every family there are Christmas decorations that they want to keep for years, because they have their own story. Some of them are left from our childhood and others are made by us when with our children or grandchildren. Today's DIY is devoted to such a toy, we are going to sew a Christmas house.
Choose fabrics, determine the size of the house and make a pattern. Copy on tracing paper all the details form 1 to 5. The main parts of the house — 2 pieces — are cut of linen, you can strengthen them with interlining, and other details are made of contrasting fabrics. First, sew the detail of the roof, and a bright trim beneath, don't forget about the satin ribbon pipe on the roof. Do not sew the ribbon for hanging the toy. The door, the window and the Christmas tree will be sewn in a technique of application. Transfer their images on paper side of vliesofix (two-sided adhesive interlining on a paper basis for thermal connection of two layers of fabric) and cut with a small allowance. Put the adhesive side on the wrong side of the fabric for cutting the details and iron them with a not very hot iron for 5-10 seconds. Carefully cut out the image and remove the backing paper, place the details of the windows and doors on the selected place with the adhesive side down. Lightly press with an iron for 10 seconds. Sew on a sewing machine with a stitch for applique or zigzag. Now, in the same way glue or sew a Christmas tree, decorate it with beads. Sew a sequin on the door, trim on the roof for hanging our Christmas house. Fold both parts of the house face inward, pin them and sew around the perimeter, leaving a hole in the bottom for turning out, be sure to fix the thread at the beginning and at the end of the line. Sew up the bottom corners of the house about 1.5 cm, cut the excess fabric and carefully turn the house out. Straighten the seams and corners, fill the house with holofiber or padding polyester, sew up the hole with blind stitches. Use the tip of an iron to press the seams. Our Christmas house is ready, admire the result! I wish you success! DIYs & Tutorials on the topic