How to Make a Winter Cookbook with a Spiral and Cover
Difficulty: Medium

Materials:

scissors

,

knitted fabric

,

cones of alder

,

cinnamon

,

bell

,

puansetiya

,

pom-poms

,

velvet ribbon

,

star anise

,

sintepon

,

bindery cardboard

,

scrapbook paper

,

chipboard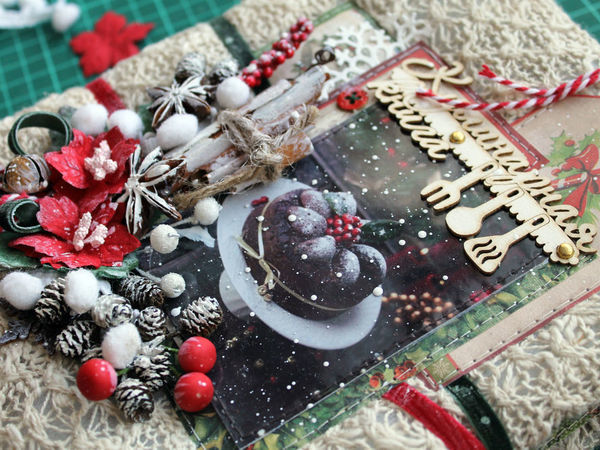 I want to tell you how I make a cookbook with a spiral and cover. And since New Year is coming and it's time to prepare gifts for relatives and friends, I offer to make a winter cookbook with your own hands.
To start, pick materials: take Christmas paper, cones, cinnamon, poinsettia flowers, bells and other decorations that you like.
You need:
1. Glue stick.
2. Crystal Moment glue.
3. Bindery cardboard.
4. Fabric for the cover.
5. Scrap paper.
6. Decorative jewellery.
7. Stationery knife.
8. Line.
9. Scissors.
10. Polyester batting.
11. Staple finisher.
12. Spiral 1.
Cut a cover of 17.5 x 21.5 cm and a back of 2.5*21.5 cm of the bindery cardboard, also connecting strips of 2.5 cm wide of watercolour paper, with 1 cm for the lugs. Sew the connecting strips on the machine and apply super glue where the machine can't reach. Glue the batting with the glue stick and cut along the edge of the cover. Wrap the cover with a knitted fabric, glue it with the instant glue and perfect the corners. When you fit the cover with a knitted fabric, make sure that the picture is not twisted. The picture is covered with a protective film and stitched on the machine: it would be difficult to stitch the film, the picture and the cardboard together later. Then I sew cardboard to the place where the picture should be and glued the picture to the top. Now pick the decoration for your cookbook. Stitch all paper items. Pull the threads to the back side and knot them. Glue the rest of the decorations. I prepared pages beforehand: aged in coffee, cut into halves and stamped with a culinary stamp. Then put them under the press. Then prepare flyleaves: cut a sheet of 17.3*21 cm and of 14.8*21 cm for the first one, 13,3*21 for the second. See if it fits right. Make a decorative machine stitch on them and glue the pieces, sew a fabric pocket and put a tag inside for writing a list of festive dishes. Fix the place where the spiral will be with cardboard. Score along the drawn lines and bend. Make holes with the staple finisher. Assemble all in such order and insert the spiral. First, glue it to the back; apply glue along the edges but not to the place where the spiral will be. Fasten all with clips and bend the book so that it could be easily closed. After the back has dried, glue the flyleaves. Cover the decorative items with acrylic paint and sprinkle the drops. Here's what I got, and I hope you've also got a wonderful winter cookbook! I hope that my tutorial will help you in making own cookbook!
Up to new meetings!
DIYs & Tutorials on the topic