DIY Mini Drawers Tutorial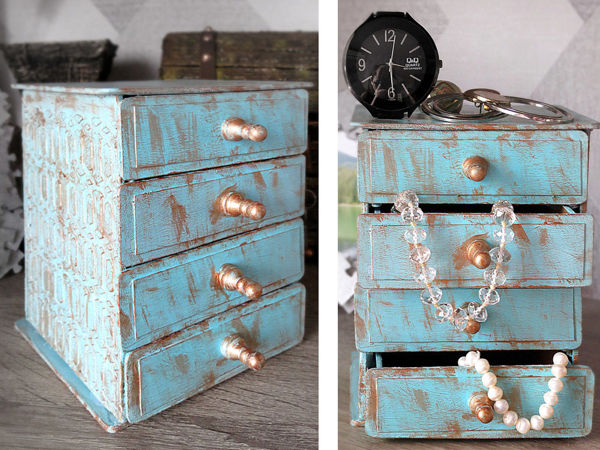 A box made with your own hands is a very beautiful and original gift for March 8 or any other holiday!
In this video, I will show you how you can easily make an original miniature set of drawers.
I used DVP. But you can take as a basis plywood, wood, thick cardboard.
We cut the fiberboard into the parts we need in advance. First I glued the frame and bottom of the dresser, then collected the drawers.
Next, she outlined with a pencil where to glue the sled. Made them out of stirrers for tea. You can do it differently — each box is divided by a single sheet of fiberboard.
On the front of the boxes, I glued a thin cardboard to the size of the part itself. Handles made from the junk of chess. :)
On the frame, I applied a pattern with a texture paste through a stencil (you can use putty on wood).
When everything was dry, everything was covered with acrylic paint, walked with bronze.
Finished gluing the table top. I did not do this before, because the ledge of the countertop would prevent the stencil from being fixed.
When everything was ready, she covered the entire dresser with acrylic varnish.
Miniature set of drawers is ready! :) DIYs & Tutorials on the topic