Crocheting ''Drum'' Pin Cushion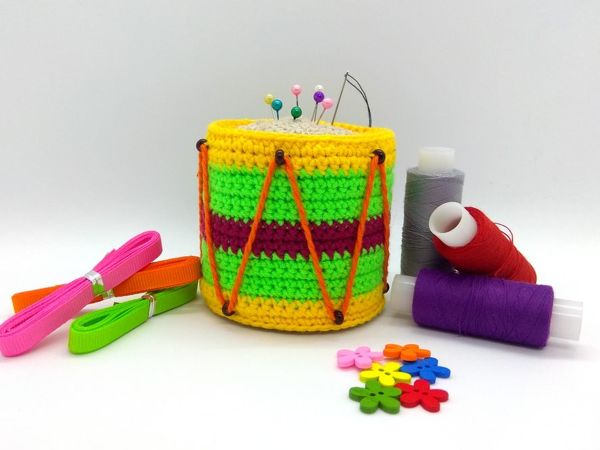 What is music for a person? We listen to music, create it. It evokes associations with certain moments of our lives... Music can affect our mood. It can help us cope with stress and depression, relieve nervous tension, relax. Music creates atmosphere, awakens people's feelings and inspires.
Music is all around us. To be always inspired, I propose to crochet a pincushion, a drum. If you like my tutorial, please vote for it. Thank you!
To create a magic music instrument, you will need:
Turkish yarn "GAZZAL" BABY COTTON (40% acrylic, 60% cotton) 225 m/50 g 4 colours: beige, yellow, green and burgundy;
crochet hook 3 mm, markers, or thread of a contrasting colour;
plastic bottle;
filler hollofayber;
large beads with large hole;
safety pins, scissors, needle with a wide ear. Convention:
MR — magic ring;
CS — chain stitch;
SC — single crochet;
SS — slipped stitch;
W — widening;
N — narrowing;
* — repeat.
Let's start crocheting a drum!
The bottom (2 parts)
Crochet with a beige thread in a spiral.
Row 1: 6 SCs in MR (6 stitches).
Row 2: 1 W * 6 (12 stitches).
Row 3: (1 W, 1 SC) * 6 (18 stitches)
Row 4: (1 W, 2 SCs) * 6 (24 stitches)
Row 5: (1 W, 3 SCs) * 6 (30 stitches) Row 6: (1 W, 4 SCs) * 6 (36 stitches)
Row 7: (1 W, 5 SCs) * 6 (42 stitches)
Row 8: (1 W, 6 SCs) * 6 (48 stitches)
Row 9: (1 W, 7 SCs) * 6 (54 stitches) Secure the thread, hide the tail. Crochet the second detail the same way. The body of the drum:
Crochet in turning rows.
Row 1: with a yellow thread crochet 54 CSs + 2 CSs to rise. Join in ring with SS (54 stitches)
Row 2: 54 SCs (54 stitches) Take green thread. Rows 3-7: 54 SCs (5 rows) (54 stitches) Take burgundy thread. Rows 8-10: 54 SCs (3 rows) (54 stitches) Take green thread.
Rows 11-15: 54 SCs (5 rows) (54 loops) Take yellow thread.
Rows 16-17: 54 SCs (2 rows) (54 stitches) Assembly
Then crochet the drum and the bottom together, "sewing" the bottom. It turns out so. Further, for the drum not to be like a ball, fill its body with holofiber, cut off the cylindrical part 5.5 cm high, 6 cm in diameter of a plastic bottle. Insert this blank into the drum. Fill it with holofiber, but not too tight for the sides not to be convex. Repeat the procedure of "sewing" the bottom. Now mark places to attach beads. In the upper edge insert 6 pins. The distance between them is 9 stitches. On the lower edge repeat the same, but in staggered order relative to the upper edge. On these places sew beads. Take a needle with an orange thread and insert it as a zigzag in the beads. Between the beads twist the thread into a tourniquet. Now "Drum" pin cushion is ready! Create with music!
DIYs & Tutorials on the topic