How to Make a Boho Crochet Brooch in Freeform Technique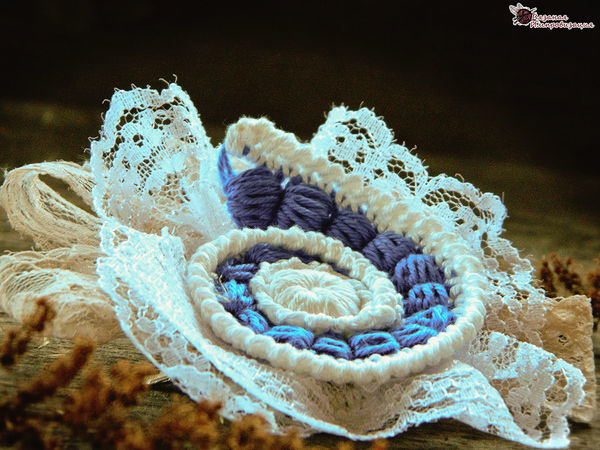 In this DIY I want to share with you how to make a beautiful boho brooch of crocheted elements.
Use motives of flowers, the center of a napkin, insects, leaves and others to make these elements. Typically there are patterns and descriptions for individual motifs in such techniques as freeform, Irish or coupled lace.
I like the freeform technique very much. And I think this technique and the boho style are parts of one thing, and therefore I propose to take as an example a spiral volumetric element in this freeform technique.
Moreover, by making a spiral element we will also learn the next things:
understand the principle of knitting in a spiral;
master block crochets from the lowest one and above;
learn the principle of knitting through the back loop;
learn how to give volume to crocheted items using not crocheted front loops;
master a crab stitch;
learn to knit a plump berry;
in the end we will have a charming boho brooch for our boho look :) To make a boho brooch we will need the following materials:
2 colors of the remains of yarn of any composition for the hook No. 1 No. 1.3 or No. 1.5. The brooch on the slider was knit of the remains of cotton yarn, I do not remember its name, but I know that there were approx 50 grams and 250 meters in one skein. The number of colors can be at your choice from one to three, I used just 2 colors;
a hook No.1, No. 1.3 or No. 1.5 — depends on your individual density of knitting. I crochet with a hook No. 1.3;
one or several types of a lace trim of length 25 cm — 40 cm, I used a trim of two types;
a regular sewing needle and thread to sew the ribbon to the brooch;
a mount in a brooch form;
a glue gun or a needle and thread to fix the mount in a brooch form;
beads, seed beads, stones, crystals, etc. are sewn to the finished brooch before you fix the mount.
Well, you have all the materials. Begin to create the boho brooch with your own hands.
Step 1. Crochet the volume middle.
Step 2. Crochet block crochets in a spiral.
After the middle is connected, you can optionally change the thread to a thread of a different color.
Step 3. Add volume to the spiral element.
Optionally in this step you can change the thread color to the color that was used in the middle or to a different color.
Step 4. Crochet round the element with crab stitches.
Step 5. Make a boho brooch of a freeform element.
In this step we will need a lace trim, a mount in a form of a brooch, a regular sewing needle, thread. You may use a glue gun and, if desired, beads, stones, etc.
If you want you can decorate your boho brooch by embroidering it with beads, seed beads, pebbles, shells. I am sure that your imagination will not fail you. Dear artisans, congratulations on your new accessory!
Ask questions and share your new brooches made with the help of this DIY here in comments below :)
I wish you boho in your business and light airy loops!
DIYs & Tutorials on the topic