How to Make Feathers of Polymer Clay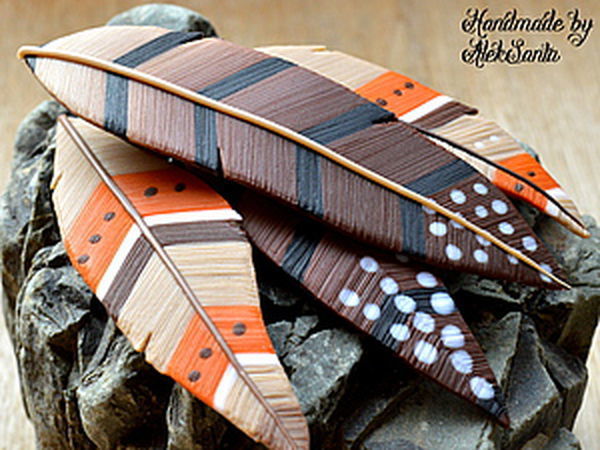 In this DIY I will show you the process of making such funny feathers.
I used the following materials and tools:
- polymer clay
- pasta machine or rolling tool
- model knife, blade
- thick needle or awl
- stack for modeling
- dots
- gel (liquid plastic)
- texture sheet
- small screwdriver
- brush with a stiff bristle or toothbrush
- a small piece of aluminum foil. So, let's start!
Using the pasta machine or other tools prepare a clay sheet with a thickness of about 1.5-2 mm and transition of color from beige to dark brown. Cut it into strips of any width. Mix the strips. Gently roll them together. Next, cut: Join: Again carefully roll each blank to join the parts together. Cut out the feathers Use a paper template. Make small holes at the tip. An put small balls of plastic of a contrasting color and press. Gently roll the balls to the surface. Hold the glass stack at an angle to the blank and slightly squeeze the edges. Now the most interesting — begin to texture the feather. Press the blade against the surface in the direction of the feather lines. Make these "notches" as close as possible to each other. You need only light marks. Use the nedle or awl to make a groove in the middle gradually expanding it to the base. Formed the core of the feather. Put it in the groove. Gently press to the surface. You can "deconstruct" the feathers with shaped cuts. And bake in the oven for 20-30 minutes at the temperature recommended by the manufacturer of polymer clay. Coat the back side of the feather with a thin layer of liquid plastic. Roll out a thin layer on the pasta machine and then once again with a texture sheet. Join with the feather and cut out around the contour. Smooth the junction: And apply texture with the brush. I created the feathers for a necklace. Here's how I made a hole for the cord: Prepare for baking: That's all! Our feathers are ready! And the Indian feather necklace: Thank you all for your attention!
I hope that my DIY will be interesting and useful for you in realization of your creative ideas.
I appreciate your comments!
DIYs & Tutorials on the topic