DIY Swan Horse in the Decoupage Technique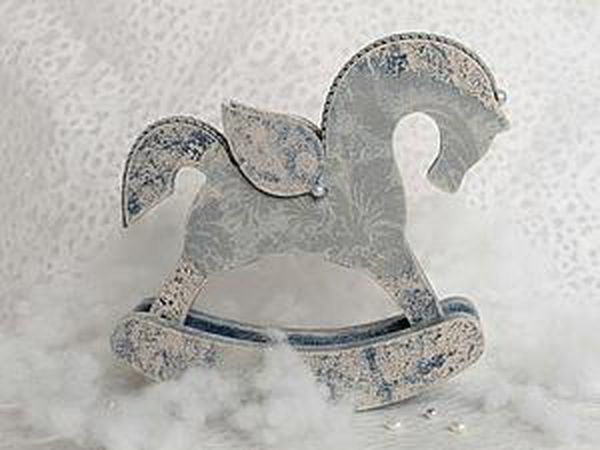 Today I'm going to make a Swan horse.
And need the following materials:
Manders primer.
Acrylic paint: Tair blue indigo and Plaid flax.
Plaid one-step craquelure varnish 694.
Napkin for background.
Kiva half mat varnish.
Shabby grey wax.
Moment glue, lace, synthetic brushes, sandpaper, cotton pads. Prime the horses and its wings.
Leave it to dry for approximately 40-50 minutes, it is enough for a thin layer.
After drying, slightly sandpaper it and painting all blue Indigo.
And again dry for one hour. Then apply one-step craquelure where you want. Try not to leave bubbles and dry for 5 minutes. Pick some light flax paint on a sponge and apply over the varnish. Try to touch only once. Еhe rest of the horse is just painted with the sponge slightly to reveal blue basic colour. Dry for two hours. Do the same with the opposite side of the horse. Now varnish, very carefully, slightly touching the surface with a brush. Because water based varnish can be very moody. You can use any other varnish, but I prefer this because it doesn't smell much.
Then two more layers with drying.
Take a napkin and glue to the places without varnish. Separate the layers and attach the one with a pattern. I glue using water by pouring it in the middle and stretching with the brush to the edges. Gently tear off the unnecessary parts of the napkin. Then cover the napkin with varnish. Leave to dry. Cover with two more layers of varnish with intermediate drying for an hour.
Similarly decorate the second side. Then sandpaper the exess of the napkin on the edges. And apply Italian shabby wax. My horse gained haze and soft to the touch. Assemble the horse and glue a tape. At the end, such an inspiring heavenly horse comes out. Thanks to everyone who reads my DIY. If you have any questions, I will answer them in comments with pleasure.
And Like, I'll be very happy :)
DIYs & Tutorials on the topic