How To Paint Realistic Mountains In High-Speed Technique. Interior Painting With Textured Paste And Palette Knife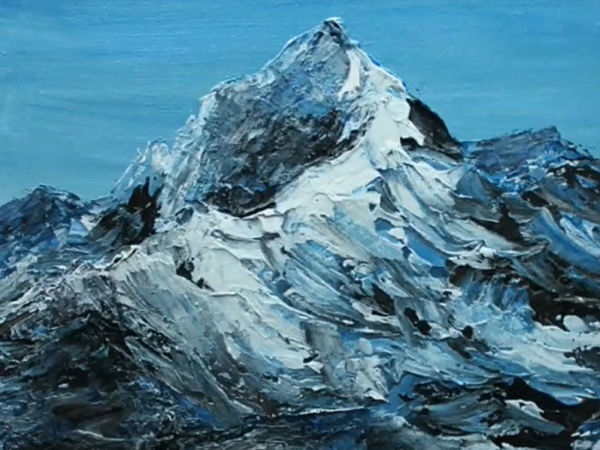 I recently discovered an amazing way to paint realistic mountains with a palette knife. It turned out to be so fast and simple that I just can't help sharing it! We will need:
photo or other image of snow-covered mountains with a minimum of colors: black, white, gray, blue and blue shades;
canvas that fits the format of your image or your idea;
rough texture paste of any manufacturer, or similar to it in structure acrylic universal putty;
acrylic paints: white, any black, interesting blue and blue shades. For example, Prussian blue, country blue, Royal blue, Indigo, Paine gray, etc.;
palette knives that are suitable in size to your canvas. You can use different shapes of palette knives. I find it particularly convenient to draw mountains with a rectangular palette knife and elongated lozenges;
large soft brush, better-flutz;
a glass of water.
And start!
1. Spread all the necessary colors on the palette.
2. With a large brush, we mix the colors and use horizontal movements to show the sky, making it slightly lighter from the bottom. The sky in the picture will still be more than necessary: it is more convenient to work if the mountains can safely go out on top of it.
3. Add texture paste to the palette. Mix it with the black color. Make the darkest batch. If desired, you can add dark blue shades. With this mixture, use a rectangular palette knife to set the shadows of the mountain range, as shown in the video. It is important to mark the shadows, making them more than necessary: at the next stage, part of the shadow space will be closed with halftones.
4. Mix the semitone mainly from textured paste with the addition of Prussian blue. Apply them to the shadows overlap. gradually add a little more paste and a nano-drop of black. When all the mountains are completely composed of shadows and penumbra of slightly different degrees of intensity, their base is ready.
5. Now we apply a paste with a drop of white on top, indicating snow. This is easier to do with diamond-shaped palette knives. In this case, the layers may be slightly mixed.
6. If the layers have already dried up and almost do not mix, ideally you should add a little more slightly gray and slightly bluish shades, so that the snow does not look uniformly white.
7. The painting is finished and will dry completely in 12 hours. The final picture can be covered with a matte acrylic lacquer with the addition of a small amount, no more than 1/10, of glossy acrylic lacquer.
I congratulate you on your excellent work!
I will be happy to answer your questions, and, if you wish, I can comment on your results!
DIYs & Tutorials on the topic