DIY Laptop Table with a Cushion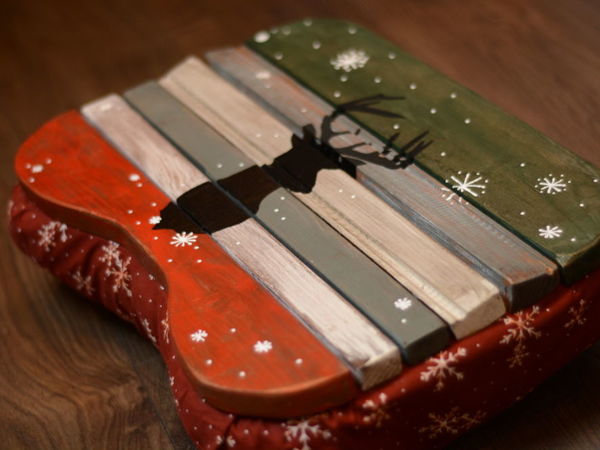 Today I want to show you how to make a laptop table with a soft cushion. It is very convenient to put this table on your lap — the laptop is less hot, and it is much more comfortable to sit with it like that! I will show you two variants of pillows, one with New Year's decorations, and the second is more functional, with a stopper on the top and a landing pad for a mouse. But at the same time I will show you how you can make a self-adhesive stencil, if you don't have one.
To make a table you will need:
A piece of plywood or furniture board for the base (about 34*45cm).
Bars for the top of the Christmas table or two pieces of plywood for a "modern" variant.
A piece of foam for the soft base or fabric for a case and foam balls for stuffing. If you make a case, you will need two pieces of about 40*50 cm.
Fabric for the soft base. It is better to take not very bright and dense fabric, for example denim will be perfectly! I took dense cotton. You will need about 60*80 cm for one base.
A staple gun (if you don't have one, you can glue fabric to the base, and put in small nails or studs for durability. But frankly speaking, staples are more reliable).
Glue for wood or construction white glue.
Paints, lacquer, and gold leaf for decoration (depending on your preference).
For a table with a shelf for a mouse you will also need a small paraffin candle or a handle for a shelf — you can attach a small furniture handle or take a piece of thick leather, like I did.
DIYs & Tutorials on the topic