Gzhel Folk Beads: How to Turn Painting into Modeling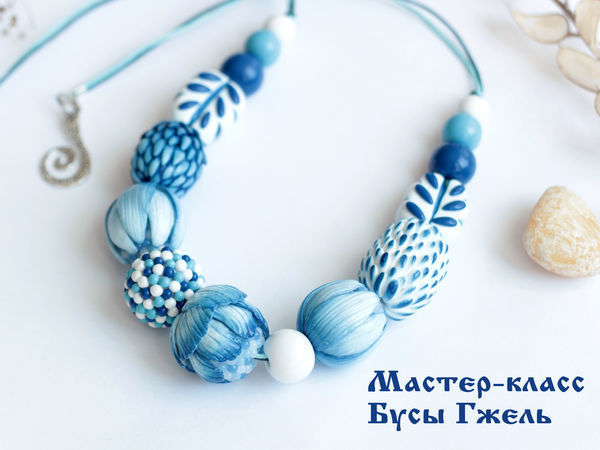 Let's make a little magic and turn Gzhel painting into sculpting!
Find these:
polymer clay: blue, dark blue, white, transparent white clay, liquid plastic
work surface (tile, paper)
tools (stick, dots, blade)
dry pastel: blue, dark blue, white
brushes, wipes
gloves if you need
varnish
oven
inspiration and patience First I draw a sketch. 1. I always start with central elements.
2. Grate dry pastel with a knife.
3. Knead clay.
4. Roll them and cut. 5. Roll tiny balls.
6. Apply them on the beads
7. Bake in the oven at 110-120 degrees for about 15 minutes.
8. Clay may slightly change its colour, it's Ok. 9. Make petals of the first flower.
10. Add some clay on the beads to simpler stick the petals there.
11. Make pattern on the petals — draw the veins or apply to a mold.
12. Colour the petals. 13. Here's the beautiful Gzhel. 14. Shape the petals on your palm.
15. Glue the first layer of small petals on the base.
16. Glue the second layer. The flower is ready.
17. Make other beads. 18. Draw the veins.
19. Paint.
20. Make two equal buds.
21. Proceed to next beads. Mix clay of 4 shades. 22. Make sausages.
23. Apply them to a base.
24. Add more.
25. Paint with pastel crayons. 26. Wipe all paint off.
27. Add some white grated pastel on the "tops" of the drops.
28. The next bead. Make it more elongated.
29. And again roll drops of white clay. 30. Paint.
31. Make two flattened oval bases for leaves.
32. Make the shapes.
33. Draw veins. 34. Paint.
35. Paint.
36. Apply tiny balls on a round base.
37. Make ordinary round beads. Bake all for 40 minutes at 115 degrees. Cool the beads, degrease in warm water with Fairy. Dry on a clean towel. Dry well, get rid of water under the petals and between the balls. Cover with glossy varnish in two layers. And here's the result: Collect the beads on a cord, add a clasp. You get such a magical beauty! Thank you all for your attention. I wish all good mood and inspiration! You can give me your Likes ;)
Yours,
Julia Herbs
DIYs & Tutorials on the topic