Cyanotype: Printing Photos on Watercolor Paper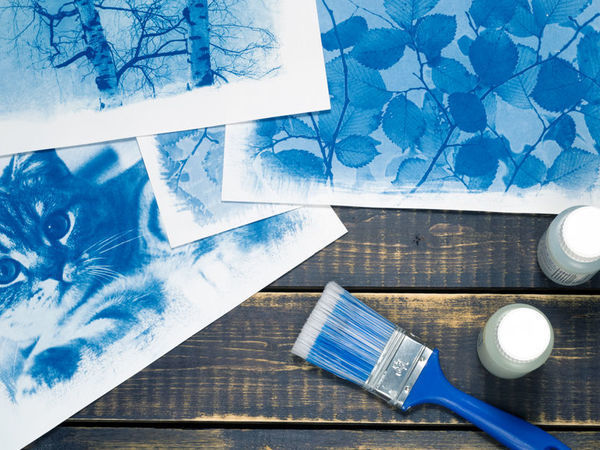 Cyanotype — an analog way of printing photos from any negative. In addition to that, cyanotype is used for making photograms, transferring the image on fabric and other surfaces.
Cyanotype is simple, inexpensive and brings much fun. I found only one disadvantage — it is impossible to stop. You need:
- ammonium iron (III) citrate
- potassium ferricyanide
- distilled water
- measuring container
- containers for solutions
- wide brush
- watercolor paper The reagents are relatively safe, but it is better not to taste them :)
Pour the reagents in a separate container each and add 100 ml of distilled water, better sign the containers beforehand. Mix with glass or plastic stick until complete dissolution of the reagents. The resulting solutions react when mixed, so use one stick for one solution or wash and wipe it dry each time. Then take the container for mixing the solutions, a wide brush and watercolor paper.
Measure with syringes the equal number of portions of the solutions. They are better be signed, too. Two milliliters of the working solution is enough for A4 paper (solution A 1 ml + solution B 1 ml). The ready working solution is applied on paper, better to do it in dim electric light. The paper is colored light green. Dry the paper in a dark place for one hour. Until the paper dries, prepare the negative, a frame for scanning and paper clips. The negative can be taken from an old photo album, and you can do yourself. If there are no negatives, then twigs and leaves are put on the paper covered with the solution — you make a photogram this way. The negative is placed on the prepared sheet of paper and fixed under the glass with clips. Place it under an ultraviolet lamp or sunrays. The time is selected individually, it's usually about 20 minutes. After the 20 minutes, the print is remove and it looks like this. Wash the print in cold running water. The time is 5-10 minutes and hang to dry. This method of printing was invented in the 19th century, it is quite easy, inexpensive and very beautiful. :)
DIYs & Tutorials on the topic