Easy-to-Do: Miniature Enamelled Bucket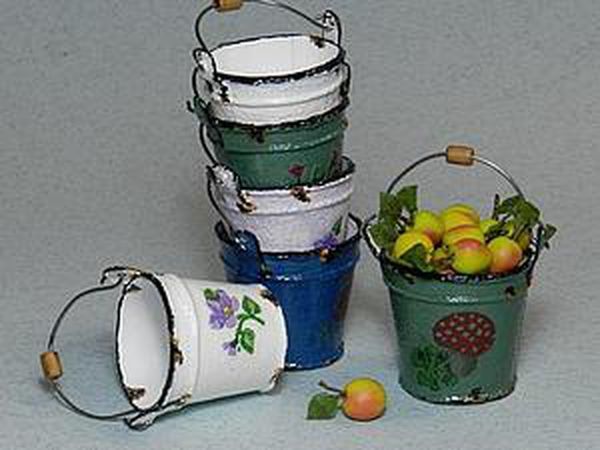 Materials and tools:
thin cardboard
acrylic paint
varnish
napkin with a small pattern
wire
thick thread
wooden bead
60 seconds glue, PVA glue
scissors
compasses
round-nose pliers
The height of a bucket without handle — 3 cm.
Draw two circles with a radius of 11 cm and 8 cm with the help of the compasses. Line a chord of 7.5 cm inside the smaller circle. For handles — two details of 6 mm x 11 mm, one end rounded.
Cut out the details of the bucket from cardboard. You can use tea or cereal boxes, etc. Stick the detail along the side seam with the 60 seconds glue. Glue the bottom so that a little glue went inside the blank; put it on a piece of cardboard and press down firmly. It is better to use thick PVA glue or instant gel. After complete drying, cut the cardboard along the circumference of the bottom.
Cover the thick thread with PVA glue and stick it the way it is shown in the picture. Bend the details for the two handles and symmetrically glue them. Make holes for the handles with a thick needle or awl. Paint with acrylic paint. The thicker the paint, the better. For much hardness, apply several layers with drying in between. To avoid brush traces, shade the last layer with a sponge. The last layer can be of any color. Decorate the bucket with a pattern. You can stick a piece of napkin; for that, tear out the pattern, peel off the top layer and glue it with PVA glue. If the background does not match the colour of the bucket, paint it. Paint the edge of the bucket black, sometimes imitating splits, which can also be touched with dark brown paint like if it was rust. Once the pattern dries up, cover the bucket with several layers of varnish. You can use nail polish.
Make the handle
Cut a 7.5 cm piece of wire, bend it in the shape of arc. Make a loop from one end with the pliers, pick a cylindrical bead, bend the second end at the right angle. Insert the loop into the hole for the handle. Insert the other end at the right angle, make a loop with the pliers and then set it in the hole and press.
Fix the bead with glue. The bucket is ready! If you paint with silver, you'll get a galvanized bucket. The bucket in the interior: Likewise, enamelled jugs are made: DIYs & Tutorials on the topic