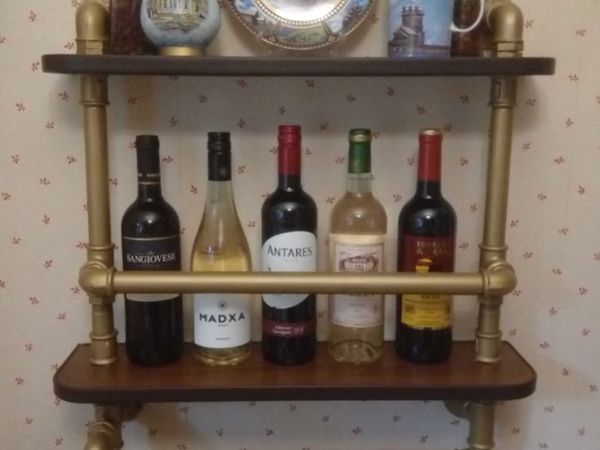 I wanted to update my shelf in the kitchen, before that it was an ordinary board, nothing special. That is why I decided to make a kind of wine shelf. Let's begin.
I bought a couple of shelves 250×600 mm and shortened them to 150×600 mm, because a wine bottle is not so wide to have such a wide shelf. Drill holes for pipes with 26 mm diameter, just for 3/4 inch pipes. Cover shelves with masking tape for subsequent painting of pipes. Previously drilled holes, cut with a knife. Begin to assemble the structure from the bottom. Since we need pipes of a certain size, I bought pipes and cut them along myself and then cut the thread with a diestock. After cutting diestock, I sanded it smooth the surface. I did the same with internal thread on tees and corners. Assemble the lower part Attach the bottom shelf. Shelf got tight as the drilled holes matched pipes` size exactly, and it was difficult to calculate distance between the pipes. Similarly, assemble the top shelf. Next, attach flanges.
I bought these flanges under order because they are big and ugly at stores. It was difficult to insert them, but I did it. Attach the flanges to the shelf. The shelf is ready for painting, but there were problems — rain and wind on the street. It is difficult to choose time for painting, at least 5 minutes, but it is still difficult. It can be rain or wind, but one day a miracle happened and I went to the garage in the evening. First, prime the surface. And paint. Paint is aged brass. Next, glue felt stickers on the flanges for the shelf not scratch the wall. Hang the shelf on the wall and put everything on it. That's what happened, have a look. Thank you for reading.
DIYs & Tutorials on the topic