Crocheting Macaroons: Key Chain in 30 Minutes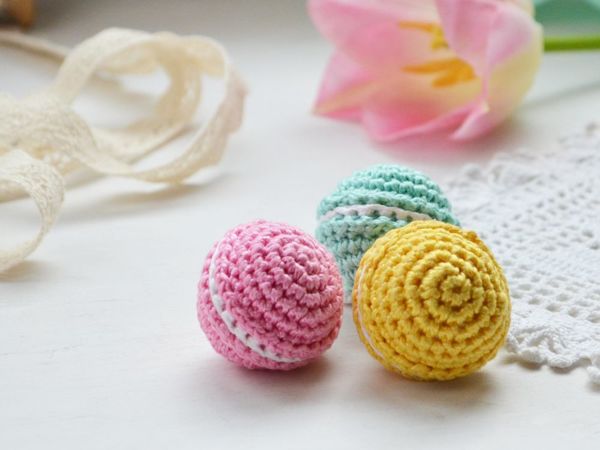 I suggest crocheting these little and adorable macaroons. With this key chain, you can decorate a handbag or a baby bag, and just crochet them for doll tea parties :).
The more the better. Kids will appreciate 100%.
These cuties are crocheted quickly and quite easily, even a beginner can cope.
So, let's start.
You will need:
crochet hook №1,75;
cotton yarn, Iris type, pink and white (you can take any colour you like);
filler for toys;
needle with a wide eye;
accessories for key chain, if you want to do so.
Legend:
MR — magic ring;
CS — chain stitch;
SS — slipped stitch;
SC — single crochet;
W — widening (2 SCs in one base stitch);
(number) — a total number of stitches will be at the end of the row in brackets;
(...)*x — repeat x times.
Crochet hook № 1.75, double pink thread
Circular crocheting
1) 6 SCs in MR (6)
2) (1 W)*6 (12)
3) (1 SC, 1 W)*6 (18)
4) (2 SCs, 1 W)*6 (24)
5 - 6) 24 SCs (24), finish the 6th row with SS
7) crochet behind the front of the 6th row (1 CS, SS)* 24
Cut the thread, fix the ends and hide on the back side.
Similarly, crochet the second detail.
Attach white double thread to the back of the 6th row of one of the details.
Crochet with SCs on the back of the 6th row of the two details simultaneously, thus connecting them.
Before reaching 2 cm at the end (do not cut the thread), fill the details and continue crocheting.
Close the row with SS.
Cut the thread, fix the ends of the threads and fill in with a needle.
Fix the hardware for a key chain.
DIYs & Tutorials on the topic