''Game of Thrones'' Burnt Pattern on Clock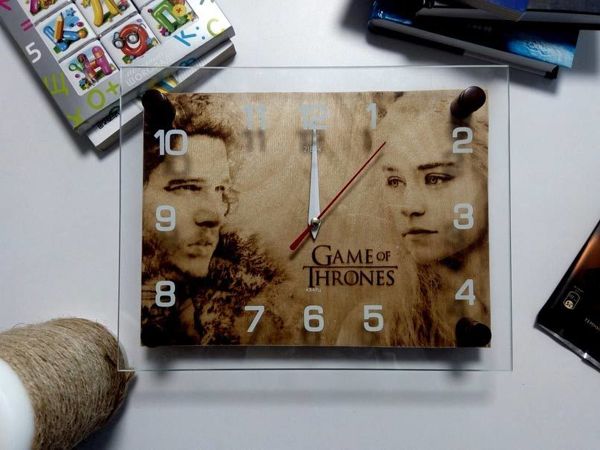 You will need:
pyrographer;
clock;
screwdriver;
office knife;
glue;
electric screwdriver;
drill.
We have taken such ready wall clock with glass. We unmade them and removed cute kittens with the dog from Beethoven movie. That's what we got.
It was possible not to torture the clock and buy a separate clock work and holders for the glass, but it turned out even cheaper in the end. The clock work was well glued to the cardboard. I had to cut the glue with a box cutter. Ready — the clock work and pictures are separated. Here is the picture we prepared to burn out with a pyrographer to replace cats and dog. We forgot to take a picture of burning-out process, I think no one will be upset.
To keep it short, the process of burning portraits is the following: prepare a photo in the photo editor, load it into a special program Pyroprinter and start burning. Drawing on plywood is carried out line by line with change in speed of burning out, depending on what place you have, dark or light. As the pyrographer is made sharp to draw portraits, it gives many mid-tones. We used kittens with the dog as a template and marked the places with a pencil to make holes. We also made a hole under the clock work. We needed a bigger hole for the clock work, so we selected two drills. Take the drill of the size you need. Not to make a mistake check the hole place on the initial picture. In case you do not want to use a caliper. It is better to drill a hole from the front side, then there will be no chips on the image. We covered the picture with wax after drilling. We glued the clock work back. So, you don't need to invent anything to fasten the clock work, it is better to take a work clock with a long spindle or plywood 4 mm thick. Whoops! Now turn over. This is done. DIYs & Tutorials on the topic