How to Make an Endless New Year Postcard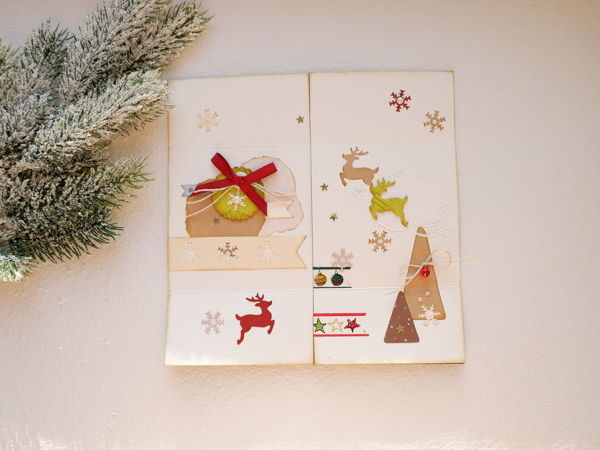 Here is a tutorial about how to create an endless card for New Year. It is endless because it can be endlessly opened, well, until you get bored :) The design can be any, I didn't photograph the step by step process of decorating, because it is an individual choice. And the basis, the card itself can be created in any style and for any celebration :)
At the initial stage, you will need:
2 sheets of two-sided scrapbooking paper of a suitable design, I recommend to use contrasting paper not to merge the image;
scissors, a stack for cutting, a ruler, a pencil, glue (I used decoupage glue). Cut out squares of 20*20 cm of our two sheets. From two sides of each square we make margins of 5 cm and with a stack we slightly make a slit only in order to be able to make a smooth bend. Transversely cut the squares in half. Get 2 halves: On the reverse side vertically put the square of the other color, make a cross. Glue the corners to each other. Here's what happens: We can open our card as a booklet several times and we get a few fields for the wishes and all sorts of prettiness. Choose the beginning of the cards and a sequence of fields and glue all the beauty on these sides to make it "readable". Now you can start decorating. I love to use all kinds of paper cutting :) So during this process there is always a mess in a room. You also need punches, stamps, distress ink, various sequins, half pearls, ribbons and everything that you want to use. Finally glue half pearls and sequins, decorate with artificial snow and glitter. And here is the result :) DIYs & Tutorials on the topic