DIY Christmas Bouquet of Tangerines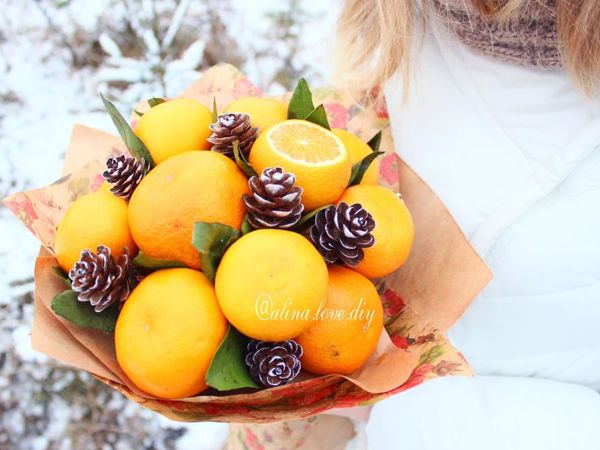 In this Christmas video I will show you how to make a bouquet of tangerines :) This bouquet will be an original gift for New Year! Today fruit bouquets become more and more popular, they are sold not only online, but in conventional floral stores and kiosks with a "Flowers" name.
There are many various methods of making these or similar bouquets, but basically, such tutorials are not free and quite expensive, I tried to make a tutorial which, like all my other works, is free and quite simple.
It took me quite a bit of materials:
fruits;
skewers for fastening fruits;
tangerine leaves, I took them from a box of fruit in a store;
cones;
wrapping paper, tape and scissors.
I tried to show the entire detailed process of making a bouquet of tangerines in the video:
Thank you for your attention!
Last year I created a tutorial on creating a fruit bouquet, but I used not only citrus fruits, apples and kiwis there.
DIYs & Tutorials on the topic