How to Decorate Candles with Stabilized Moss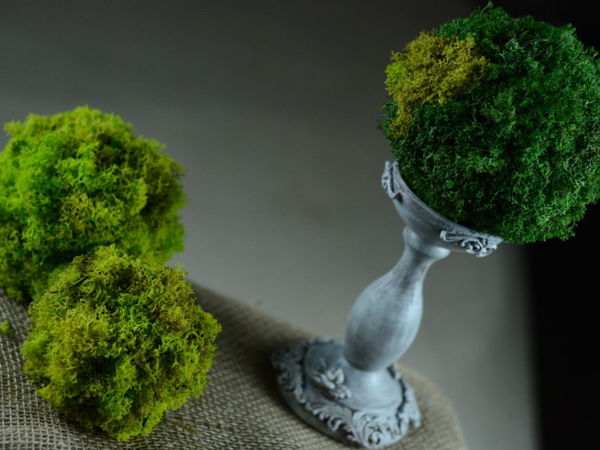 Have you ever met stabilized plants? Now I often see stable moss in stores, it is inexpensive and looks just like the real one. In this video I will show you how to make these fluffy green moss balls that will wonderfully fit any interior. But at the same time I will show you how to make a beautiful candle holder or a stand for moss balls of a wooden blank.
To make the balls you will need:
foam blank (if you don't have it, you can make a ball of papier-mache, it's all on the basis of circular shape);
stabilized moss (one ball blank of a diameter of 10 cm will take approximately 30-40 g of moss);
a glue gun.
By the way, these balls can be used as a crown of trees, many people like to do so by wrapping a ball with glued coffee grains and so on. It is enough to stick your ball into a piece of a thick branch, and fix it in a pot. Then you'll get a wonderful tree with very beautiful and natural green foliage.
To make a candle holder you will need:
a wooden blank;
a mold of the desired shape (I had molds for making angels and ciphers :)
mass for sculpting (you can take plastic, as I do, paper clay mass or self-hardening clay);
glue for gluing the decoration to the blank (general purpose superglue or liquid nails);
dark brown, grey and white acrylic paint (you can make a ready candle holder look older with asphalt lacquer);
acrylic lacquer.
You can decorate foam figures of any shape (moss letters look very nice) in the same technique.
DIYs & Tutorials on the topic