How to Model a Realistic Iris Flower out of Foam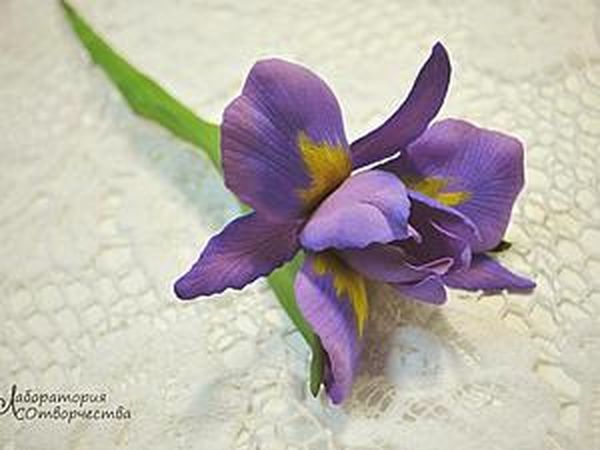 You need:
foam

patterns (templates)
toothpick
scissors
hot glue gun
iron
tape and wire
acrylic paint (white, yellow, ultramarine)
1. Patterns (templates): 2. Trace the pattern with a toothpick, then cut out the blank: 3. Prepare 3 petals by each pattern, i.e., 9 petals total. 4. Draw veins, as shown on the picture, using the toothpick: 5. Shade petals as shown in the photo. You need ultramarine acrylic paint: 6. Create a relief (cut along the edge): 7. Continue painting: 8. After drying of the previous layer, apply bright yellow acrylic paint. 9. Give the petals shape: 10. Add volume bending blanks to the backside: 11. Heating the stem of the petal and bend it in half, as pictured. 12. Continue to heat the petals. 13. Continue to warm the petals to reveal the veins: 14. Glue two petals together, bend the legs to each other: 15. Combine the three parts of the flower: 16. The first part of the gluing is completed. 17. Glue the remaining three narrow petals between the previous ones. 18. Fix the stem with the tape and glue the leaves: 19. the iris is ready! Enjoy your creativity!
DIYs & Tutorials on the topic