Sculpting an Elf Garden Diffuser, or Aroma Lamp for Your Home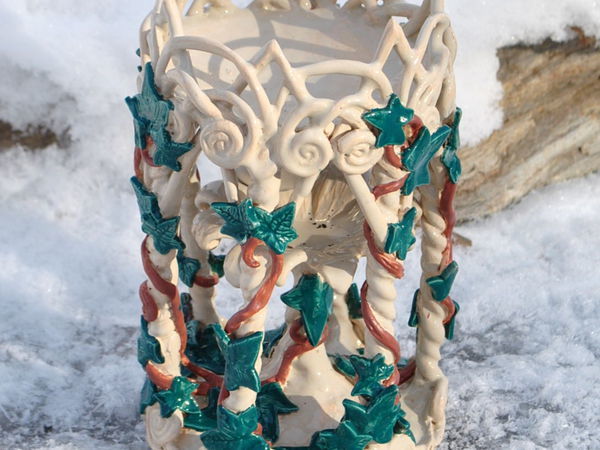 I recommend you to start with a sketch, this helps to escape from many mistakes.
So, for work I needed:
clay — I used white clay with good plasticity,
stacks and a knife,
I use various candy stamps, but one can chop by hand,
slip — liquid clay adhesive,
dexterity and ingenuity!
1. First, sculpt the candle. It's like a flower: consists of a base, stem and the flower. Wait for the blank to a little dry up, or use a construction hairdryer.
Note: to 'dry up' is the most difficult concept in this DIY. At each stage, it is necessary to find the moment when clay is no more (otherwise it breaks), but is still not solid (otherwise it cracks later).
2. Assemble the parts: Dry them up, too.
3. Install columns: 4. Add the roof. Use glue for this when the parts are dried up: 5. Smooth the surface. I burn the paper that held the roof to see the whole result: 6. Glue the top decor: 7. Do the bottom decor: 8. Attach the shoots of ivy and leaves. Smooth all. 9. Gently dry the product and then fire (at 1050 C). Then glaze, dry, paint 1 to get the best result! DIYs & Tutorials on the topic