How to Sew a Stylish Felt Bag with Your Own Hands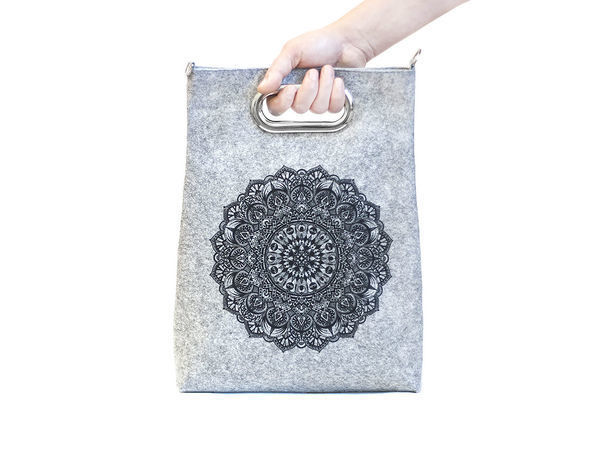 That person who loves new handbags, felt and iron-on transfers is like me :) So, today I share a tutorial on how to sew handbags using felt and minimalistic cut. The size of the finished items is 35 cm by 25 cm by 6 cm. Interesting features are an inserted handle, chain strap and unusual print — a mandala.
The pattern, as usual, with all of our heart and for your convenience, is ready: This is my original pattern created for personal use. If you copy any part of this material, you are to post a direct link to the source www.tulip-art.livemaster.ru or www.tulip-art.livemaster.com
Materials and tools:
1. Hard felt, thickness 1 - 2 mm, 160 cm x 50 cm.
2. Zip, 18-20 cm.
3. Metal inserted handles.
4. 1 magnetic buttons, 1 Sam Browne stud.
5. 1 half-rings of 20-25 mm.
6. Chain for the strap.
7. Iron-on picture for decoration, 1-2 pcs. Start working with the iron-on image. Transfer it with the help of an ordinary iron. Assemble the bag from the right side: Baste the zip: Apply the pocket with a cut and also baste it: Stitch around the perimeter of the zip on the sewing machine and remove the red baste thread: Take the second "half" of the pocket — the piece without the cut — and sew it to the first one. Stitch: This is how it looks from the front: When the front side of the bag is ready, attach it to the side with the image. Combine the parts and stitch the sides and the bottom: Now close the tucks shaping the bottom of the bag: Turn the detail outside in and straighten the corners. Ready! Now make the lining with a pocket. Stitch the upper side of the pocket decoratively: Bend along the lines marked on the pattern and stitch the bends: Now stitch the pocket to the lining with the U-shaped seam: Sew a strap fastener over. Add the Sam Browne stud. The pocket is ready! Shape the lining the way you did before: Remember to set the magnetic buttons at the edges of the cut for the handles. Prepare straps for the half-rings: Combine the bag with its lining and insert the short straps between the parts: Stitch the top: Try to do everything carefully, especially paying attention to the rings on straps: Insert the metal handles. They are simply latched. Attach the chain. The bag ready! Here's a simple a stylish handbag! Enjoy your creativity! If you liked this tutorial and want to use the presented ideas, practices or materials — please click 'Like'. We'll be pleased with your attentive and respectful attitude to our work. Thank you!
DIYs & Tutorials on the topic