Assembling an A La Russe Necklace
On their (women) necks, (multiple rows of necklaces) monisto of gold and silver are hanging, as when a man owns ten thousand dirhams, he presents his wife one monisto (a row), and if he owns twenty thousands, he presents two necklaces, and thus, each ten thousand adds (one) monisto to his wife, and some of them have a lot of (rows) monisto.
The Journey of Ibn Fadlan to the Volga. Translation and commentary edited by I.Y. Krachkovsky — Moscow; Leningrad: The Academy of Sciences of the USSR, 1939
You see that the monisto is a form of necklace existing in Russia since the ancient times and earlier. The fashion for such a piece of jewellery is constant: there are various options of necklaces in collections of Bottega Veneta, Dolce & Gabbana, Emilio Pucci. They are widely presented in the cruise collection Chanel 2018.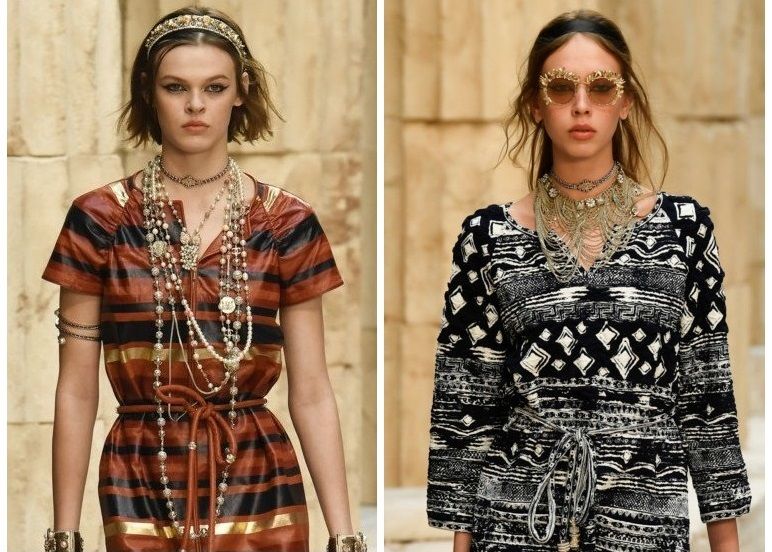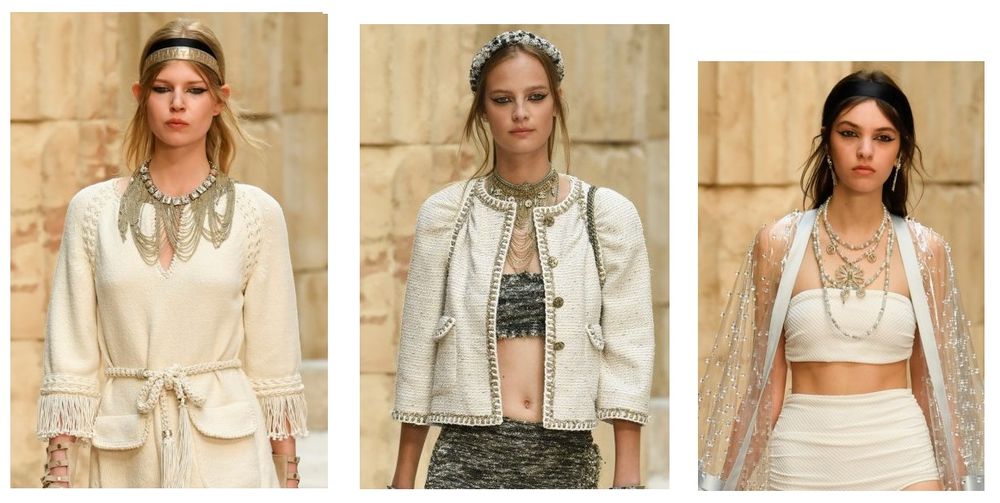 To keep up with fashionable traditions, we need:
1. Tools: pliers, wire cutters.
2. Memory-wire 96 cm and fishing line/jewelry cable about 1.5-2 m.
3. A toggle clasp.
4. Pins, 0.5 mm.
5. Connecting rings.
6. Spacers.
7. Gemstone beads. We chose those highly appreciated in Ancient Rus: turquoise, coral, agate, — only wealthy people could afford them. Optionally, amazonite beads. Colours: orange (fire), blue (sky) and white (sun).
8. Czech glass beads.
9. Connector findings for 3 and 2 threads.
10. Row separators for 3 threads.
11. Metal elements of conical shape for two threads.
12. Protectors of the line or cable.
13. Pendants in the shape of coins with Slavic symbols of the sun and flowers.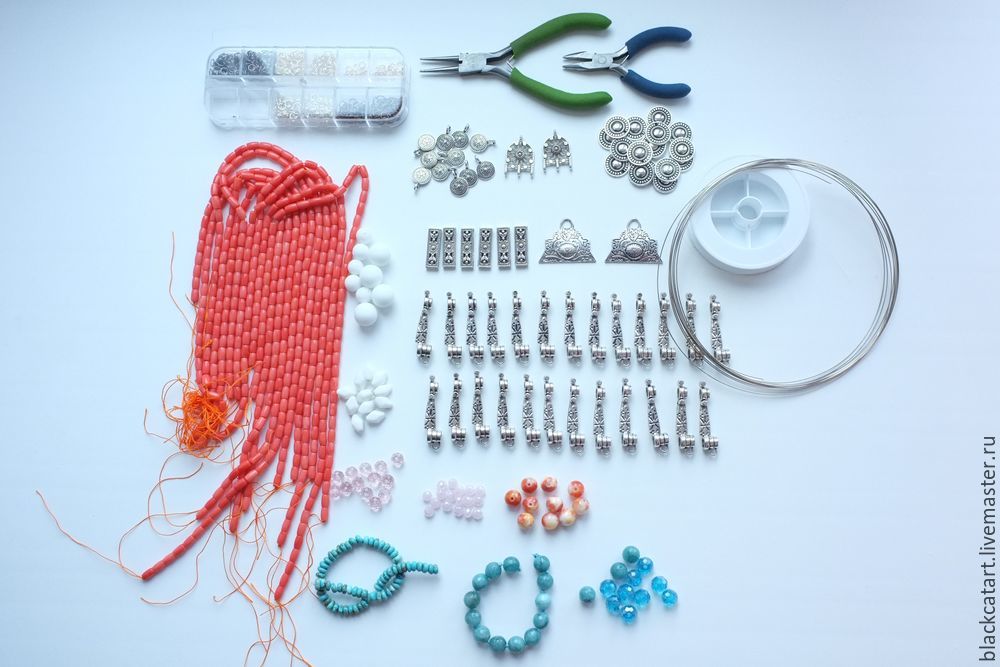 STEP 1.
Traditionally start with a sketch. I made three rows:
1. Choker of three rows.
2. Coin necklaces, covering the cleavage.
3. A string of beads (90 cm).
STEP 2.
Cut three equal pieces of the memory wire, approximately 32 cm each. But make them different at 5 mm from each other. It is almost unnoticed before you try it on the neck.
Gently bend loops at the ends of the wire and fix on the connector as shown in the photo.

STEP 3.
String 9 cm of beads this way: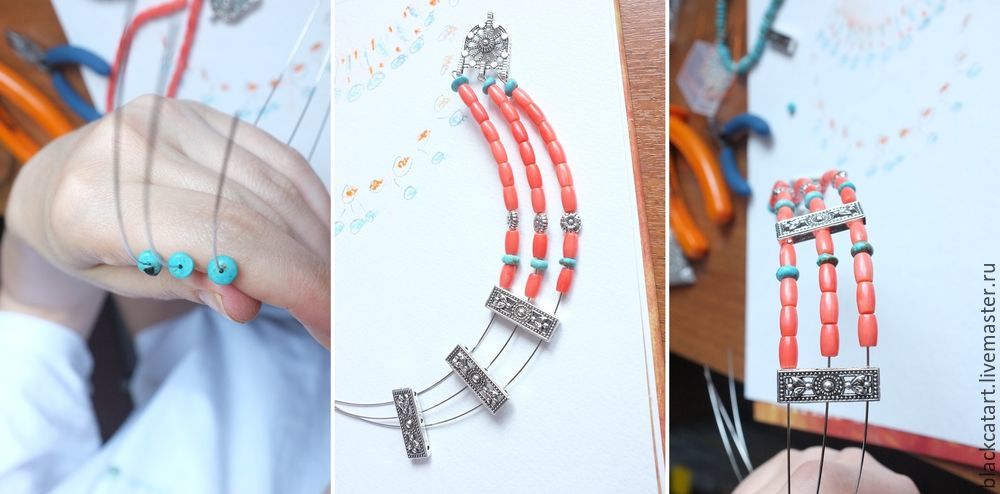 It's time to make the central part of the choker. Have a look: here is an unequal number of beads. This takes the anatomical features of the girl's neck into account.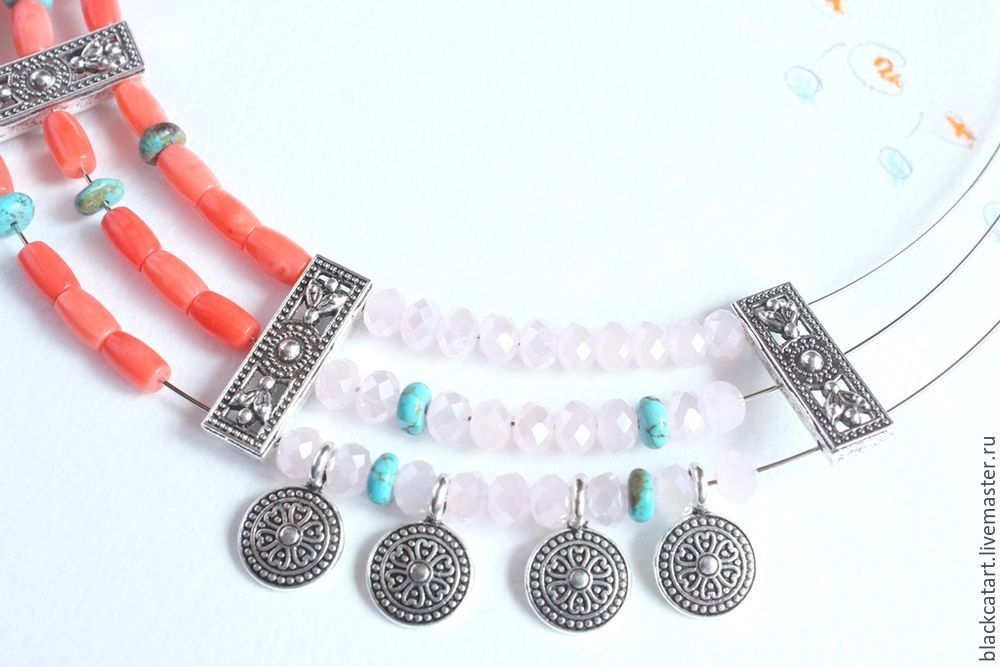 Repeat the row of the beads and fix the ends of the choker: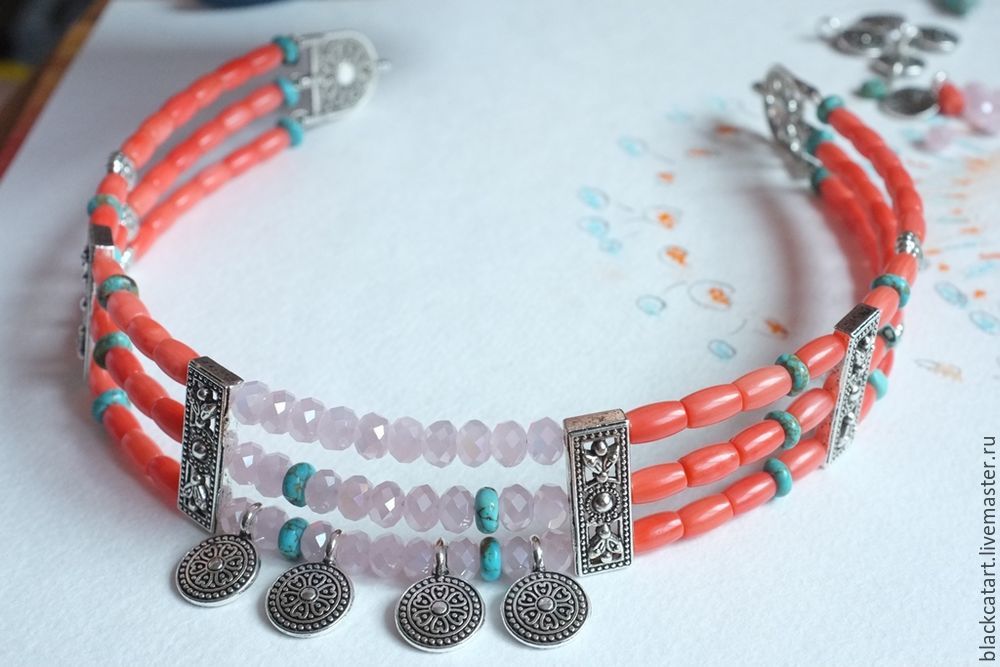 Attach the clasp toggle to the connector: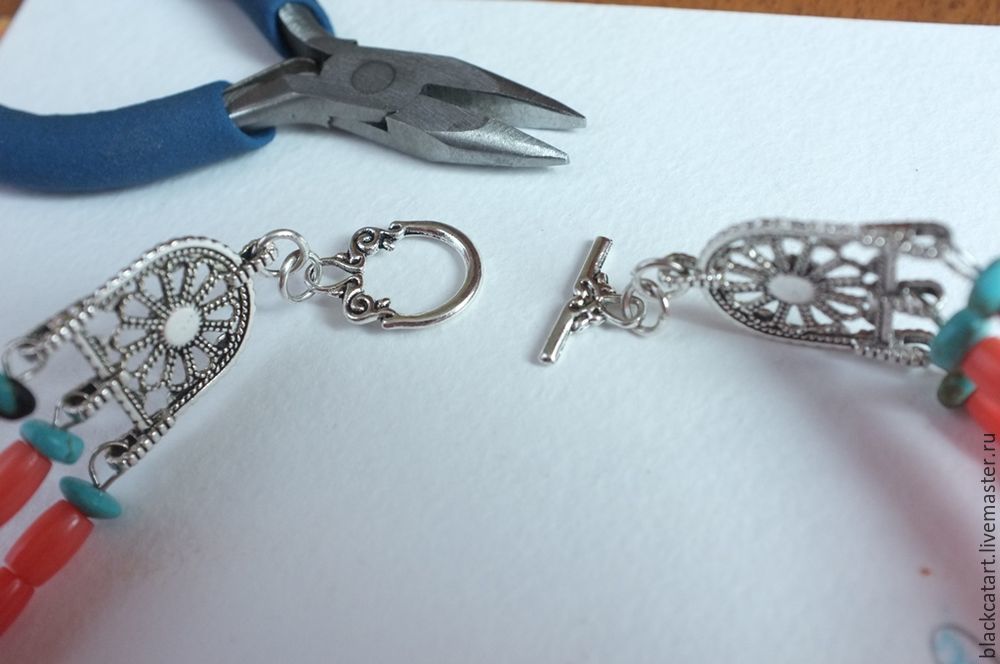 STEP 4.
Make the middle part of a necklace, the most voluminous.
Fastened another connector to the choker with connecting rings, now on two threads. Here we used the fishing line (or a jewellery cable, whatever you like).
Remember to use protectors to make sure that the fishing line (cable) is not damaged over time rubbing against the metal findings.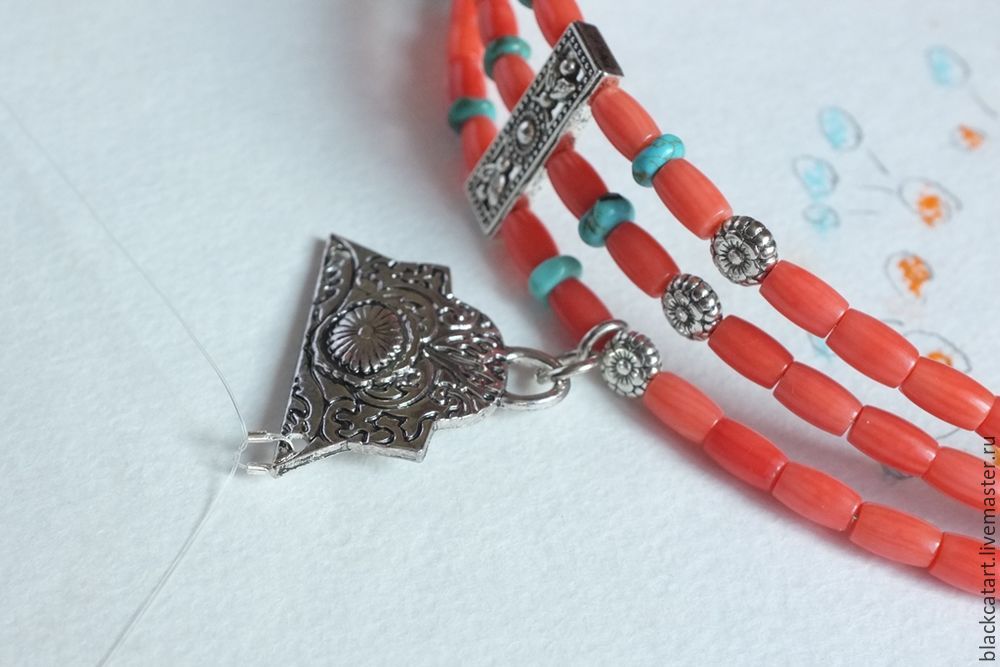 Take a metal element for two threads. Notice, it is conical, expanding at the bottom. This is very important, otherwise, the row won't lay on chest right. If there are no such elements, you can try to use straight ones, but beads of the bottom row must be larger than of the upper one.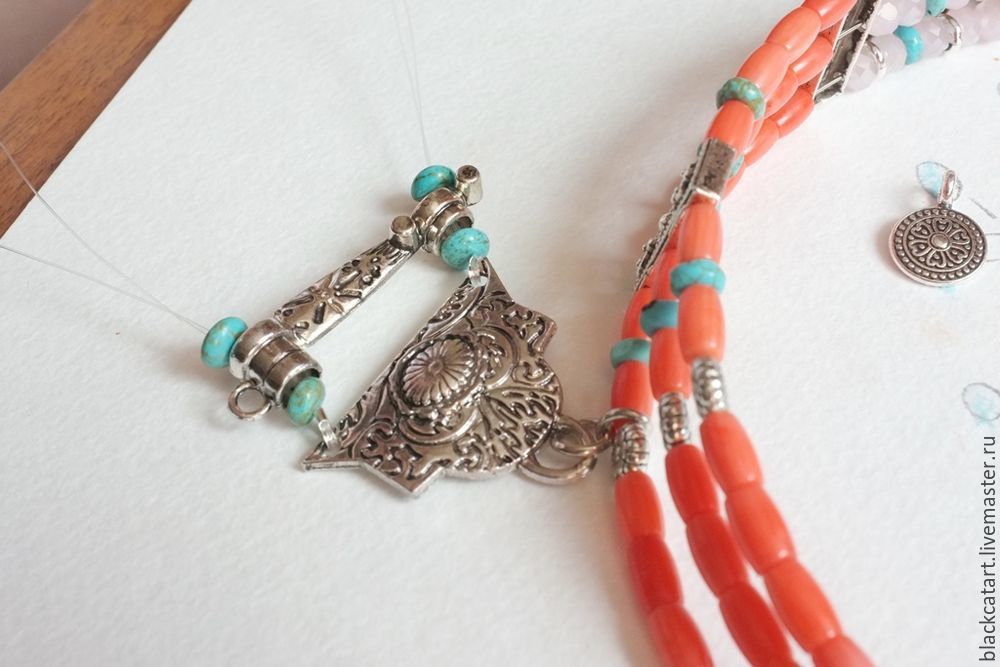 To reduce the angle in the top row, use large round beads.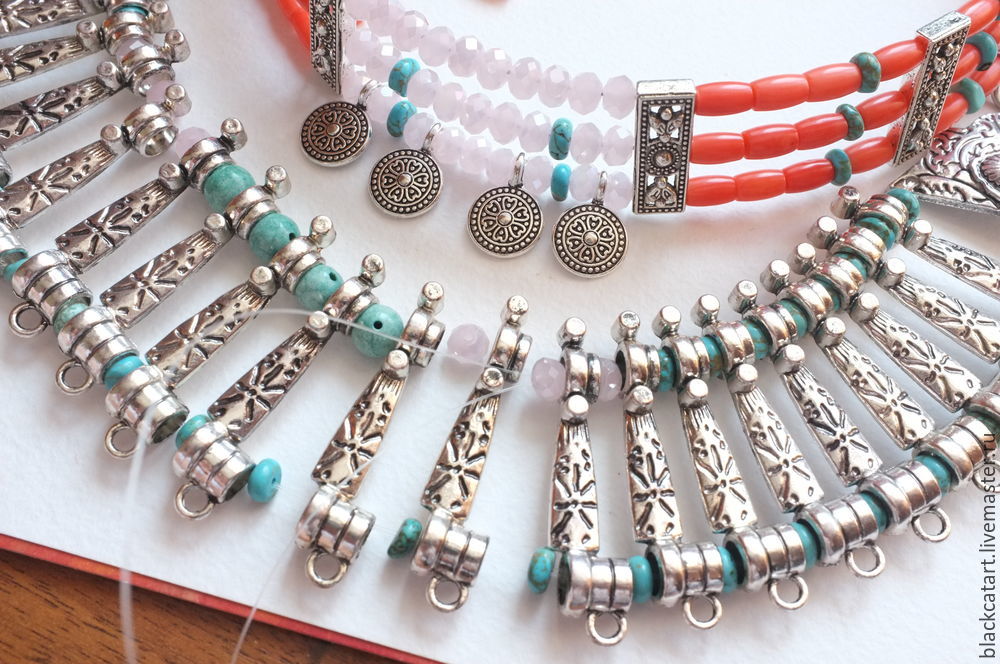 STEP 5.
Metal elements of Row 2 are used to fix coins and orange beads: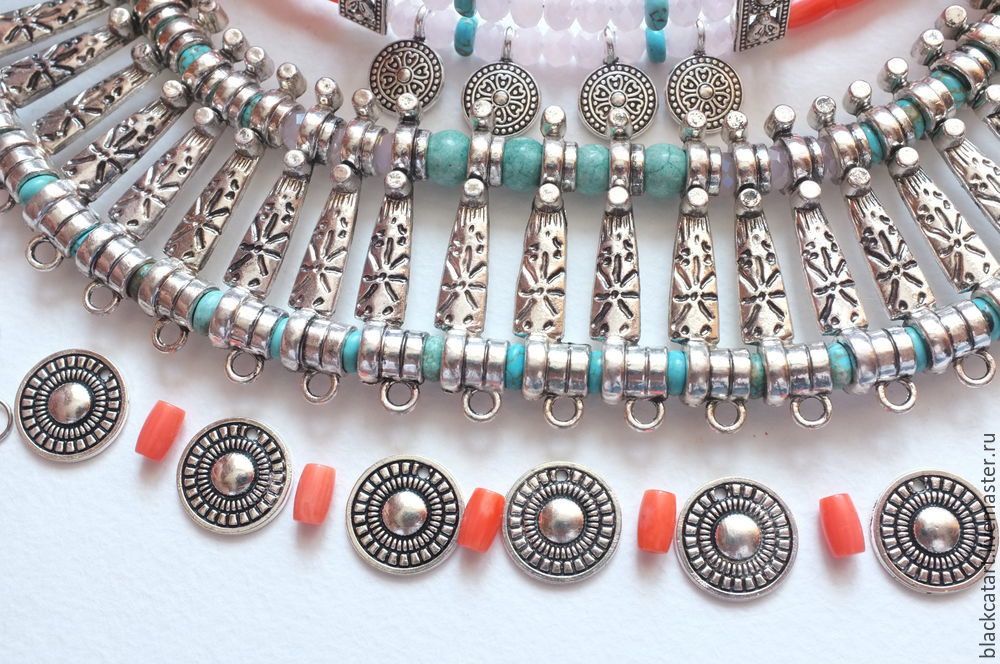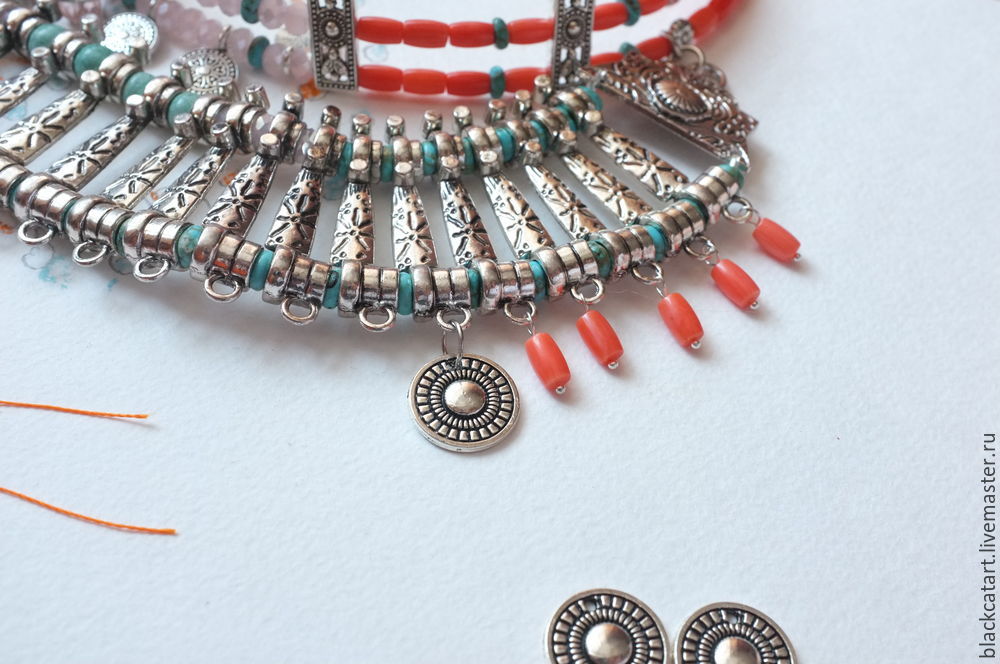 Actually, the classic monisto necklace is ready! But we decided to modernize it and add a bit of boho.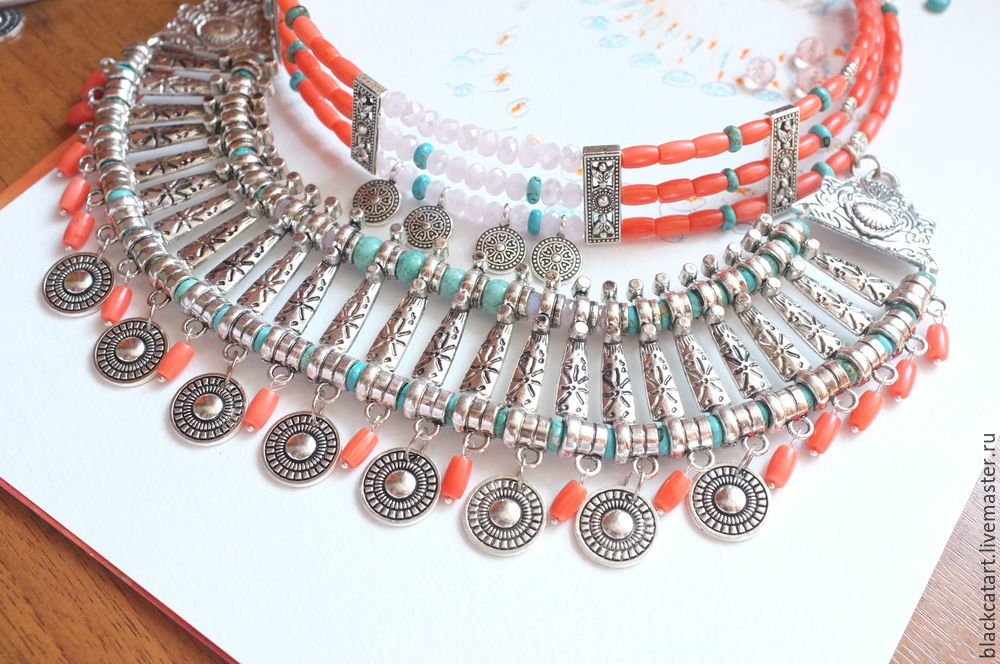 STEP 6.
Fasten the fishing line to the last loop of Row 2. The length of the thread — 70 cm. Don't forget about protectors. And thread some coins.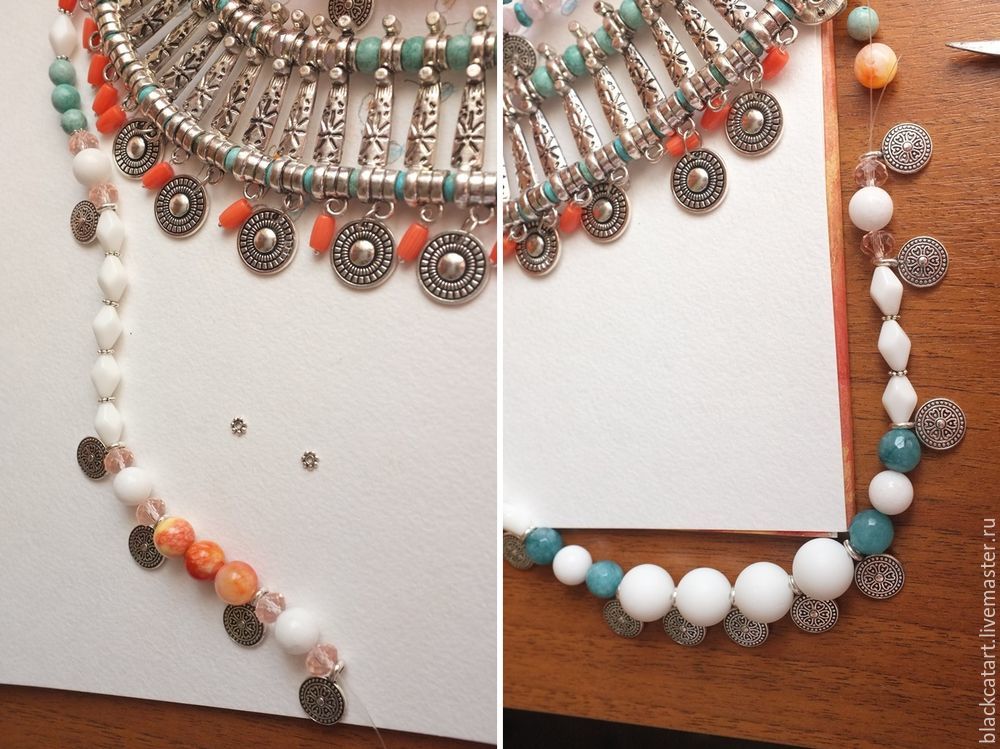 Here is a luxury bright piece of jewellery a la Russe. You can wear it with bright ethnic cocktail dresses, sundresses, boho clothes and light blouses.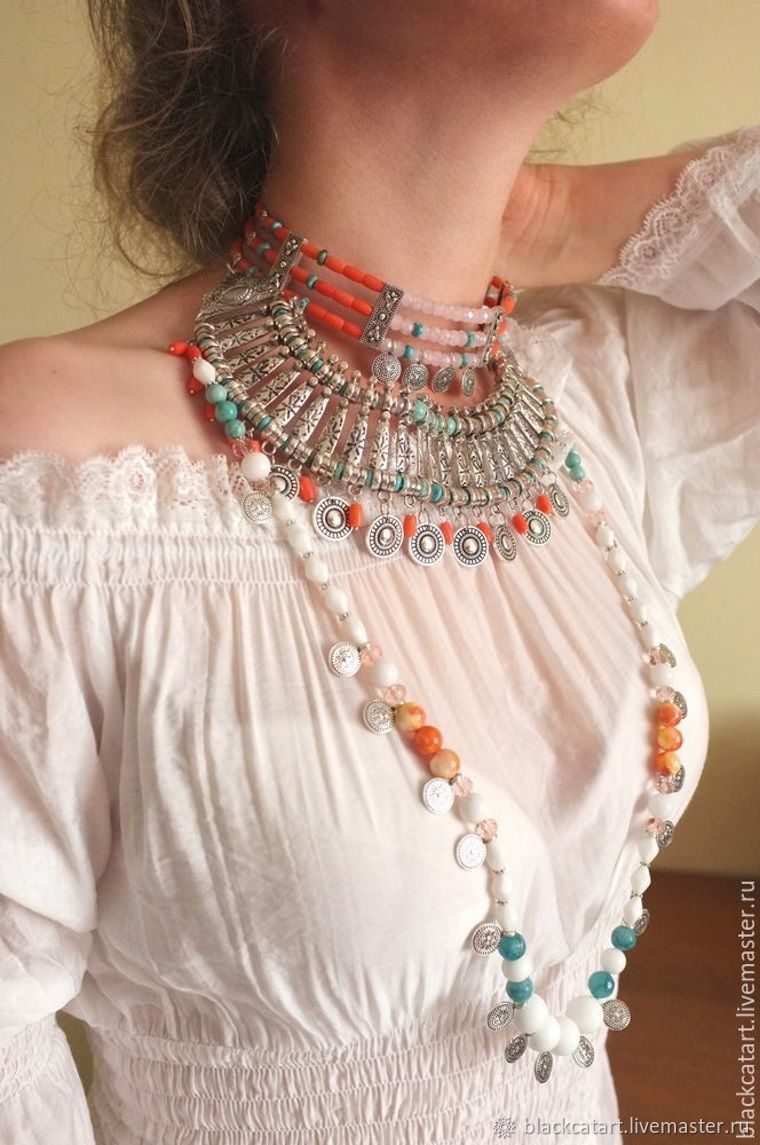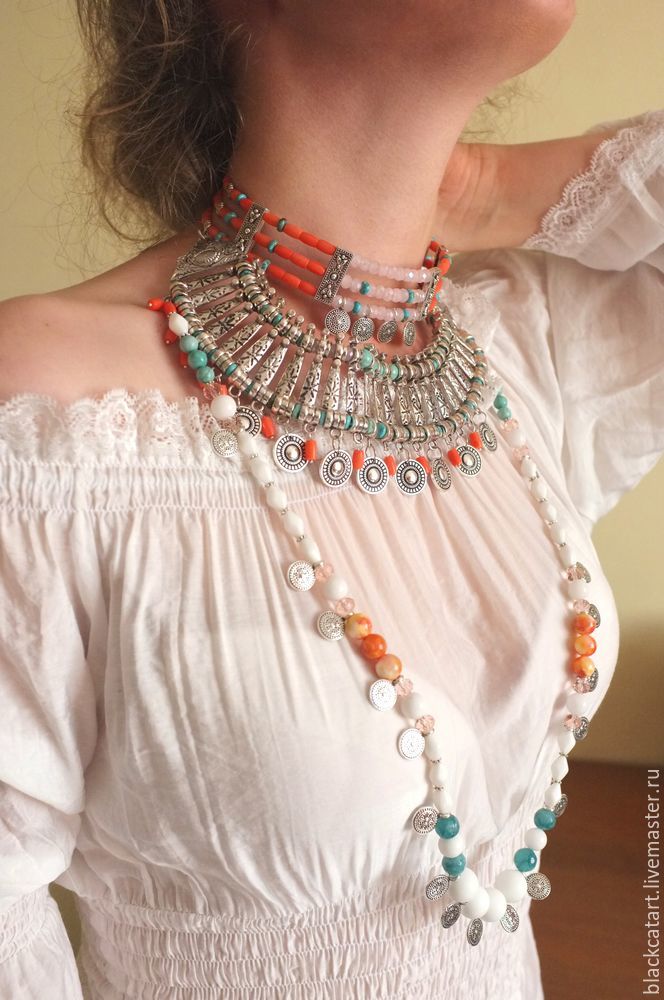 We hope, you've enjoyed the DIY :)
Best wishes,
Black Cat
DIYs & Tutorials on the topic