DIY Cheese Earrings of Polymer Clay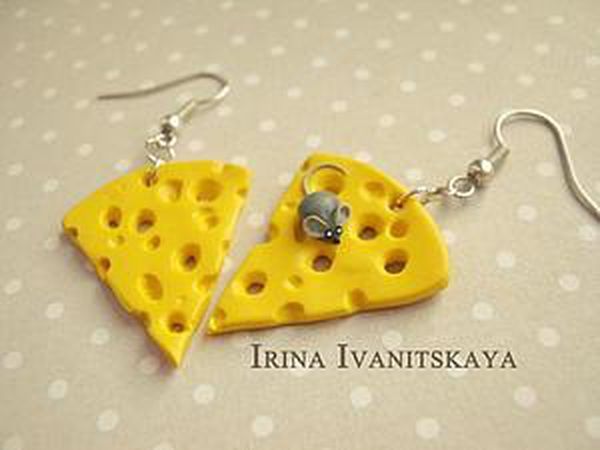 Today I will show you how to model these funny cheese earrings.
You need:
1. Plastic: yellow, white, black (black can be replaced with grey).
I used Fimo polymer clay, it is baked at the temperature of 110 C, 10 min.
2. Round cutter.
I used one by Makin's company, average size.
3. Rolling pin.
4. Dots.
5. Toothpick.
6. Scalpel. Knead yellow, black and white. Grey should be of two shades, one darker. Roll out yellow clay. Cut two circles. Use the scalpel to get triangles. Make holes with the dotting pen, some are deeper. Sculpt a mouse. The mouse should be very tiny (compare it with the toothpick in the photo). Make the ears of the balls. Glue the body of the mouse to the cheese. Glue the ears and tail to cheese. Make the eyes, apply them with the toothpick and bake all. Add findings. The earrings are ready! Wear with pleasure! Thank you all for watching!
DIYs & Tutorials on the topic