DIY Crocheting a Lace Tape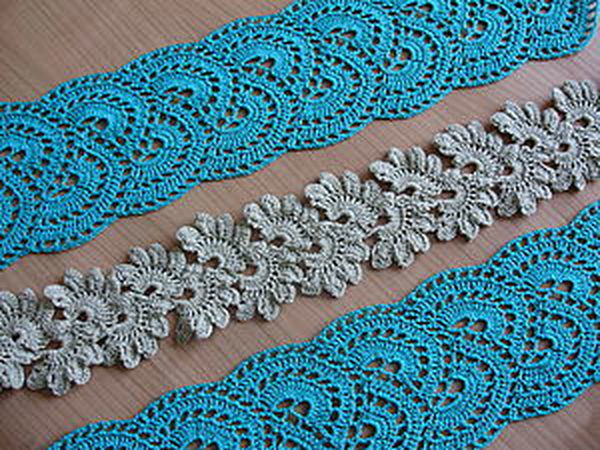 Good day! I want to share my tutorial about an interesting technique of crocheting lace tape.
Such lace is knitted in the form of a tape, the length of which depends on the length and width of the pattern and the thickness of the threads. They are bounded together then.
A lace tape (in most cases) has openwork circular motifs in its basis which are joined in the knitting process to an existing petal in one or several places.
When crocheting a lace tape, one needn't tear threads often which is very valuable.
Materials and tools:
any thin thread which includes cotton, I took coloured mercerized cotton (50 g per 330 m, to represent the pattern better here), hook 1.0.
The key to the descriptions and diagrams used (British): ch — chain (.), tc — treble crochet (T), sc — single crochet (+) Scheme:
Description: croshet 7c and join in a circle.
Row 1: 3 turning chains (count as the first stitch), 14tc
Row 2: 4ch (3 turning chains and 1ch like in the pattern), then 1tc in each tc of the preceding row, and 1ch (there should be 15tc and 1ch to every tc)
Row 3: 3ch, 1tc in the basis of this tc of these 3 chains — thus you get a loop; then 3ch, 5tc in the loop, sc in ch after 3tc of the preceding row. Here you get the first petal. Continue this way until the end of the row (you should have 5 petals)
So we crocheted the first finished element of the lace.
Start crocheting another lace element: 7ch, sc in the last ch of the preceding row.
Row 4: knit like Row 1, but just crochet 13tc, plus sc in the last petal (5) of first lace element.
Rows 5 and 6: Crichet Row 5 like Row 2, but you shoud get 14tc. Row 6 is just the same like Row 3.
So, the 2nd element of the lace is done. All subsequent rows repeat Rows 4, 5 and 6. Here is the beautiful and not complicated lace tape...
And two more photos with lace tapes I wish all of you perseverance and patience!
Since this is my first tutorial, please write reviews and criticism in the comments (as it's said, we learn from our mistakes...

)
DIYs & Tutorials on the topic