Create Red Currant Sprig Of Cold Porcelain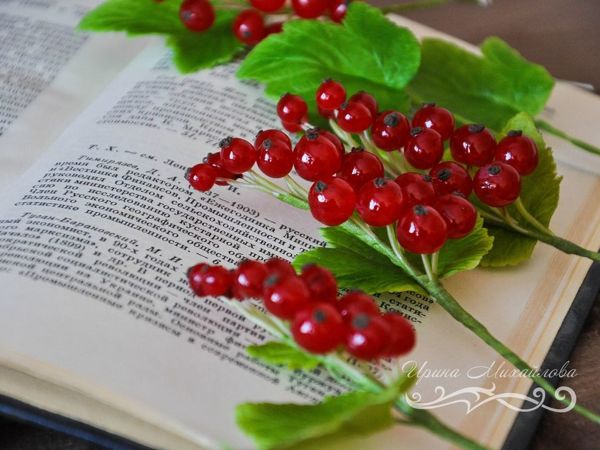 I bring to your attention my tutorial on creation of red currant from cold porcelain.
Sprigs of red currant are ideal as bright and juicy inserts in bouquets and interior compositions. And if you glue a pin to the back of the twig, you will get a great brooch. In general, there are many options, create in pleasure, please yourself and loved ones with gifts made with your own hands.
We will need:
wire number 26;
latex glue;
stained glass red paint;
cold porcelain (I have a special transparent one);
brown clay Claycraft by Deco (can be replaced with cold porcelain mixed with brown paint);
green oil paint (herbal, viridian);
blackcurrant leaf mold and cutter;
pliers, tape.
Cut the wire into lengths of 5 cm, the tip of each wire dipped in latex glue, form balls of cold porcelain. Needed: 1 ball 4 mm in diameter, 4 balls with a diameter of 7 mm and 8 balls with a diameter of 9 mm.
Paste the wire into the berries and leave to dry for 1-2 days. 1) Paint dried berries with red stained glass paint in one layer and leave to dry for a day.
2) In a piece of cold porcelain knead herbal green oil paint. Roll out the green porcelain in the pasta machine. Lubricate the edge of the cutter with cream and cut out the leaves. 3) thin out the edge of the leaves in the file.
4) dry for 1-2 minutes.
5) spread the sheet on the viner.
6) cover the second side of the viner and print the leaf, evenly pressing the viner on both sides. 7) paste the pre-rolled clay and dried wire into the leaves and leave to dry
8) roll a small piece of clay around the wire under each berry and leave to dry. 9) on the center of each berry, apply a drop of latex glue.
10) take a micro ball of brown clay and paste into the center of the berries. 11) with the same wire, neatly form the ovary berries.
12) cut tape into three strips.
13) start to collect berries in a branch, fixing them with tape. 14) on the dried leaves, apply viridon green paint, carefully shade and leave to dry (it is worth remembering that oil paints dry for a very long time, the thicker the paint layer, the longer they dry). Here I applied the paint thinly, and dried for about 2 days.
15) Attach ready-made leaves to the berry brush with the tape.
16) Red currant is ready. You can use it as an additive to flower bouquets or, gluing the base, use it as a brooch. DIYs & Tutorials on the topic