Сeramic Plate with Peter Rabbit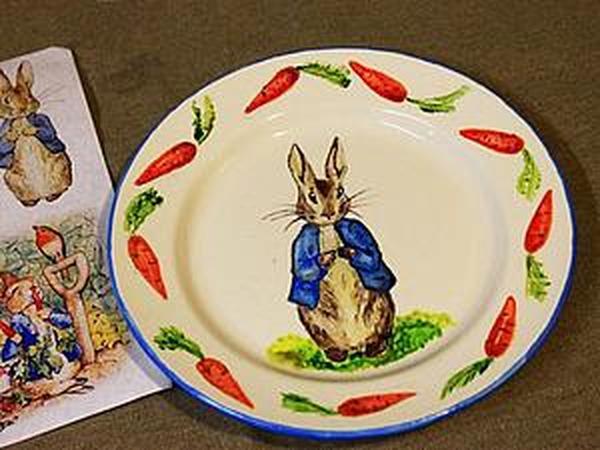 Today we will start painting on ceramics. We tried to make the master class as illustrated and interesting as possible. So, let's get started.
Materials:
- water-based ceramic paints;
- earthenware plate;
- palette (a piece of ceramic tile);
- brushes: №0, №4, №8 (squirrel or pony);
- degreaser;
- cotton soft disk;
- sketch;
- carbon paper;
- rubber gloves;
- simple pencil;
- a glass of water for washing brushes;
- cloth for wiping the brushes. So, we paint a plate for the walls. It is not recommended to use such a plate in everyday life, since the paint is washed off with water. Degrease the surface of the plate with a solvent and a cotton pad. It is advisable to wear rubber gloves. Find the desired sketch and apply it with a soft pencil on the work surface. If necessary, you can use copy paper to transfer the sketch to a plate. In our master class, this is an image of the rabbit Peter Push — the main character of the fairy tales of the English writer Beatrice Potter. Choose the lightest tone and paint over without drawing details with a thin layer and let it dry. To draw details, use brush 0. Mix the colors on the palette. The first layer is dry. We apply shades of darker tones, draw small details and contours, and let them dry. On the dried drawing, we apply light highlights. When we start coloring the carcass, the place where the eyes and nose will be, it is better to draw immediately, because the pencil sketch is erased when applying the main light tone. Draw the main tone of the muzzle, then work out the small details — draw darker nuances, ears with small strokes, imitating the fur of the animal. Draw the rabbit's mustache. When the drawing dries, draw the grass under the rabbit's paws. We take the colors in any order (mixing green, blue and yellow). We get the completeness of the plot. Finishing the sides of the plate.
Make sketches of carrots on the edge of the plate. When all the tones and semitones of the carrot are done, leave the plate to dry. After that, draw the carrot greens, starting with a light tone, draw the strokes and nuances. Now we work out the light tone of all the carrots, letting them dry, draw a picture of the carrots. When all the tones and semitones of the carrot are done, leave the plate to dry. Then draw the green of the carrots, starting from the bright colors to put the finishing touches and nuances. Make the final border of the plate blue (the color of the rabbit's jacket). That's how easy and very interesting you can create a plate and decorate the kitchen!
Enjoy your creativity!
Enjoy your creativity!
Enjoy your creativity!
DIYs & Tutorials on the topic