DIY Cloud Luminaire For Decoration And Photo Shoots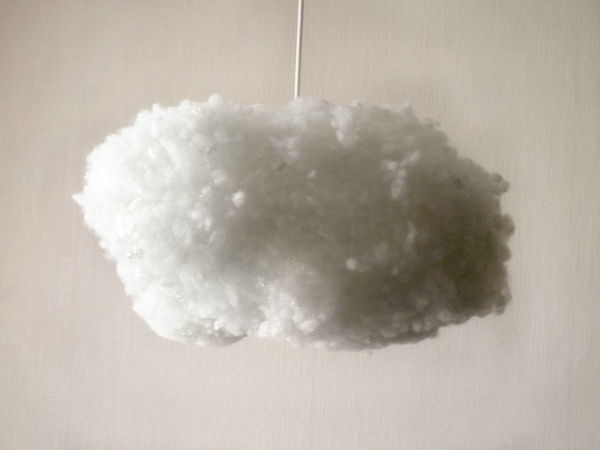 There is no autumn without rain. But you can give a home to a friendly cloud. If you already have an old paper lampshade, you can give it a second life and turn into an original accessory for a photo shoot or an addition to the decor of the house.
In order to make a cloud, we will need:
Paper lampshade (I use a lampshade "Sollefteå" from IKEA, it has a suitable oval shape. But you can use a round one, however, you will need more holofiber to give it the shape of a cloud).
Holofiber. I used about 200 g but it can take more.
Glue gun and a couple of packs of rods to it.
Cord-suspension and a suitable light bulb (I have one also from IKEA). It is better to take a bulb "cold" light. Collect the lamp according to the instructions on the package. The bulb is screwed immediately, it will be uncomfortable afterwards. And the next 2-3 hours, we glue the holofiber to the paper lampshade. We work with small pieces – glue hardens quickly. Do not pay attention to any failure — in the finished cloud it would be completely invisible.
After we cover the lampshade with a more or less even layer of holofiber, we begin to work on the shape of the cloud, gluing here and there additional holofiber pieces. It helps to turn on the light bulb — it immediately becomes visible where there is not enough volume. In order not to jump around the included lamp, suspended from the ceiling, take the unnecessary power cord, remove the insulation, clean the wires and connect to the lamp (note the color markings!). We achieve the desired shape and everything is ready. My cloud settled over the dinner table. Of course, this lamp will not last for several years – holofiber collects dust, and you won't be able to clean it. But the cord-suspension and light bulb will be in perfect order, so you will need to replace only the lampshade itself. I expect that the cloud will stay with me until about December, and then the new year is not far off, it will be time to come up with something new.
By the way, the cloud can be turned into a thunderstorm, if you shove a garland in the lampshade and turn on the "flashing" mode. You can supplement the lamp with a "rain" of beads strung on a fishing line, if the space under the lamp allows.
DIYs & Tutorials on the topic