How to Decorate Bottom of Linen Blouse with Bias Cut Beautifully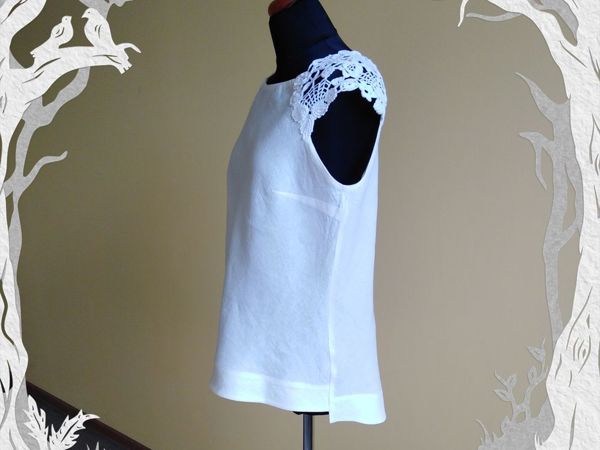 Linen clothes with bias cut often behave as they want. This is especially true for the bottom of the product: Badly processed! The bottom isn`t beautiful! Such a bad thing happened to my favourite blouse! If you don't want to have a wavy bottom, I suggest such a solution:
1. To tackle the situation, I took the same linen from which the blouse is made. Make the same bias cut, welt 7 cm long for the front and the back, just putting the blouse on fabric without original patterns. Undo the hem and 15-20 cm of blouse sides to make it easier to sew the lining, and then iron the bottom: 2. Then I applied welts to the blouse and compared them in size, and cut extra on the sides: This is important! If your welts are wider than the blouse bottom, they will stretch it. It is better if they are 5 mm on each side. A detail with bias cut is always stretched, so be careful. Do not pull it in different directions, and let your fabric lay freely with no tension. If you fold it in half, be sure to pin.
3. Stitch upper welts with basting stitch, 3-4 mm wide. This is made for the blouse to keep shape, as it is not fused with interlining. Thanks to this, it will be easier to iron a clear line of the lapel inside. Do not secure the line. After processing with stitch, you can easily remove this thread. But it does not matter if it is of the same colour.
4. Iron the top seam outsize of the welt inside. The thread in the line will make it easy.
5. I applied prepared welt of the front on the blouse with fronts inside and pinned: Then I sewed it to the blouse bottom, leaving 5 mm edge: 6. Similarly, I sewed back welt.
7. Iron seams of both welts: Then I ironed front welt to the back side and pinned to the blouse: 8. Then I stitched the upper edge of the welts from left side, as in the photo: This is how the front side looks like: 9. Since the front of the blouse is shorter than the back, the processing of the back is different. First, I sewed the side seams of the blouse to the mark: 10. I turned back welt out, applied it on the front and pinned: 11. Sewed: 12. Cut the corner, processed the sides with an overlock and hid the ends in the seams of processing to make the blouse more accurate. 13. Turn the back welt inside out: 14. Iron, pin and sew: 15. It turned out neat and without waves. I hope that I explained everything clearly, and my tutorial will be useful for those who sew the product with bias cut for the first time.
DIYs & Tutorials on the topic