Handmade Whale Pillow Toy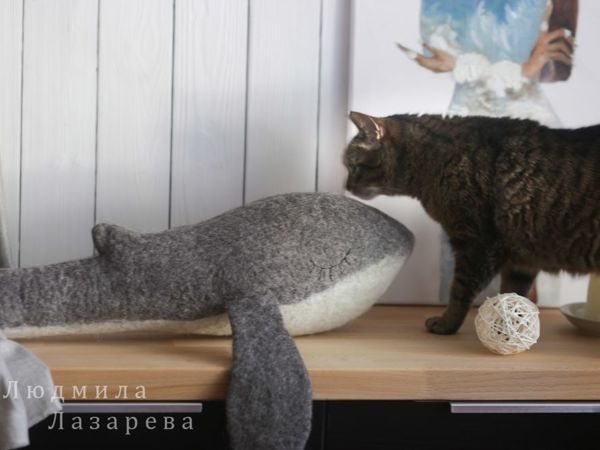 I want to share my method of felting an interior pillow based on a pattern from Burda magazine.
Leafing through old magazines, I came across a toy pattern, sewing from fabric (No. 12/2016). I considered it and thought it was a ready template for felting. I used two colors — gray on top, white in the lower parts of the whale. Photo 1. In the figure the letter "T" means dark, "cb" — light. I decided to make volume bottom lines on the head using strings. Photo 2. Strings felting. Bottom fins are made of the same strings (in the final form they are not very visible, you can use something harder). Photo 3. Make a fin. I was a little wrong here, first I should have glued the fin template to the template of the body. Photo 4. I laid the fin. Photo 5. Make a separate tail, then turn it and felt to the body. Photo 6. The tail is white at the bottom. Photo 7. Then I corrected, you can see how I glued the fin. Photo 8. The tail is rotated at 90 degrees, then continue to lay a light bottom of wool. Photo 9. You can see how I lay the light bottom and the fin. Photo 10. Here you can see why you need strings. Photo 11. I made another layer on top. Photo 12. After soaking. I wanted to keep the relief. Photo 13. Turn the fin, lay the remaining part. Photo 14. I laid the top. Photo 15. I wetted it and turned. I bent the allowances of wool to the template. Photo 16. I laid the white bottom, the fin. Photo 17. The top is already laid and wetted here. I put a blocker on the fin. Photo 18. The fin is turned, bend the strings and the allowances to the template and put wool on top. That's the whole layout. Photo 19. I twist it in a roll. Photo 20. I sew dangerous places with thread, then it will be removed. Photo 12. Here the template is removed. Photo 22. Another twist in a roll. Photo 23. Knead it as dough. Photo 24. Twist like this too. Photo 25. I felt it to the length of 70 cm. Fins were less decreased, I made such wings. But they don't spoil the whale. Photo 26. Here it is already filled with padding polyester, the hole is sewn, the eye is embroidered. Photo 27. I show the seam on the tail. Photo 27. Hellooo :) That's all. I took the most simple wool, it can be felted by any convenient means.
The main idea is that you can study patterns of sewn toys for felting seamless wool products. The only limitation is the size, it will be very difficult to make small details. Here is a schematic view of a whale.
The end.
DIYs & Tutorials on the topic