How to Make Cotton Bolls of Cotton Wool and Craft Paper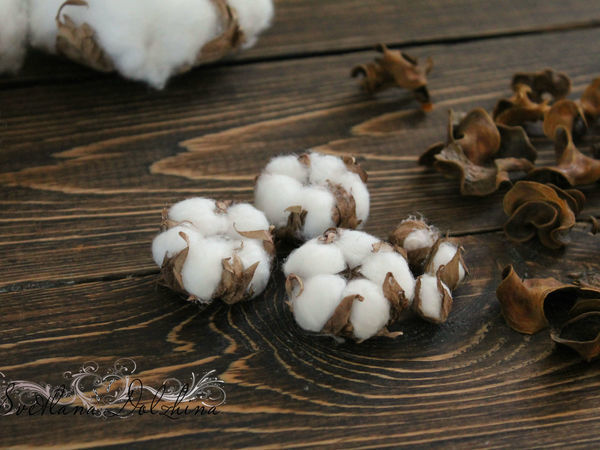 I will show you how to make cotton bolls. I wanted to make them for a long time and finally did that. Maybe my DIY will be useful for you.
For the work I used craft paper (the one with no glossy side) and wool. The size of my cotton bolls is 3.5-4 cm, you can cut according to my pattern.
For one cotton boll you will need 5 sheets and 5 parts of the boll, quatrefoils for closed bolls. Cut the blanks, fold the parts of the bolls in half. Put the leaves and the quatrefoils in water for a couple of seconds and take them out, let the water drain.
Make tubes of all the parts, craft paper can not be rolled at once, so you need to be patient and roll it until it stops unfolding. Let all the parts dry (you can put them on a battery if you are short of time).
Glue all the parts of the cup together, apply glue to one half of a semicircle and apply it to the second half, continue until you get a star-base for a boll. Twist balls of cotton wool (to do it faster, I dipped fingers of one hand into water and made twists with this hand). I toned the dried parts of the leaves and the edges of the cups with a stamp pad. Use a glue gun to glue the balls to the base of the bolls. Make unopened bolls (put a drop of glue in the center, put a ball, drop some glue on the ends of the leaves and close the boll). Now we have to decorate the bolls with leaves, put a drop of glue on the base of the leaf and glue it to the back of the bolls, then wrap the boll with the leaf and drop some glue in the middle of the leaf, fix it, you can give it a desired form. Admire the finished bolls! I use cotton bolls in my works, they complement winter composition on a notepad. Cotton bolls also look great on a recipe book :) I made large cotton bolls for Christmas garlands in my office. Happy New Year 2018! I wish you were pleased with the creative ideas and successes! I wish health, peace and happiness to your families! I wish you lots of creative inspiration!
DIYs & Tutorials on the topic