Weaving a Decorative Macrame Monkey's Fist Knot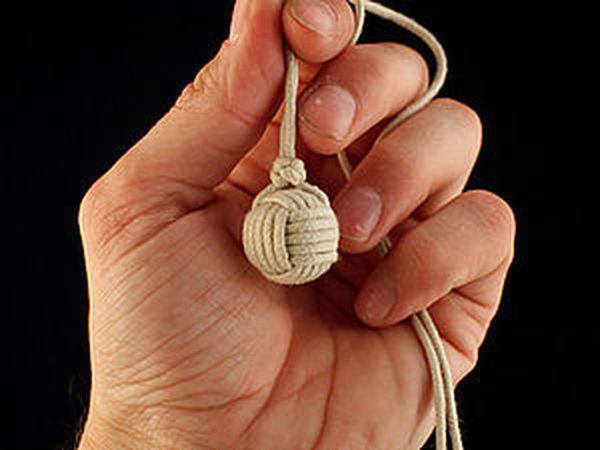 Hello, dear artists!
In this tutorial I will show you how to weave a decorative Monkey's fist knot. The name was given because of the similarity with a clenched fist. It was used as a fixing knot in sailing fleet.
For work you need:
- a small ball, any fits: steel, glass, wooden or plastic
- rope
- tool to tighten the knot (or a needle for knitting), I use a homemade tool "spike"
- hand as a frame for weaving
Let's start.
Take our cord, press it against the palm with the little finger of the hand, throw over the thumb and pass between the little and ring fingers: make several turns the following way: The required number of turns depends on the diameter of the cord and the diameter of the ball. It is determined the following way: the ball should be almost completely hidden behind the cord, if it's winded along the axis. In this case, you need 5 turns: Make five turns of the cord and wrap it around the little finger: Now you're to make the same number of turns around the first five loops: there are still five turns:
at this stage you need to insert the ball into the "nest" and begin to weave next five turns: note, the last group of turns should grasp the section of the cord that goes around the little finger (see photo 4): finished the last bunch of turns: Now you need to tighten the knot. To do this, first set the thumb free: ...and tighten the free loops: Each bunch separately: Pulling the first five turns, remove the item from the pinkie: Again pull the free loops:
Do not tighten much. You'd better do it gradually. After you pull the first bunch, pull the second one: turn after turn, all five pieces: And the last loops: One by one all five pieces: At the end you should get something like this: I made the final tightening with the spike tool.
The final tightening, I remind you, should be done in some stages, so as not to skew the bunches of loops. The knot is ready! You can cut off only one end of those that stick out from the knot. And it is possible to leave them and continue weaving, If you are planning to weave, for example, a key ring.
For that I make such a transition knot called Diamond Knot: Thank you for your attention!
DIYs & Tutorials on the topic