How to Decorate a Dress with Leather Inserts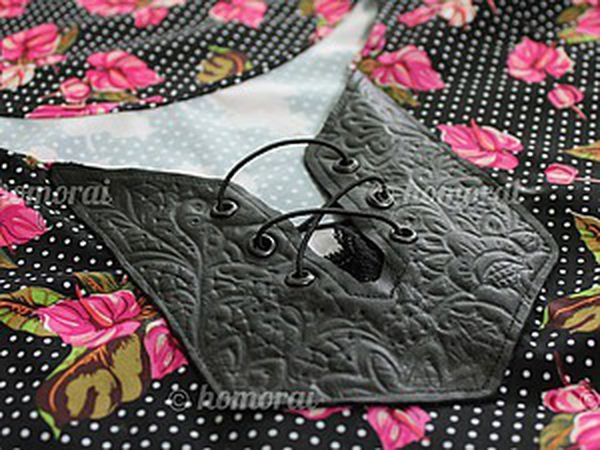 It is a quiet time in summer on Livemaster, there are a few orders, so I had a huge mass of free time to update my wardrobe a year forward :) So I made a Jersey dress with a leather insert for autumn and today I will show you how to make your dress unique with a little effort and patience.
For work you need:
- dress
- printout of a lace element
- carbon paper
- candle
- scissors and needle (or ideally — a soldering iron with a thin tip) Put the pattern over the carbon paper where you're going to decorate the dress and pin. Outline the main elements of the pattern with a pencil imprinting them on leather. Heat the needle over a candle flame and press it against the pattern following the lines. It's easier and faster to work with a soldering iron, but I do not have it. Work slowly, often heat needle and press it against the lines a few times until you are satisfied with the result. Remember about safety precautions when working with open flames and hot objects! Draw the main elements and then flll the background with a net. Do the same with the second part of the insert. Carefully look at the pattern, perfect it with the hot needle where necessary. Remove paint from the carbon paper with a cotton pad moistened in any vegetable oil, softening leather at the same time. To protect the stamping when washing, I soaked the insert in a mixture of melted wax and oil, and warmed with a hairdryer. Ready! You can decorate any leather item the same way :)
DIYs & Tutorials on the topic