DIY on Inlaying Ceramics with Glass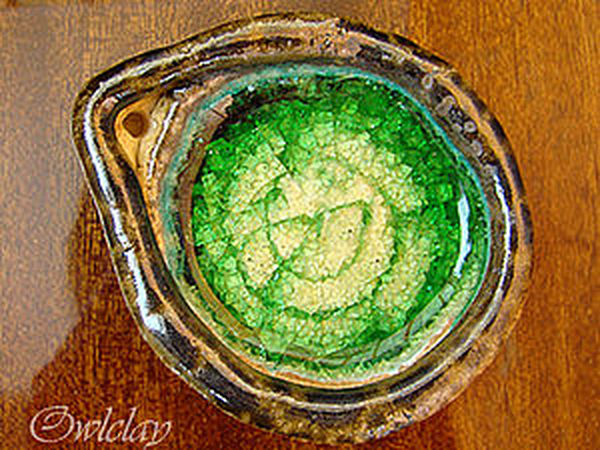 In childhood, I used to do one thing to scrape money for ice-cream — took milk / kefir / beer / wine bottles for recycling; white, green; brown… which I come across. Many, many years have passed, I have no idea if these receiving points exist now and just throw bottles away. Well, used to. These bottles turned to be wonderful material for ceramics decorating. This technique has no name, but this does not belittle its advantages. It's really simple and striking. Let's call it, let's say, 'glass inlay'.
I want to offer you making such holder for aroma sticks. Special charm is given by crackle (a net of small cracks) on the surface of glass.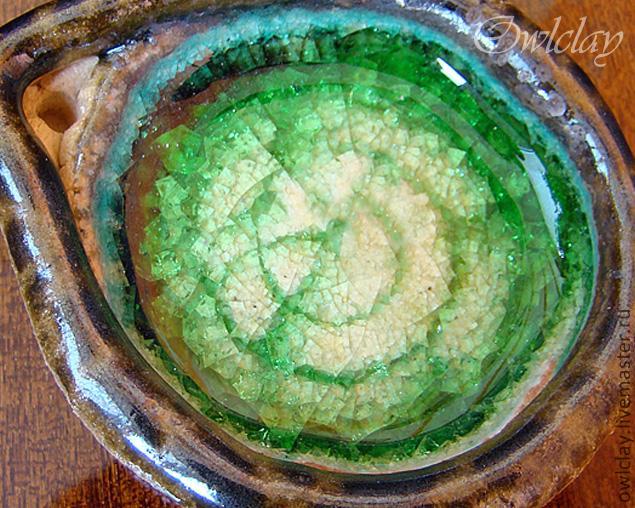 So, let's start.
NOTE! You'll work with broken glass. Be careful in order not to hurt yourself!
To create just another masterpiece, you need:
1. Working surface: plasterboard, or plywood, or a dense piece of cloth. A table with plastic cover wouldn't suit as clay is sure to stick to it.
2. A piece of chamotte. This is a well spread and patient clay mass. It patiently lets any beginner torment it. I used simple cream chamotte for the sample. Porcelain and faience are no good because of frailness.
3. Some bottle pieces. Main colours used for this technique are transparent, green, brown green, brown and dark blue. Red is used seldom as it is rarely met. Most often, it is some simple glass covered with film or paint. And it means that you won't have any effect when baking.
4. Simple brush.
5. Slip (liquid clay). It is made easily: dissolve a piece of clay in water in a small vessel.
6. Muffler for burning. The burning temperature is 1200⁰ C.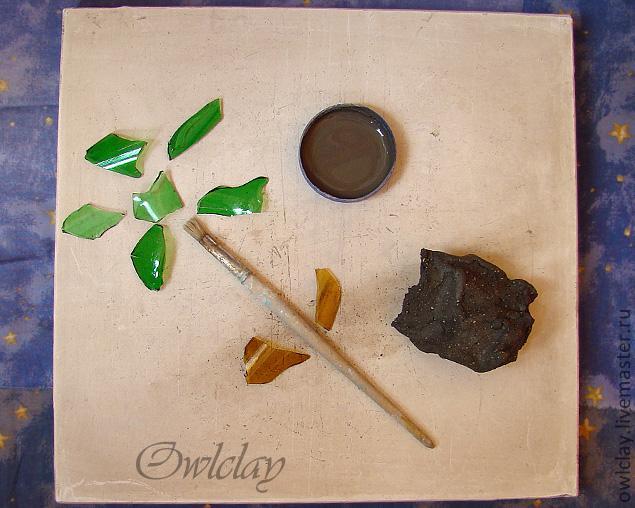 The technique we're going to use is called cord modelling.
Take a piece of cream chamotte. You'll say: «Why, is it cream colour?!! It's almost black!». Don't worry, the colour is cream after burning, nearly white. Many like making fool of beginners, when clay suddenly changes its colour when being burnt.
So, take a piece of chamotte and roll it with your both hands on the working surface. You get a long sausage or cord.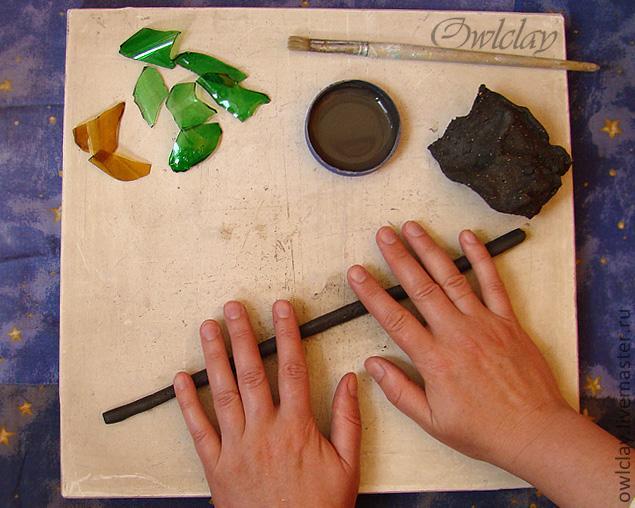 Roll it into a spiral until it gets dry and starts breaking. You get a bottom for your holder.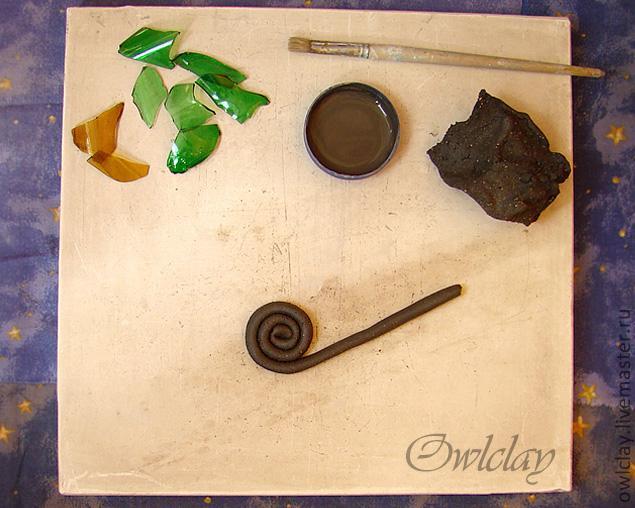 Roll one more sausage. You'll turn it into the sides.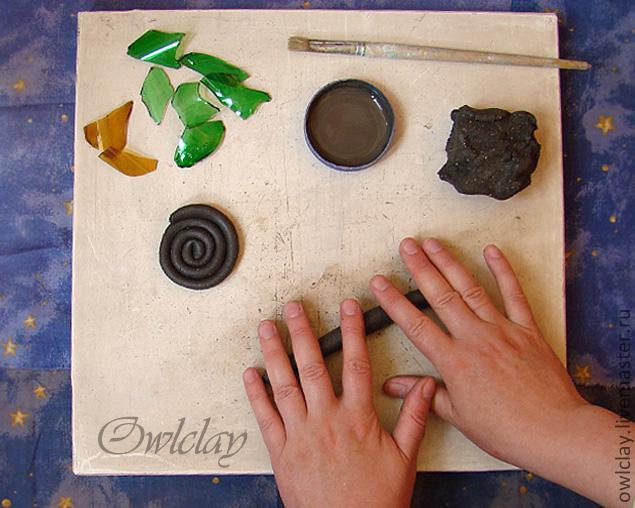 Dip the brush in the slurry and apply it on the splice of the two sausages. Finger smooth junction. Ideally, when between connecting parts of the clay with a sharp object on the connection is applied notches, then grease the slip and press of the product to each other.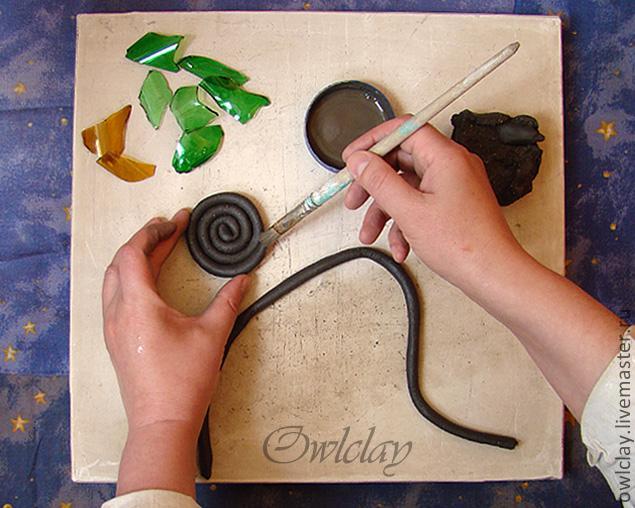 Shape the blank into a cup and remember to make a hole for aroma stick.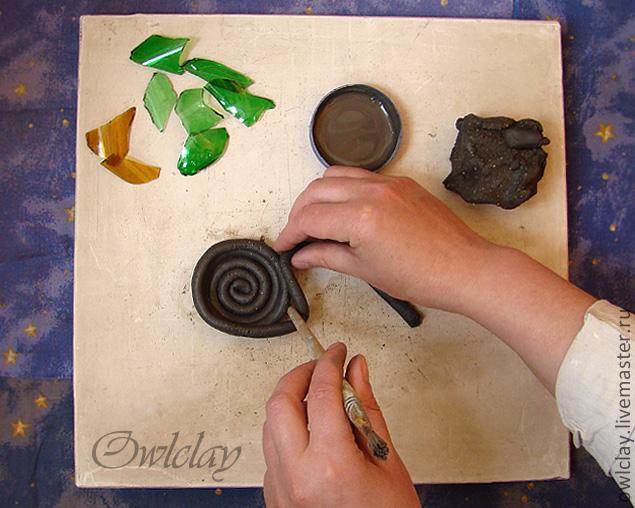 Such a holder comes out.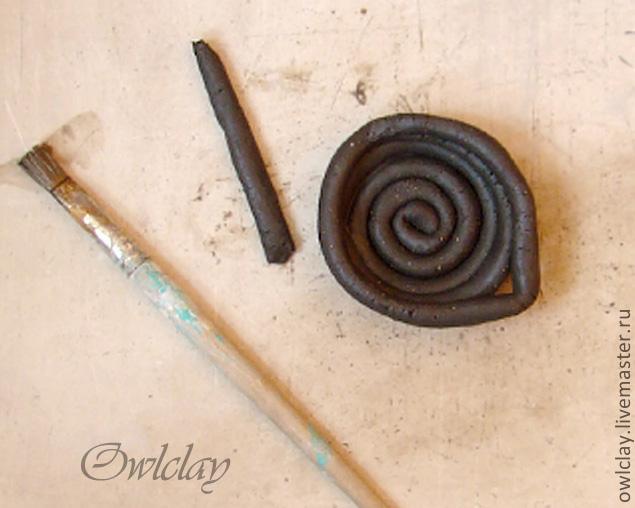 At the final step, you are to burn the holder which means you should caulk all holes, otherwise melted glass would run and spoil the muffler.
I decided to make it from the outside. Turn the holder over, roll a thin cord of clay and start caulking all holes and deepenings on the surface. You can do it with fingers or sticks — the way you like. If clay gets dry fast, slightly cover it with slip.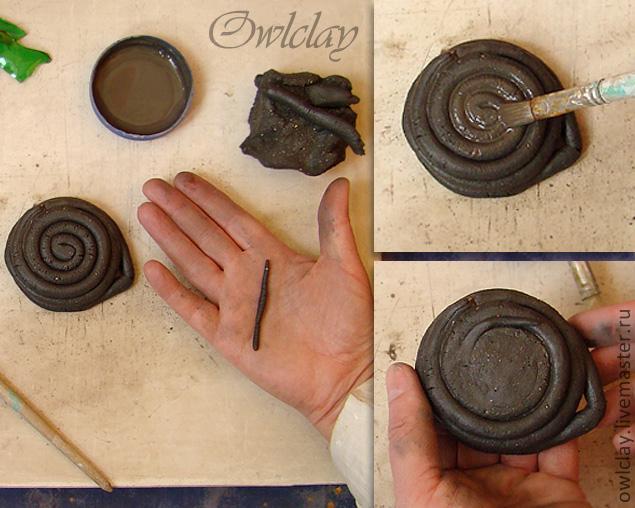 Thus, the bottom is caulked.
While the item is wet, press pieces of glass into the bottom. Be careful! Don't pierce it through and spare your fingers!
I decided to use only green pieces. For greater effect, cover the edges with high-temperature glaze (as you'll burn the item at a very high temperature!) of your favourite colour. If glaze runs onto the bottom, remove it with a wet rag. Otherwise, the item would tightly fasten to the muffler.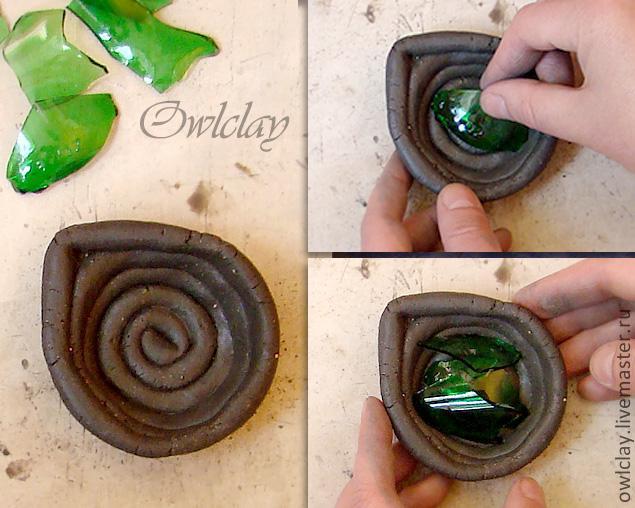 If you're satisfied with the design of your item, leave it for a couple of days to get dry. Better on an absorbing surface: wood or cardboard. You need to know, drying clay doesn't like radiators and draughts. It's good to dry clay in a cardboard box.
Dried cream chamotte gets light grey.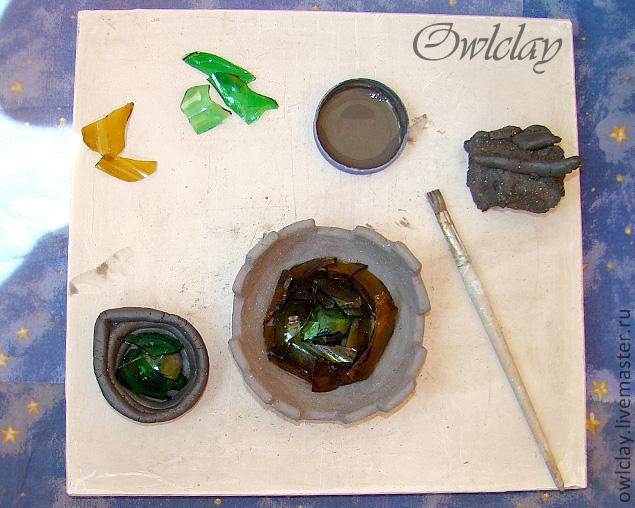 A completely dried item is to be burnt in the muffler at 1200⁰ C. When burning, chamotte gets very firm and glass melts and runs like water covering the bottom and leaving smooth surface. After cooling, the glass surface acquires crackle.
If one failed to put enough glass and bald spaces appeared, no big deal. Add one more piece of glass and repeat the burning.
That's what I had after burning, by the way.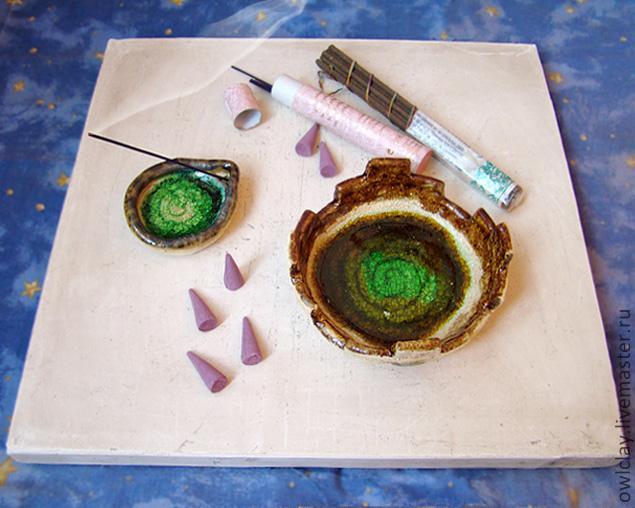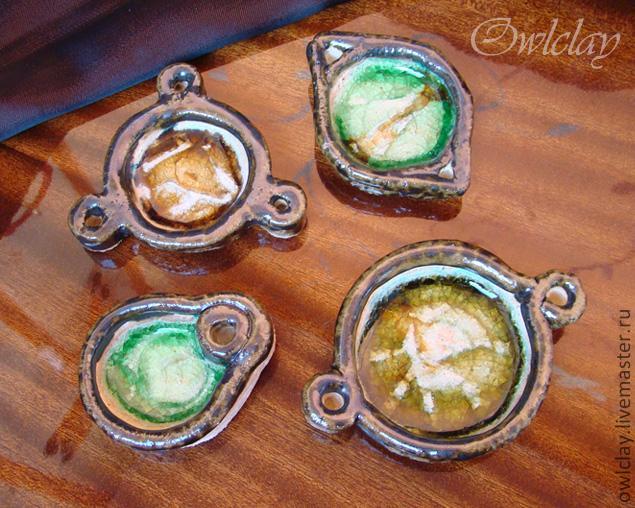 You can combine and mix pieces of colourful glass by different methods, get more new effects. One method is this: you make small partitions on the bottom when modeling; small nests appear. Put certain colour in each of them. Thus, you get a distinct pattern reminding mosaics or inlay.
Create easily and with pleasure!
DIYs & Tutorials on the topic