Surf Up Lampwork Bead for a Sea Style Pendant
Difficulty: Medium
Time: 1 hour
In this tutorial I will show you how to easily create an elegant sea style bead.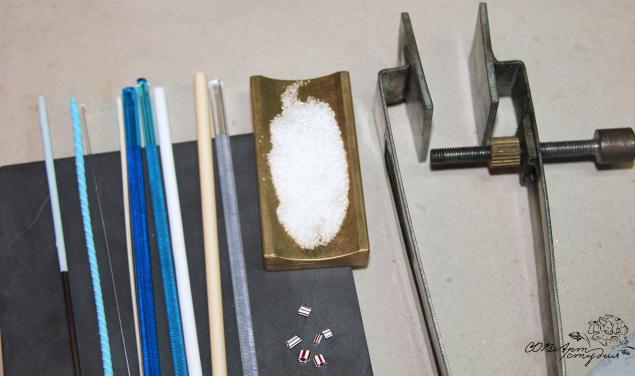 You will need:
- mandrel;
- bead masher;
- graphite pad;
- transparent stringer;
- SIS stringer (ivory with silver);
- several murrini;
- tiny frits (powdered glass);
- Moretti glass: white, transparent, ivory, dark aquamarine, light aquamarine.
And the most important thing is a well-equipped lampworking studio :)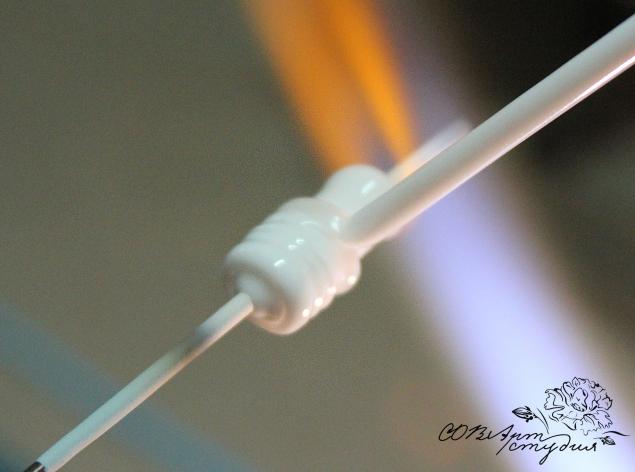 Make an elongated bead of white glass approximately of 3 cm length and 1.2 cm in diameter.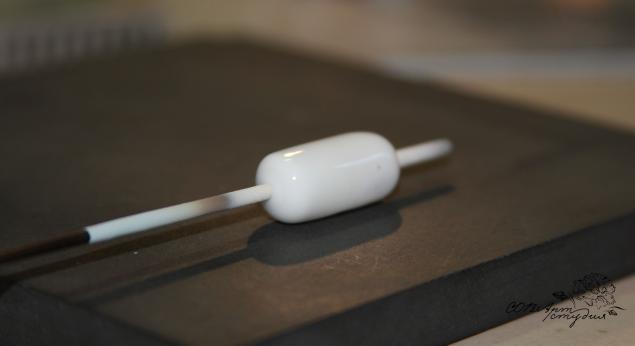 Roll the bead across the pad to get a smooth cylinder.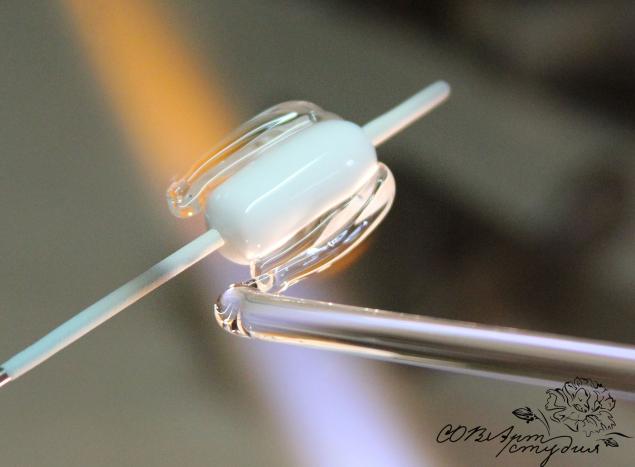 Put two stripes of transparent glass in two rows on either sides.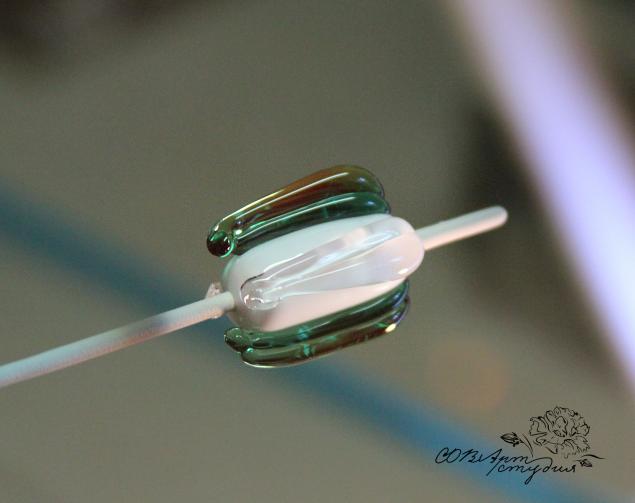 Similarly, put two rows of two dark aquamarine stripes on other sides.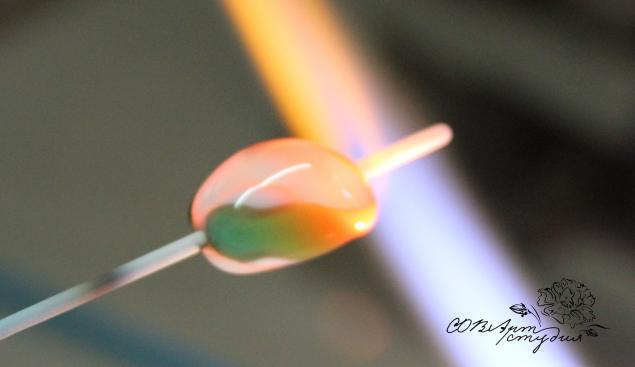 Fuse the transparent glass into the white base completely. Then start firing the bead from one end until it melts twirling the bead in the fire at the same time.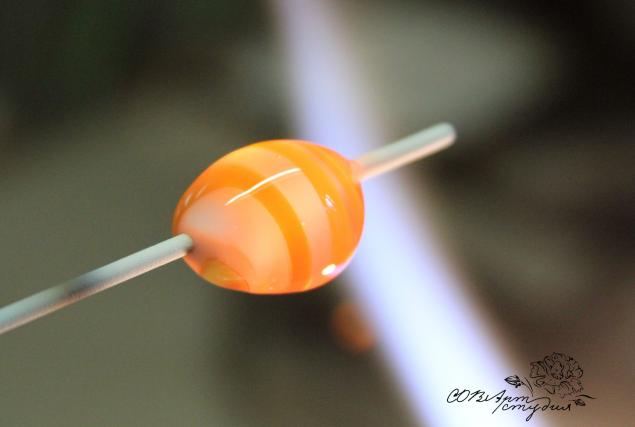 Continue twirling the bead (note! in one direction only!) and fire the bead slowly from one end to another. Thus, you spire the colourful and transparent stripes. Within this step it is important to follow up the bead shape. You shall get a rugby ball 

When the spiral finally takes its shape, take the bead away from the fire and let it cool a little bit.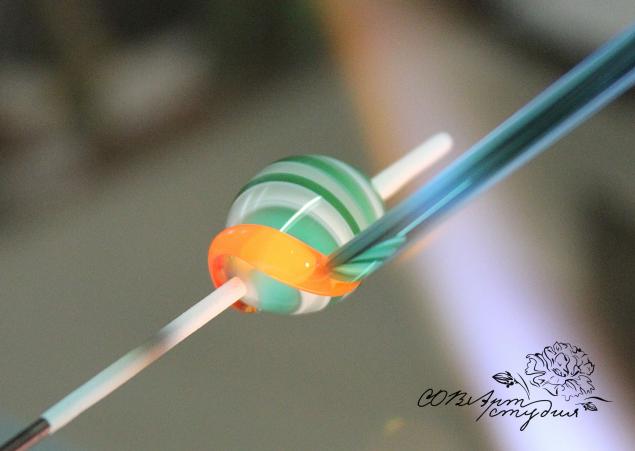 Then completely cover the bead with light aquamarine.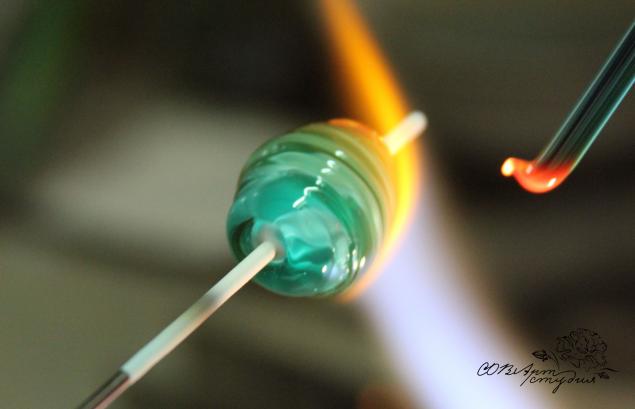 I put one layer of light aquamarine, but you can put more if you wish. The bead acquires deeper and brighter colour. Melt the layer.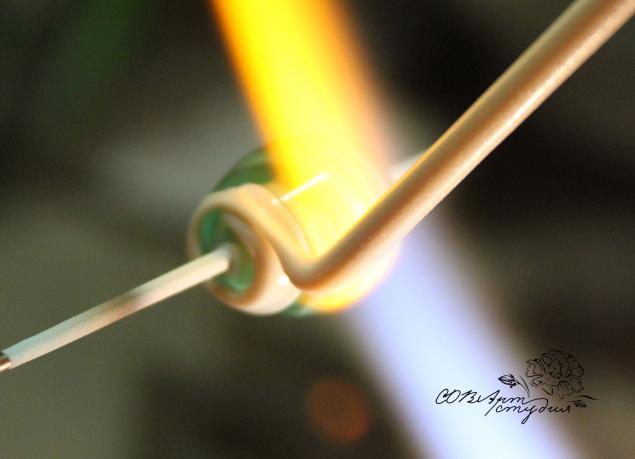 With
One third of the bead is covered with ivory; melt it.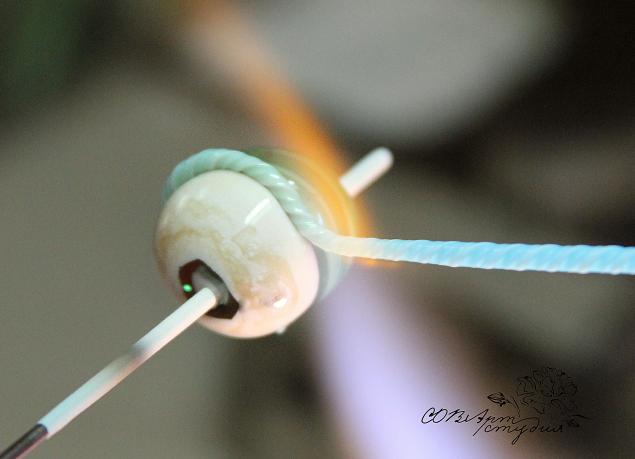 Start decorating. Lay twistie over the border between ivory and aquamarine.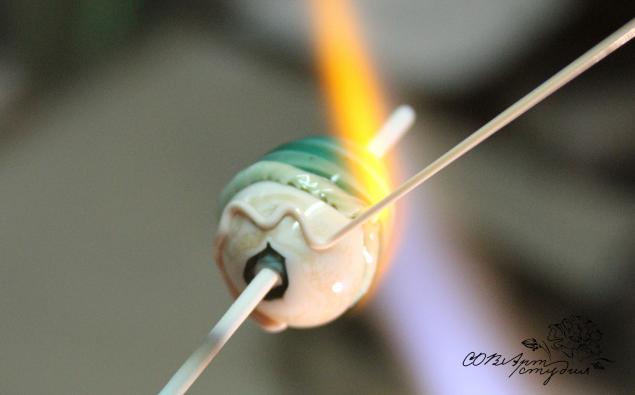 Lay silvered SIS stringer in waves over ivory. Silver provides an interesting reaction on ivory — the one we need.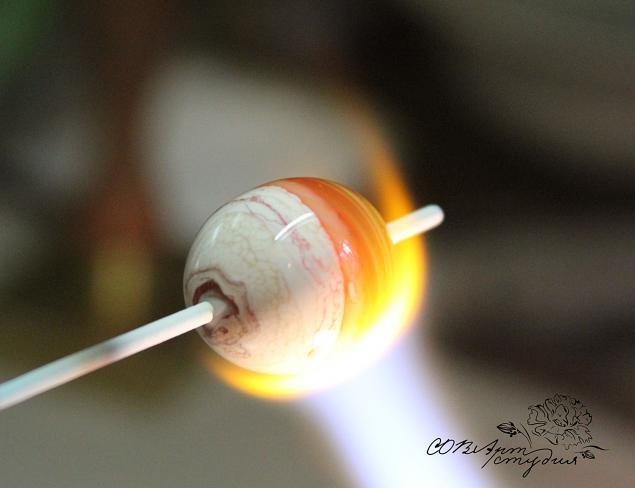 Melt all thoroughly. Make sure that the bead is smooth and symmetric.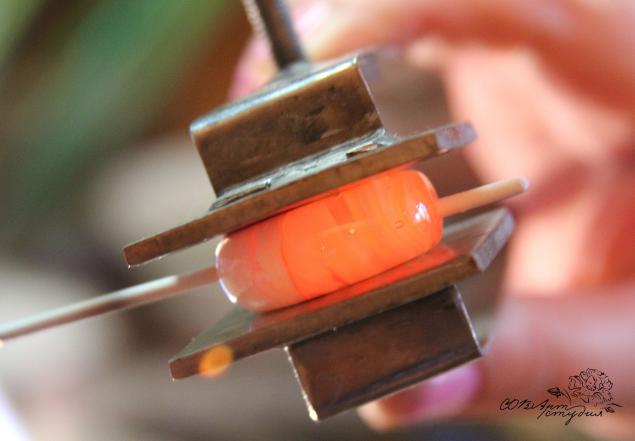 Properly heat the bead and press it with the masher.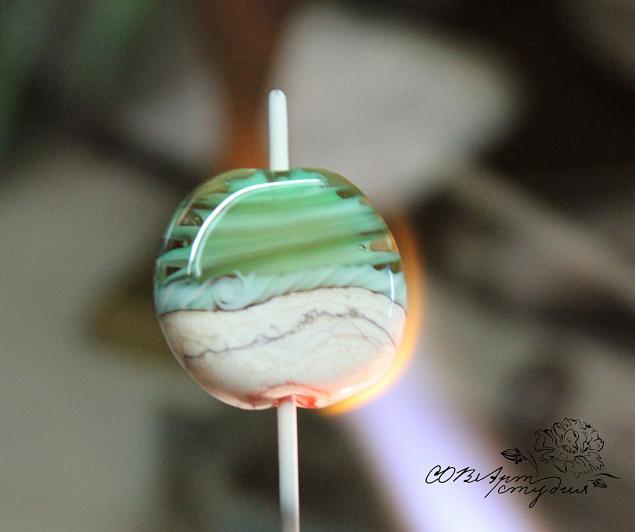 Such a sweet lollipop has come out 

Polish the bead in the upper part of the flame to remove the tool marks.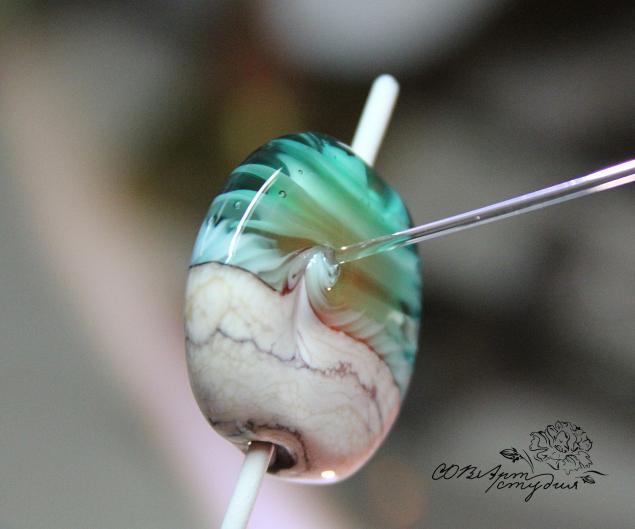 Here goes the most creative part. Follow the flight of your fancy when decorating the bead.
Find a place for a twirly wave and heat it thoroughly.
Take the bead away from the fire and twirl the wave in it (until the bead is hot) with a transparent stringer.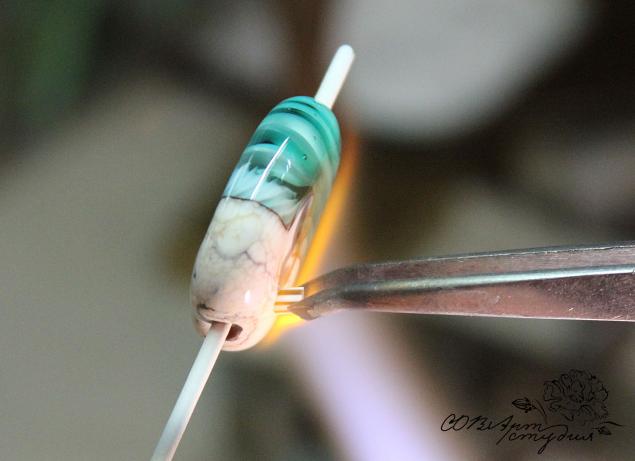 Decor the bead with murrines.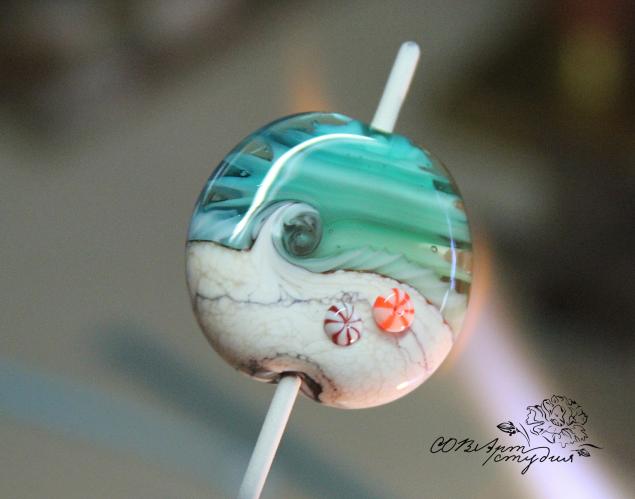 Final fusing and polishing.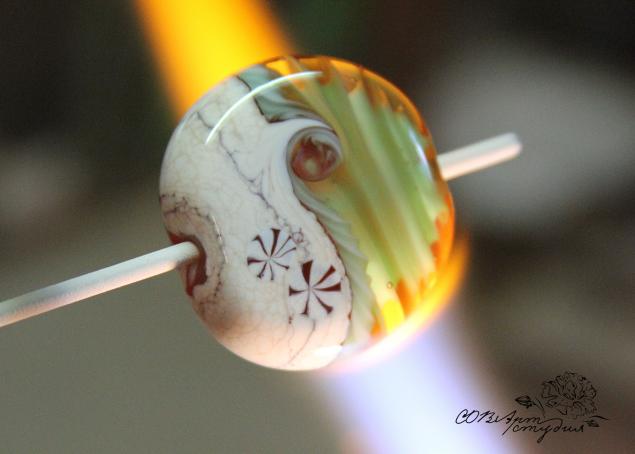 Now, according to the authors, need to add "foam" on both sides of the beads.

A little to the weak glow, heat one side of the beads.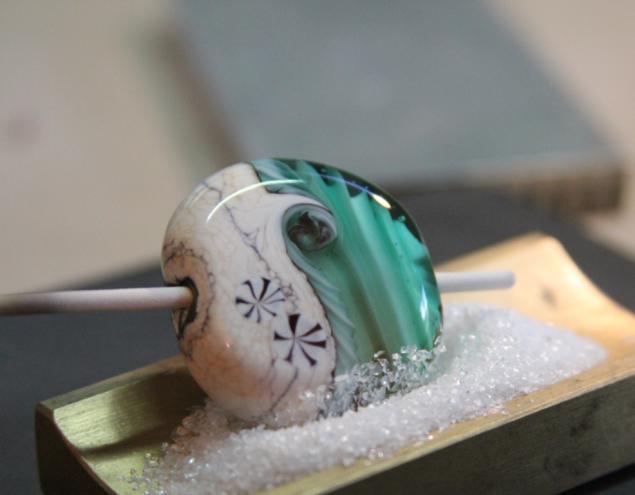 Carefully, to save the bead shape, deep the side into frits.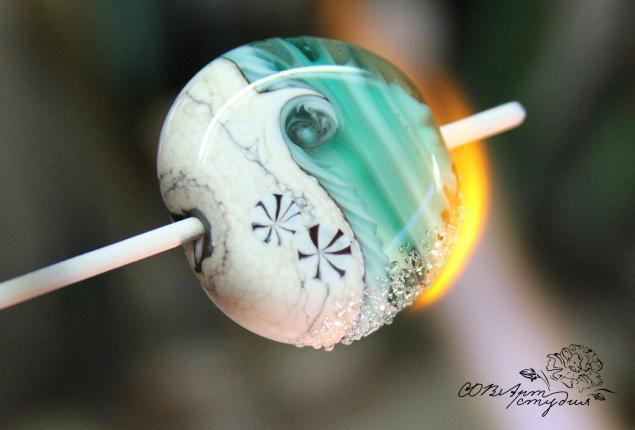 Bring the bead in the fire to slightly melt the frits and keep their shape fixing them to the base.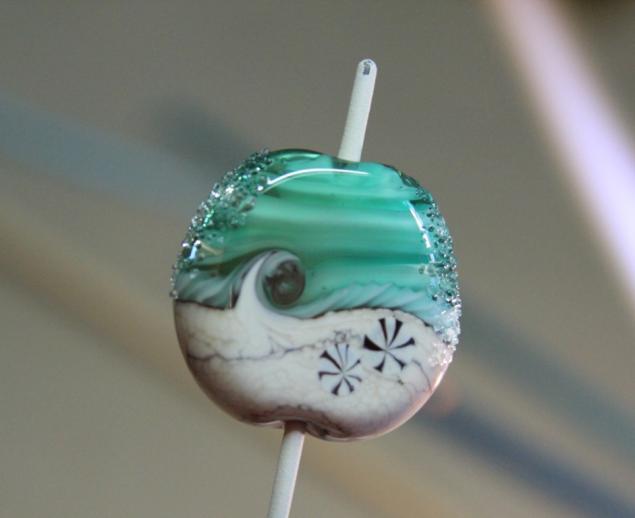 Likewise, cover the opposite side with frits and melt.
That's it, our bead is ready!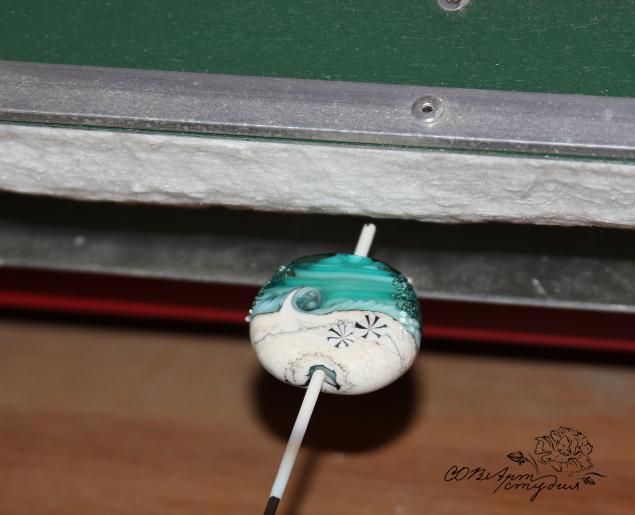 Glance down at the lovely bead and put in the oven.

I would be pleased to know if the tutorial was useful and interesting for you.